Back-to-back evenings showcasing the best of contemporary West Coast interior design
The fifth annual Dinner by Design, presented by The Social Concierge, is where Vancouver's twin passions for fine dining and even finer design come together. Two tasteful and tasty nights (November 16 & 17, 2017) will benefit Interior Design Program scholarships at the Visual College of Art and Design of Vancouver(VCAD).
Dinner by Design will offer over a dozen top-tier, West Coast-based interior designers — such as Interalia Designs & YEW + Design Build, Chrissy & Co., Ryleah Shae Design and Filosophi Event Design — free rein to create extraordinary tablescapes and dining rooms within a 12×12-foot footprint. The only limit is their imagination.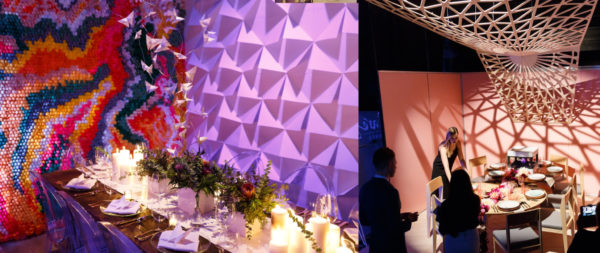 In keeping with the event's mandate to foster the next generation of design stars, students of the benefiting VCAD Interior Design Program will be tasked with creating a camera studio, cocktail bar and video game lounge for Daily Hive Vancouver under the mentorship of designers Robert Blaney, Matthew Herbert of Sherwood Cabinetry + Consult YVR and Kyla Ray.
These installations will be unveiled at Dinner by Design and then moved to the Daily Hive office in Yaletown where they will permanently live.
"We're very excited to have this year's VCAD design students back to collaborate and create new spaces and even more excited to unveil them to the Daily Hive Vancouver team for their Yaletown office," says Organizer Tyson Villeneuve. "Every year the VCAD mentorship program at Dinner by Design really elevates Vancouver's interior design community."
The collection of tablescapes, room sets and the student-designed bar, lounge and studio will serve as the backdrop for two magical, back-to-back evenings:
Cocktail Art, Vancouver's largest and most stylish cocktail party for 850 guests (

Thursday, November 16, 8pm

to late)
Dinner by Design Gala Dinner, a multi-course dining experience served to 120 guests seated at the Dinner by Design tablescapes (

Friday, November 17, 6:30pm

to late)
On Thursday, November 16, Cocktail Art will bring together upwards of 850 guests for an extravagant showcase of Vancouver's world-renowned cocktail culture. An all-star bar team will concoct a series of signature cocktails, each one conceived to push the limits of mixology. Canapés will be provided by an enviable roster of some of the city's top restaurants and caterers.
The Dinner by Design Gala Dinner takes place the following night — Friday, November 17 — and will see upwards of 120 guests take their assigned seats at the designers' tablescapes for a sumptuous, multi-course feast complete with wine pairings created by Chef Geoff Rogers of Savoury Chef served alongside live-performances.
Those wishing to view the remarkable and unfettered creations of some of Canada's top interior designers may also take part in the free, student-friendly public viewing on the afternoon of Friday, November 17 from 12pm to 3pm. A suggested donation of $20 will benefit scholarships at the Visual College of Art and Design of Vancouver.

DINNER BY DESIGN
Cocktail Art –

Thursday, November 16, 8pm

– late, tickets $75
Free Public Viewing –

Friday, November 17, 12pm – 3pm

, suggested donation $20
Dinner by Design –

Friday, November 17, 6:30pm

– late, tickets $300
Location: Harbour Events Centre (750 Pacific Blvd.)
For ticket and event information, please visit www.dinnerxdesign.com.
Partial proceeds to benefit the Visual College of Art and Design of Vancouver.
SOCIAL MEDIA
Facebook: /DinnerxDesign
Twitter: @DinnerxDesign
Instagram: @dinnerxdesign
About The Social Concierge:
The Social Concierge is a boutique branding and marketing agency that specializes in delivering unique, premium solutions to a select range of experientially focused clients. The Social Concierge is best known for their portfolio of designer in-house events and tailored hosting programmes for special guests both locally and abroad including The Deighton Cup and Dîner en Blanc, to name a few.
About Visual College of Art and Design of Vancouver (VCAD)
VCAD is an art school focused on inspiring creativity and an institute where the instructors share the same commitment, desire, and passion for art and design as the students. Diploma programs have quarterly start dates to maximize flexibility for students. VCAD is also a passionate supporter of the arts within the community, offering bursaries, scholarships, and awards to local organizations each year.