One of our original tasting group members, Wayne Meadows, who tends to plan his annual tasting several years in advance (he has just compiled his 2025 tasting) spent a lot of time putting together his 2018 tasting titled, "The Rarest BC Grown Grapes That You May Have Never Tasted!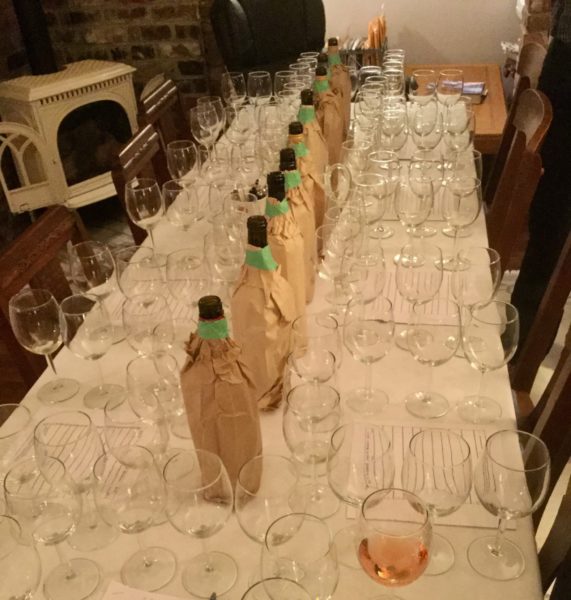 What he did was to research all of the grapes grown in BC and look for the smallest plantings and most obscure grape varieties. It certainly took a lot of time and effort to find these, often, rare bottles. What follows are the wines included in the blind flight and some notes on each. (What follows is a condensed version of Wayne's notes).
We began with a social (starter) wine, a 2015 Gray Monk Rotberger Rosé.
This is a delightful wine with lots of red berries. Perfect for the patio or as a luncheon wine.
Rotberger (0.3 acres) is a very rare wine grape variety. Its parentage is not known with certainty but it is thought to be from a cross of Trollinger (Black Hamburg) and Riesling grapes. Dr. Heinrich Birk (1898-1973) produced the cross at the Geisenheim Grape Breeding Institute in 1928. It is used to produce fruity, early maturing light red wines in cool-climate areas. It is often best drunk when young and can be used to produce a rosé or sparkling wine. It has no relationship with the Rotburger variety bearing a nearly similar name, also known as Zweigelt.
Production of Rotberger is so small in the world that Jancis Robinson's bible does not even list the variety. It is primarily limited to Austria, Canada, Germany, and Liechtenstein.
Our blind flight for the evening consisted of:
2013 Quails' Gate Old Vines Foch
Aromas of dark cherries and smoky notes. Bright on the palate with low levels of tannin which makes it easy to rink. Serve with grilled hamburger or a tomato based pizza.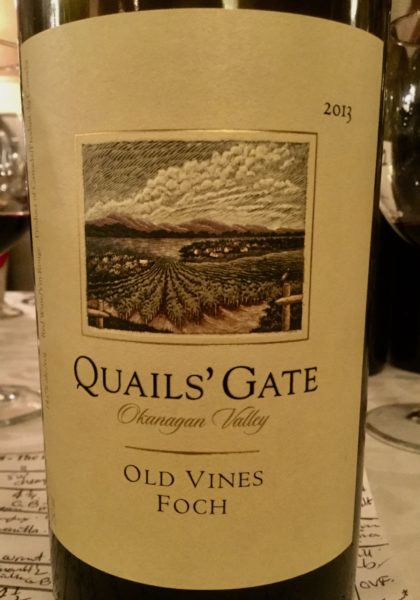 Maréchal Foch (140 acres) is an inter-specific hybrid French red wine grape variety. It was named after the French marshal Ferdinand Foch (1851-1929), who played an important role in the negotiation of the armistice terms during the closing of the First World War. Developed in Alsace, France, by grape hybridizer Eugene Kuhlmann, it ripens early, and it is cold hardy and resistant to fungal diseases. The berry size is small, which makes it prone to bird injury. The quality of wine produced is highly dependent upon vine age, and the flavour profile associated with many new-world hybrid varietals is much reduced in examples made with fruit picked from older vines. We will see as this one is from 40-year-old vines!
Maréchal Foch was formerly commonly grown in the Loire, but today it is limited to a small number of hectares in Europe. Because it is a hybrid variety, cultivation for commercial wines in Europe is restricted by European Union regulation. It is more extensively grown in North America, including southern Ontario and the eastern wine growing regions of the United States, where it ripens fully by the end of September. It is also commonly grown in Minnesota. In the west, it is grown in Colorado in Delta County. Additionally, it is grown in Oregon's Willamette Valley and Canada's Okanagan and Comox Valleys. Maréchal Foch was introduced to Canadian vineyards in 1946 by Adhemar de Chaunac of Brights' wines, along with several other French hybrids.   However, the extent to which Maréchal Foch is grown in Canada has been much reduced, due to an extensive vine-pull out program in the early 1980s designed to replace hybrids with species (Vitis vinifera) varietals.
2013 Arrowleaf Zweigelt
Zweigelt bears some resemblance to Pinot Noir with cherry, plum and spice aromas, which carry on to the palate with leather and smoky undertones.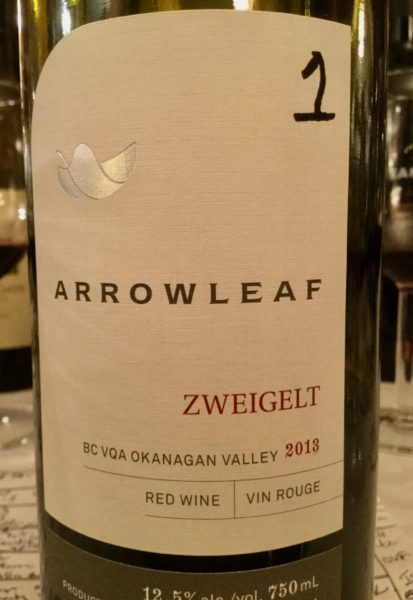 "Zweigelt (45 acres) is a red wine grape variety developed in 1922 in Austria, by Dr. Fritz Zweigelt. It was a crossing of St. Laurent and Blaufränkisch. It is now the most widely grown red grape variety in Austria, as well as having some presence in Canada's vineyards. Widely planted in Austria, Zweigelt vines are grown in the Canadian wine regions of Ontario's Niagara Peninsula and in British Columbia, with limited plantings in Hungary and Japan. Zweigelt is also known as Rotburger, Zweigeltrebe, and Blauer Zweigelt. To quote Jancis Robinson, "The export fortunes of the variety may, oddly enough, be hampered by the originators uncompromisingly German surname. If only he had been called Dr. Pinot Noir."
2012 Sandhill Barbera
This is a variety that usually calls northern Italy home. This BC example has cherry, plum and spice on the nose and palate.
(Sandhill Barbera photo missing)
Barber (often an "A" is added as in Barbera) (3 acres) is a red Italian wine grape variety that, as of 2000, was the third most-planted red grape variety in Italy (after Sangiovese and Montepulciano). It produces good yields and is known for deep color, low tannins and high levels of acid. Century-old vines still exist in many regional vineyards and allow for the production of long-aging, robust red wines with intense fruit and enhanced tannic content. The best-known appellation is the DOCG (Denominazione di Origine Controllata e Garantita) Barbera d'Asti in the Piedmont region: the highest-quality Nizza DOCG wines are produced within a sub-zone of the Barbera d'Asti production area. When young, the wines offer a very intense aroma of fresh red and blackberries. In the lightest versions notes of cherries, raspberries and blueberries and with notes of blackberry and black cherries in wines made of more ripe grapes. Wines with better balance between acid and fruit, often with the addition of oak and having high alcohol content are more capable of cellaring; these wines often result from reduced-yield viticulture methods.
2012 Moon Curser Touriga Nacional
This is one of the varieties you are likely to find in Port. It showed blackberry, cherry and spice on the nose with a little smoke and black pepper on the back end.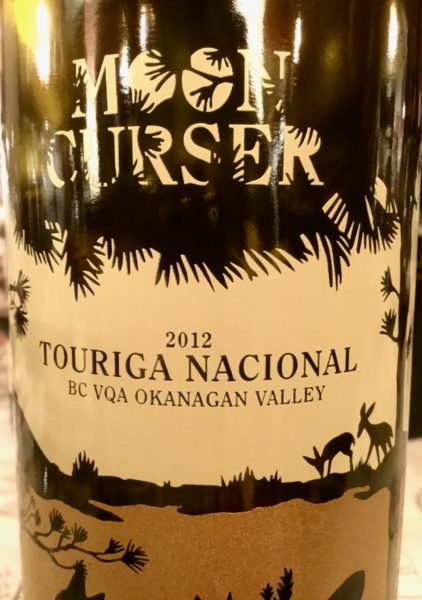 Touriga Nacional (.3 acres) is a variety of red wine grape, considered by many to be Portugal's finest. Despite the low yields from its small grapes, it plays a big part in the blends used for ports, and is increasingly being used for table wine in the Douro and Dão. Touriga Nacional provides structure and body to wine, with high tannins and concentrated flavours of black fruit. Jancis Robinson has compared its relationship with Touriga Francesa to the partnership between Cabernet Sauvignon and Cabernet Franc, the former providing structure, the latter filling out the bouquet. The grapes can produce intense, very aromatic wines with high tannin content.
2012 Nichol St. Laurent
Bright fruit – cherries, strawberries and cranberries on the nose and palate.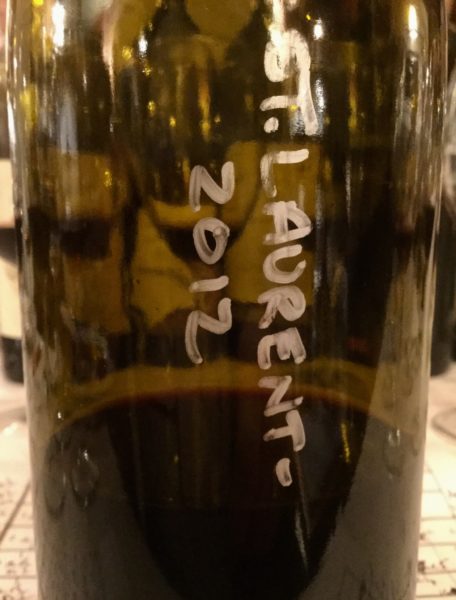 St. Laurent (0.4 acres), according to Jancis Robinson, can resemble a powerful Pinot Noir. From DNA profiling in 2000 it is not clear whether it is a parent or offspring of Pinot Noir. It is mainly grown in Austria (approximately 800 ha) and countries around Austria like the Czech Republic, Slovakia, Hungary and Germany (estimated area of about 1,200 ha total). Because it is similar to Pinot Noir, a small quantity of St. Laurent is also grown in New Zealand after an import in 2002 into Alexandra, Central Otego. Nichol thought he had bought Pinot and a few years later a DNA check showed that it was St. Laurent. Canada is also becoming a location for growing St. Laurent. Currently four wineries in Prince Edward County, Ontario and one in the Okanagan Valley, British Columbia are cultivating and producing wine from this grape. There is still much to be discovered about St. Laurent.
One suggestion is that the grape was named St. Laurent because it ripens earlier than Pinot Noir and changes colour around the same time of the year as many Europeans celebrate St. Lawrence Day – August 10th.
The present owners of Nicol Vineyard told us that originally Nichol had considered it his personal wine and never offered it for sale. Recently they have decided to offer it for sale, but production is so small that they do not even print labels, they simply write on the bottle with a felt marker. It is usually blended with Pinot Noir for their '9 Mile Red'.
2012 Moon Curser Tannat
These days, Tannat is most often associated with Uruguay where it does very nicely.
This wine revealed more each time I smelled it – red berries, plums, smoke, meat, leather, cocoa and spice.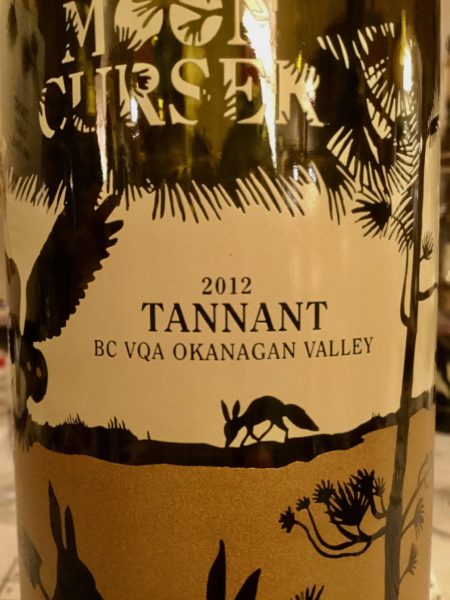 Tannat (0.5 acres) is a red wine grape, historically grown in South West France in the Madiran AOC, and is now one of the most prominent grapes in Uruguay, where it is considered the "national grape". It is also grown in Argentina, Australia, Brazil, Peru, South Africa, Bolivia, and in the Italian region of Apulia, where it is used as a blending grape. In the US states of Maryland and Virginia, there are small experimental plantings of the vine, and plantings in California have increased dramatically in the first years of the 21st Century. It also shows great promise in Arizona. Tannat wines produced in Uruguay are usually quite different in character from Madiran wines, being lighter in body and lower in tannins. It is also used to make Armagnac and full-bodied rosé.
The wine is notable for its very high tannin levels and is often blended with Cabernet Sauvignon, Cabernet Franc and Fer to soften the astringency and make it more approachable.
A French Tannat is characterized by its firm, tannic structure with raspberry aromas and the ability to age well. They often have a deep dark color with high level of alcohol.
2015 Moon Curser Dolcetto
I thought this wine definitely resembled its Italian cousin – fresh and fruity with juicy cherries throughout.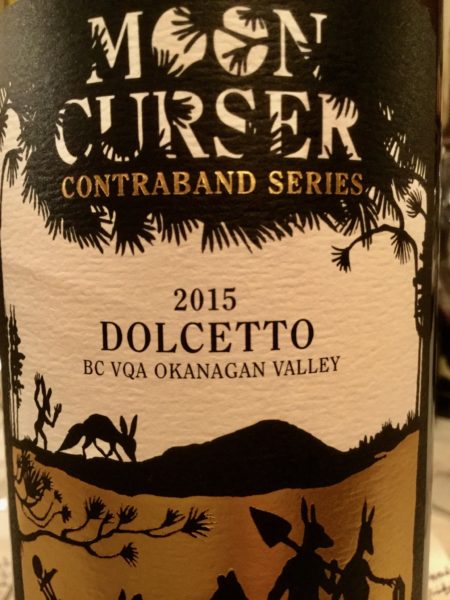 Dolcetto (.3 acres) is a black Italian wine grape variety widely grown in the Piedmont region of northwest Italy. The Italian word Dolcetto means "little sweet one", but it is not certain that the name originally carried any reference to the grape's sugar levels: it is possible that it derives from the name of the hills where the vine is cultivated. In any case the wines produced are nearly always dry. They can be tannic and fruity with moderate, or decidedly low, levels of acidity and are typically meant to be consumed one to two years after release, however well made examples can easily last five years.
2013 Lariana Carmenere
Deeply coloured with dark fruit, spice, chocolate and pepper from front to back. Nicely balanced with soft ripe tannins. This was many people's favourite wine.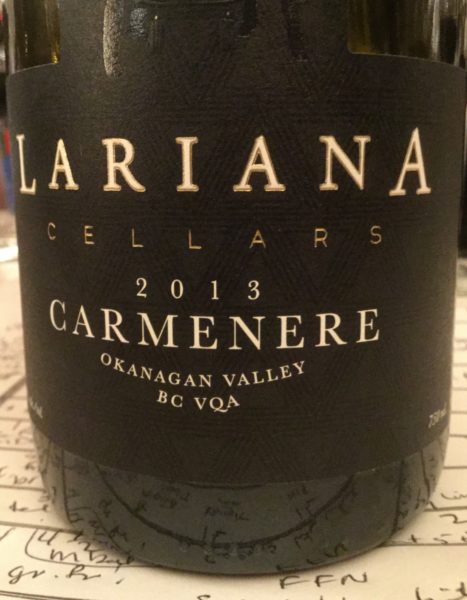 Carménère (6.8 acres) One of the most ancient European varieties, Carménère is thought to be the antecedent of other better-known varieties; some consider the grape to be "a long-established clone of Cabernet Sauvignon." The Carménère grape has known origins in the Médoc region of Bordeaux, France and was also widely planted in the Graves until the vines were struck with odium. It is almost impossible to find Carménère wines in France today, as a Phylloxera plague in 1867 nearly destroyed all the vineyards of Europe, afflicting the Carménère grapevines in particular such that for many years the grape was presumed extinct. When the vineyards were replanted, growers could not replant Carménère as it was extremely hard to find and more difficult to grow than other grape varieties common to Bordeaux. Now, most commonly associated with Chile.
This was indeed a unique and very educational tasting and I felt fortunate to be a part of it. Bravo to the innovative winemakers of BC who bring us these interesting wines.
And then there all the 'rare' white varieties – Ortega, Siegerrebe, Schönburger, Kerner, Chasselas, Muller Thurgau, Optima, Sovereign Opal, Oraniensteiner, Sylvaner . . . . . . Ah, but that will have to wait for another time.
My advice? When you see some 'odd' wines be sure to give them a try whenever possible. This is one of the perks of traveling to wine country and visiting tasting rooms. Often these 'small lot' wines are not available anywhere else, so don't miss out.
And, as always when Wayne hosts a tasting, we have a show and tell where he introduces us to one of his amazing corkscrew collection items.
Wayne is Canada's largest collector of corkscrews. If you too are a 'helixophilist' see his book "Compendium of Bar Corkscrews" https://www.amazon.ca/Compendium-Bar-Corkscrews-Wayne-Meadows/dp/0968929400
Wayne, and his wife Sal Robinson also operate the Corkscrew Inn, a Kitsilano Bed and Breakfast. Check it out at http://www.corkscrewinn.com/steam_corkscrew where you can read about his steam-powered corkscrew and see photos of just a few in his amazing collection.