Alfred Hitchcock meets Monty Python in this hilarious classic featuring top local talent!
Circle Bright Productions is proud to present a high-quality, fast-paced comedy, The 39 Steps, highlighting local cast and crew in March 2019.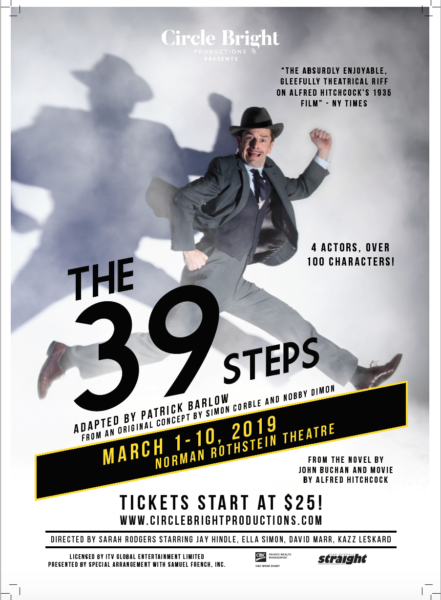 "Absurdly enjoyable! This gleefully theatrical riff on Hitchcock's film is fast and frothy."
– The New York Times 
From the brilliant direction of Sarah Rodgers, BFA (acting), MFA (directing), and UBC Alumna, this well-crafted, phenomenal 4-hander performance offers an exciting evening of entertainment suitable for the whole family. Rodgers says, "This show is a wonderful comedy and I cannot wait to present a tight, stylish, smooth, comical night out at the theatre. Get ready to have a belly full of laughs and delve into the delicious style of Film Noir from the 1930's!"
Rodgers has previously worked with many award-winning, veteran actors in Vancouver, including the four actors starring in The 39 Steps. Cast members include: the versatile and charismatic Jay Hindle, the comedic and exceptional character actor David Marr, the brilliantly inventive comedienne Ella Simon, and the unforgettable Kazz Leskard who is known for his riveting stage presence.
This powerful team will take the stage following the international tour of The 39 Steps, most recently their massively successful run at the National Centre for the Performing Arts in Beijing, China last summer. The physical comedy aspect of the show, enhanced with original sound and lighting, makes The 39 Steps a delight for audiences from all eras, cultural backgrounds, and languages. It has become an international modern masterpiece catering to nostalgic-lovers, younger audiences who enjoy mystery, and anyone who appreciates Monty Python-type British comedy.
Join Circle Bright Productions, Sarah Rodgers, and the amazingly talented cast at the Norman Rothstein Theatre in March 2019. Stay tuned for tickets!
Media release provided by Shalyn Ferdinand, Circle Bright Productions.
[wdi_feed id="2″]