A new holiday tradition begins, as James & Jamesy bring their classic festive show to New Westminster, Maple Ridge and West Vancouver
Canadian Comedy Award winners James & Jamesy are dashing through the snow on their way to delight audiences of all ages with their holiday-themed comedy – O Christmas Tea this December. Fans of Monty Python, Mr. Bean, and Dr. Seuss will love this rollicking Christmas romp through a world steeped in tea as we join these friends on an adventure like no other.
"The Christmas season is a magical time of year that brings people of all ages together; a time when we are encouraged to dream big, embrace imagination, and celebrate a childlike excitement for merriment," explained Alastair Knowles, who plays Jamesy, the quirky and playful half of London's three-time Impresario Award-winning duo. "O Christmas Tea's joyous holiday spirit sweeps spectators into an immersive adventure, leaving them bubbling with laughter and brimming with holiday cheer."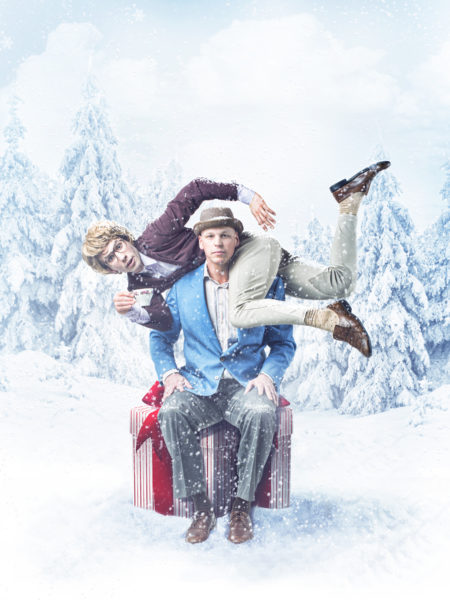 "O Christmas Tea has become a tradition not only for audiences, but for us as well," reflects Aaron Malkin, who plays James. "For the entire month of December, our lives are completely immersed in Christmas Tea, and each fall, we have a particularly thrilling time researching new stage effects that will help transform theatres into Christmas wonderlands. These effects help serve our constant search for new ways and more effective ways to help people of all ages embrace the power and joy of imagination."
This year's spectacular North American tour of O Christmas Tea kicks off at the Massey Theatre marking James & Jamesy's debut in New Westminster and is returning to Maple Ridge and West Vancouver following incredible acclaim last year, earning lifetime fans and rave reviews. In 2017, they sold out performances at the Edinburgh Fringe and are currently performing a 5-week run Off Broadway at New York's SoHo Playhouse. Among other accolades, the physical comedians are winners of the Canadian Comedy Award for Best Live Ensemble and are 21-time "Best of Fest" winners on the International Comedy circuit. James & Jamesy continue to defy expectations with their innovative creations that delight and excite audiences of all ages.
New Wesminster Event Listing Details: O Christmas Tea: A British Comedy
Showtime: Saturday December 1st at 7.30pm
Venue: Massey Theatre, 735 Eighth Avenue, New Westminster BC
Tickets: ticketsnw.ca, (604) 521-5050
Maple Ridge Event Listing Details: O Christmas Tea: A British Comedy
Showtime: Thursday December 6th at 7.30pm
Venue: The ACT Arts Centre, 11944 Haney Place, Maple Ridge BC
Tickets: tickets.theactmapleridge.org, (604) 476-2787
West Vancouver Event Listing Details: O Christmas Tea: A British Comedy
Showtime: Monday December 10th/Tuesday December 11th at 7.30pm
Venue: Kay Meek Centre, 1700 Mathers Avenue, West Vancouver BC
Tickets: kaymeek.com, (604) 981-6335
About James & Jamesy (jamesandjamesy.com/@jamesandjamesy)
David MacMurray Smith, Aaron Malkin, and Alastair Knowles are creators, performers, and educators of physical comedy and physical theatre. Since 2013 and 2017, James & Jamesy productions have been performed over 600 times across the UK, USA, and Canada. Together, they create award-winning performances that blend theatre, physical comedy, and dance to take audiences on fantastical trips of the imagination. Their unique humour appeals to those of all ages – from children to adults – and fosters an inclusive atmosphere, encouraging of audience involvement. When their schedule allows, performances are accompanied by workshops for students and the community that educate on improvisation and physical comedy techniques, while inspiring participants to overcome fears and find freedom in new and inventive methods of self-expression. Due to the demands of this O Christmas Tea tour, there will not be an opportunity for workshops in most cities.
Media release and images provided by Jill Raymond, Rayaction Creative. Photo credit: Thaddeus Hink