Vancouver's newest live venue announces Summer Lounge Series above the iconic Penthouse Nightclub
Weekly live entertainment continues every Friday and Saturday night! 
 Event: Seven Tyrants Theatre announces
TYRANT STUDIOS – Summer Lounge Series
July LINEUP
Dates:  Friday July 5, 2019 Through Saturday July 27, 2019
Times: Friday Jazz: Doors @ 9pm / Music @ 9:30pm
Saturdays The Comic Strip: Doors @ 9pm / Pro Show @ 9:30pm
Venue: Tyrant Studios, 1019 Seymour Street, Vancouver
(above the historic Penthouse Nightclub)
Admission: Friday Jazz  – $10-15 at the door or in advance
The Comic Strip – $18 at the door or in advance
Tickets: Tickets available now at tickets.TyrantStudios.com
Yumi Nagashima (CBC's The Debaters) headlines in The Comic Strip on
July 20th, 2019
The Summer Lounge Series continues at TYRANT STUDIOS in the heart of downtown Vancouver. Operated by Seven Tyrants Theatre, Vancouver's Jessie Award-winning independent theatre company, TYRANT STUDIOS is located above the historic Penthouse Nightclub and features a studio theatre as well as a full-service bar and lounge stage.
The Summer Lounge Series will see Seven Tyrants Theatre continue to present weekly entertainment in their full service Bar and Lounge, offering Vancouver a variety of professional music and comedy shows each week with the following format: 
Friday nights we present Friday Jazz, a weekly live Jazz show and bar, join us as we make our jazz noises here.
Saturday nights we present The Comic Strip, a weekly comedy show featuring three top comedians plus special guests.
*******
BELOW is the lineup of performances through the month of July, 2019:
"FRIDAY JAZZ" – July:
Doors @ 9PM | Music @ 9:30PM to Midnight (unless noted) | $10-15 @ the door or in advance at tickets.TyrantStudios.com  
The intimate venue is fully licensed, so come join us each Friday night when we make our jazz noises here.
JAZZ LINEUP FOR JULY:
Friday July 5th: 
Jimi James Fraser Trio ft. John Gross – Classic Jazz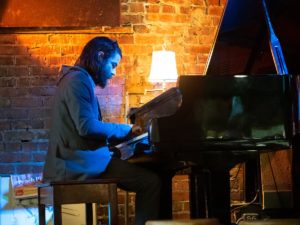 Jimi James Fraser returns with esteemed saxophonist John Gross. $10 cover
Friday July 12th: 
Bonnie Northgraves – Classic Vocal Jazz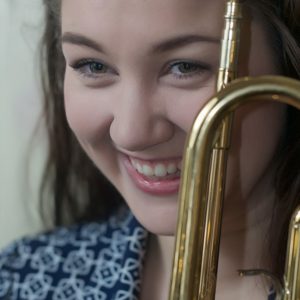 Fresh from the release of her new album and returning from a European tour, singer, pianist and trumpet player Bonnie Northgraves performs with her quartet. $10 cover.
 Friday July 19th:
Winston Matsushita Trio – Classic & Avant-garde Piano Jazz
Pianist Winston Matsushita returns to Tyrant Studios with his Trio, performing a mix of classic covers and eclectic, sizzling originals. $12 cover.
Friday July 26th:
David Sikula Trio + Guests – Progressive Guitar/Piano Jazz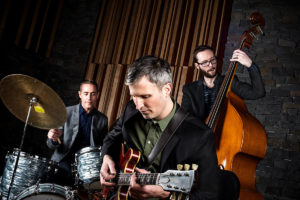 Virtuoso jazz guitarist David Sikula returns to Tyrant Studios with his trio featuring Jeff Gammon on bass and Joe Poole on drums. This time featuring a special out-of town guest pianist. $15 cover. 
Saturdays "THE COMIC STRIP" – JULY:
Doors @ 9PM | Show Starts @ 9:30PM | TICKETS $18 at the door or in advance at tickets.TyrantStudios.com
The Comic Strip, a weekly professional comedy show, presented every Saturday night on the Tyrant Studios Lounge Stage. Each week The Comic Strip showcases three of the best stand-up comedians in Vancouver.  
The professional show runs from 9:30PM to 11:00PM. A free comedy "open mic" follows the pro show running from 11:30PM to 1:30AM, catch some of the best local comedians working on their sets in the open mic after the main show.
THE COMIC STRIP LINEUP FOR JULY:
Saturday July 6th:
Robert Peng and Myles Anderson with Headliner Levi McCachen
Levi McCachen:
Based out of Vancouver, Levi McCachen has been writing and performing stand up comedy for 5 years. In 2015 he performed at the Pemberton Music Festival where he shared the stage with T.J. Miller, Harland Williams, Nick Offerman among others. He was recently featured on the Just For Laughs Up and Comer Showcase at the Comedy Mix in Vancouver. 
Myles Anderson:
Myles Anderson has steadily gained a reputation as one of Canada's brightest young comedians. Combining traditional jokes with bird-like movements, Myles Anderson delivers a uniquely hilarious comedy experience. He was a finalist at the Seattle International Comedy Competition and can be heard on CBC's Laugh Out Loud. Myles Anderson is a funny comedian but is, first and foremost, a loyal subject of Her Majesty Queen Elizabeth II. He regularly performs with North America's top headliners (when they visit Victoria) and has been broadcast on Canada's national radio many times. All audiences appreciate Myles Anderson's comedy, even those who are not loyal to the crown.
Robert Peng:
Robert Peng is a comedian from Vancouver. Originally born in China, he moved to Canada when he was 9. Having started standup comedy because he couldn't find a job, Robert Peng has found success in the Vancouver comedy scene, having won 3rd place at the annual Vancouver Yuk Off Competition and is a regular at the Comedy Mix, Yuk Yuks and Lafflines comedy clubs. Robert was recently a finalist at the Seattle Comedy Competition.
Saturday July 13th:
Jacob Samuel and Harris Anderson with Headliner Sophie Buddle
Sophie Buddle:
Sophie Buddle is a comedy writer on CBC's This Hour Has 22 Minutes. She was recently nominated for a Canadian Comedy Award (The Beavers). She is one of Canada's fastest rising and best smelling comedians and has been featured at Just For Laughs festival in Montreal, JFL42 in Toronto, JFLNorthwest in Vancouver, CBC's The Debaters, and runner-up in the biggest comedy competition in Canada – SiriusXM's Top Comic.
Jacob Samuel:
Jacob Samuel is a Canadian stand-up comic who has been featured on national TV (the CBC) and radio (also the CBC). He recently headlined Yuk-Yuks in Toronto for four nights. His jokes were once reviewed as "consistent and well executed, with no exceptionally bad or good pieces." Jacob is also an internationally-published humour cartoonist, his cartoons have appeared in "The New Yorker"
Harris Anderson:
Fresh off the release of his new album, Harris is described as one of Canadian comedy's most exciting up and comers, and has been crafting a style that combines voices, impressions, and sharp observations that will leave you wanting more. He fits easily into most overhead luggage areas and has excellent manners. He regularly performs at professional comedy clubs including Yuk Yuks and the Comedy Mix.
Saturday July 20th :
Brett Martin and Gavin Clarkson, with Headliner Yumi Nagashima
Yumi Nagashima:
In less than three years, stand-up comedian and actress Yumi Nagashima has made a large splash on the North American comedy scene with her sassy stage presence and unique point of view. Yumi is a mainstay on the Vancouver comedy scene but she has performed in six different countries (USA, Australia, England, Germany, Japan and Canada.) You may have also heard her on the CBC radio program "The Debaters" or seen her on CBC TV at the Winnipeg Comedy Festival. She has been featured on Andy Kindler's Alternative show as a part of Just For Laughs North West. She was also a finalist in the 2016 & 2017 Yuk Off Competition. Yumi is also an accomplished actress and has many acting credits to her name, including "The Man in the High Castle" (HBO).
Brett Martin:
Brett Martin, despite identifying as Human, is a Comedic Workhorse. He's been featured in his own 'Comedy Now' special on CTV & The Comedy Network, can be downloaded on iTunes and heard on SiriusXM Satellite Radio, hosts Vancouver's #1 (and only) live Late Night Talk Show, 'The Brett Martin Show', headlines various venues across Canada, and much more. And, most amazingly of all – he still finds the time to sleep 9 hours a day. With an effortlessly charming and commanding stage presence, and subject matter that oscillates from insightful to absurd at any time, he's making a name for himself everywhere he goes, and is, quite simply, a Comedian you should see.
Gavin Clarkson:
Gavin Clarkson is a classic Yukoner, born in Whitehorse and raised as a gold miner until his move to the big city of Vancouver.  He quickly became an act to watch in the local comedy scene, winning the 2016 Lafflines Comedy Competition, placing third of over 100 acts in the 2017 Yuk Yuks Yukoff Competition, and performing in Las Vegas at the World Series of Comedy.  He performs regularly at The Comedy Mix and Yuk Yuks. His performance style is fast paced, charming, and disastrously self-aware.  You can also see him on Season 5 of History Channel's Yukon Gold, in case you doubted how Yukon he is.
Saturday July 27th:
Rachel Shaefer and Randee Neumeyer with Headliner Ryan Gunther
Ryan Gunther:
Ryan Gunther is a standup comedian, writer, and comic artist (who can't draw). He grew up in a log cabin and walked a mile through the woods every day to a one-room red schoolhouse, an upbringing which is both unique and utterly cliché. In grade five he tested in the 99th percentile in both math and language, and he's been pretty much coasting ever since. He's been nominated for a standup comedy award and toured a five-star fringe show to festivals across North America. He is trustworthy and kind to animals.
Rachel Schaefer:
Rachel Schaefer is a comedian and actress, known for In The Ladies Room (2016) and The Actress Diaries (2010). She appears regularly in Standup Comedy shows all around Vancouver, including Yuk Yuk's Comedy Club.
Randee Neumeyer:
Randee Neumeyer is a writer living in Vancouver, BC. She does stand-up comedy and has had sex five or nine times. Appearing in comedy shows all around Vancouver, Randee's unique performance style is making her one of Vancouver's favorite home-grown comedians.
Legendary local comedian Brett Martin performs in The Comic Strip on July 20th, 2019
Media release and images provided by Marnie Wilson, theartsbiz. Feature image: David Sikula Trio
[wdi_feed id="2″]