The Elder Statesman of Funk and Jazz
What Happened When Herbie Hancock played the Queen Elizabeth Theatre, a Review by Melinda Gill
Jazz legend, Herbie Hancock graced the Queen Elizabeth Theatre on Friday, June 29th as part of the 2019 TD Vancouver International Jazz Festival.  The festival did well to secure this legendary pianist and composer.  Incredibly he is celebrating sixty years of making music. I first came to know him in my youth as I would practice my backyard breakdancing to his song, "Rockit" (which I have looping as I write this review).  His impressive bio includes an Academy Award, and 14 Grammy Awards; including their Lifetime Achievement Award. He is an Institute Chair for the Herbie Hancock Institute of Jazz and is involved with many other pursuits even as he approaches his 80th birthday.  Music must keep him young, because I was shocked to learn his age.  He speaks, moves and plays like someone who still loves to perform.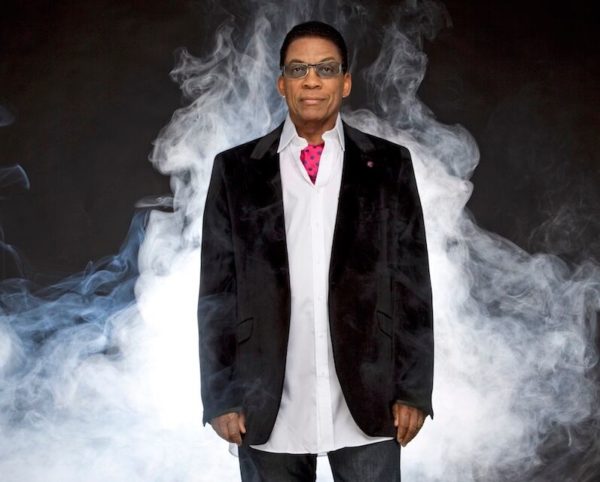 What also impressed me, while watching him, was his ability to move seamlessly between the different instruments on stage.  He walked with grace, poise and a calm I'm not used to seeing on stage.  A seasoned veteran, to be sure.  You might think that at this point in his career he would be set in his ways and not interested in the newest technologies. This is not true of Hancock though, he has walked through the ebb and flow of six decades of the "newest technologies" and he embraces change and encourages experimentation with sound and music. 
Joining him on stage were a quartet of musicians, he paused during the performance to introduce each of them.  James Genus was on bass, Vinnie Colaiuta played drums, while Terrace Martin played on both the keyboards and sax with Lionel Loueke jamming on the guitar. They were full of smiles and seemed relaxed on stage.  Hancock also mentioned that it had been four or five years since his last visit to Vancouver and being the ever-gracious man that he is, he took a moment blow us a big kiss and wish us all a "Happy Canada Day!"
Most of the performance was classical jazz, but at one-point Hancock walked out on stage with a large, white keytar and played a couple songs.  The audience in the lower section were quiet, focused and stayed seated the entire night.  And, although the performance had a more serious tone to it, Hancock also had a few other playful surprises for us, but what brought a huge smile to my face was his encore when he played a couple of songs familiar to me. It took everything I had not to bust out my 80's breakdancing moves when he began playing "Rockit".  Huge cheers erupted, and one or two audience members' fists pumped in the air as they were transported back to their youth.
As the evening ended, after about 90 minutes of music, Hancock took a few minutes to walk along the front of the stage shaking every outstretched hand and thanked people for coming to see him.  I felt extremely lucky to be in attendance tonight to see this legend perform.  Thank you to the TD Vancouver Jazz Festival for bringing him here to play!
 Review by Melinda Howlett Gill for MyVanCity. Image provided by Teresa Trovato, Teresa Trovato PR.
[wdi_feed id="2″]