Jazz Prodigy Takes The Imperial by Storm
What Happened When Jacob Collier Turned the Audience Into an Orchestra, a Review by Melinda Gill
The Imperial was the setting this evening for Jacob Collier and it was the final show for the venue in this year's TD Vancouver International Jazz Festival.  It had been a stellar week of music and although we were sad for it to come to an end we were extremely excited to see what this night and this musician had to offer.  It was a sold-out show and the floor was packed full of eager concert goers.  The crowd was easy-going and friendly, chatting happily, drinks in hand, waiting for the evening to begin.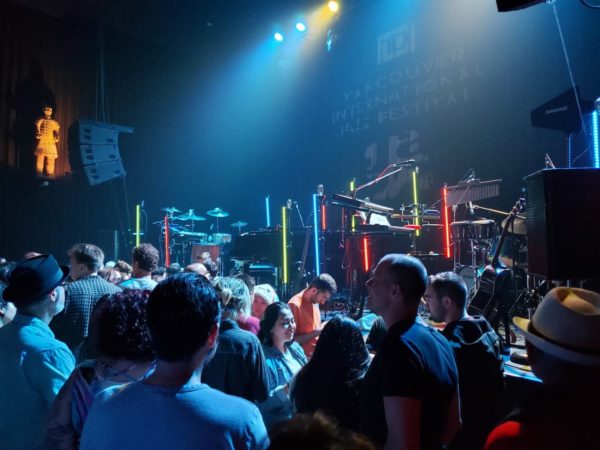 This Grammy Award winning multi-instrumentalist, producer, arranger, singer and composer began his career doing covers of popular songs on YouTube.  He went on to compose, self-record, arrange, and perform his very own first album, appropriately called "In My Room", which he produced at home.  
Jacob Collier leapt on stage, to a huge round of applause and got started right away warming up the audience up with vocal exercises.  He would sound off and we would repeat, without any explanations, but using body language, we knew exactly what he wanted us to do.  He would call, the crowd would answer and so the evening began. 
This 24-year-old musical sensation moves around the stage like a youngster in a candy store.  Jumping, hopping, sliding, bounding across the stage he kept the audience on their toes as well. One moment he would be singing, the next you'd see him playing drums, or shaking the tambourine, or using that tambourine to hit the symbol.  Another moment he could be seen playing his bass guitar or the upright bass.  He spent most of the time playing the keyboards and grand piano.  Is there an instrument Jacob does not play?  His talent is evident, his passion, palpable.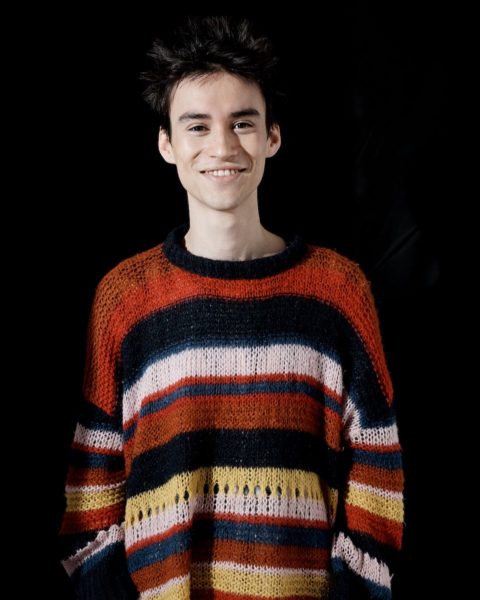 He was joined on stage by fellow musicians and introduced them as, Christian Euman from Chicago on drums, "who is responsible for keeping the rhythm going tonight…"; bassist, Robin Mullarkey, from the UK, "who is responsible for the low notes this evening…" and multi-instrumentalist Maro from Portugal, "who plays everything, vocals, the keyboards, the guitar, and both the left…and right bongo drum." He put together this quartet after touring solo for almost two years.  
Before he arrived on stage, I was intrigued.  Once he took over the stage, I was entranced.  I stood there in awe most of the evening watching this performance.  Through the music we travelled to outer space with other worldly instrumentation.  We moved through various emotions, and at one point I could not hold back, I'd been moved to tears and allowed them to flow.  It was during a "Danny Boy" duet with Maro; the magic of their voices, the delicate piano, the lyrics brought emotions bubbling to the surface.
He took a moment about mid-way through the show to tell us about his latest project.  It is a four volume, fifty song experience.  He began working on Djesse about 18 months ago.  Volume 1 was released last December, with a big broad sound built around an orchestra and he announced from the stage that he finished the second volume about eight days before the concert and would be releasing it in a couple of weeks (July 19th to be exact).  He explained that the second volume is more cosy, gentle and small and has more folk songs on it.  While he describes Volume 3 as "when there is no space at all right in the middle of the night when you have all those crazy ideas, that's Volume 3, when it's completely collapsed, and digital and strange, bonkers, bananas, dangerous, mischievous, bizarre and important." Volume 4 is when "all these ingredients combine together as a sort of grand finale, a multitude of different universes." He isn't sure how that volume will sound but he is excited to find out.  He wants to explain in his work "how the entirety of music is now connected in the 21st century and that's an exciting thing".  
Collier spoke about how children are super creative, and learning is creative, that there is a need to explore, that there should be no judgement, as judgement is unhelpful.  He believes play is an accelerated learning and that adults forget how to play.  He feels, "silliness is important.  You need to be silly and playful because that's what makes us human and fragile and helps us to keep creating."  He dedicates this project to our inner child.
He performed a jazzy cover of "Close to You", using autotune, encouraging the crowd to clap along and then he went into "You've Got a Friend", asking the audience to 'woo' and repeat on command.  He then wished us all lots of love promising to see us next time and the band left the stage.
After some coaxing, all four came back on stage and Collier said they would do one more song, under the condition that we all sit down.  On the floor.  Everyone standing on the dance floor, and the upper floor all carefully sat like children to listen to the final song.  It was an intimate rendition of "In My Room".  Then he went on to orchestrate the crowd in an acapella version of "Somebody to Lean On".  He had four parts for the audience to play.  On cue, the right side lower floor said "Ha", the left side said "Ooh".  The back of the lower section got "Shi", and the balcony was to call out "Boing".  Quick learners all, the audience under the direction of Collier, became the largest instrument of the evening. 
Finally, when we thought they were leaving the stage for good, Collier stayed behind and did a beatbox, jazzy, crazy good rendition of "Black Bird".  Truly a musical genius.  I'm excited to see where his talent takes him in the future.  I left The Imperial feeling like I'd not only attended a concert, but like I'd been a part of an incredible musical journey, one that I didn't ever want to end, and it doesn't have to! As I was writing this, a new single from Volume 2 was released!  It's called, "It Don't Matter" (feat. JoJo), I'm going to go stream it now.
The 2019 TD Vancouver Jazz Festival ended on July 1st, but if this year is any indication of what to look forward to, it is going to be a long 50 weeks waiting for next year's event to begin.
Review by Melinda Howlett Gill for MyVanCity. Images, except as noted, Melinda Howlett Gill.
[wdi_feed id="2″]