Too Many Zooz and Five Alarm Funk at the Commodore Ballroom Review
From the moment I stepped off the skytrain and began my trek up Granville Street last Friday night, I could tell that energies were high and there was a buzz around The Commodore as concert goers entered to see Too Many Zooz and Five Alarm Funk.  The TD Vancouver International Jazz Festival was set to begin, and we were all ready to get this eleven-day musical celebration started. As we entered the Commodore, the crowd was gathering on the floor, already jockeying for position up front, where there was no photo pit, so the audience could be up close and personal with the performers.  
Too Many Zooz opened the night with huge sound, massive moves on the stage, and everyone danced in appreciation.  This three-man musical group hails from New York City where they got their break from a viral video taken by a passer by of the group playing their Brasshouse music in the subway.  That was 2014. I saw that viral video on social media when it was posted and immediately knew they were going to hit it big. From humble beginnings, to stages across the continent they keep true to their sound and down-to-earth attitudes.  
If you like soulful, funky music, dub or ska, jazz, house, or EDM, (they cover it all!) you're bound to love Too Many Zooz.  Leo Pellegrino, (or Leo P as he likes to be called) the smooth moving baritone sax member of the band jumped on stage and immediately had us all entranced with his moves and music.  At first, I thought he had a rotating section on the stage, but no; that is just how smooth his dance moves are! He covered every square inch on the stage during their set with the same energy from start to finish.  This guy must eat well, drink a few gallons of water before a performance and work out hard to keep that level of activity throughout the show! 
Joining him on stage were trumpeter Matt "Doe" Muirhead and David "King of Sludge" Parks.  Both were a little more subdued with the stage moves, but their sound matched Leo P's sax without hesitation. Matt's trumpet blasted out their tunes and he made it look effortless.  With his hoodie and ball cap, you'd never guess this man is a musical genius on the horn. Looks can be deceiving! He truly is a talent and compliments the sax in such a way that you feel you are listening to much more than two brass instruments.  The drums, that Mr. King of Sludge plays on, are not your usual drum kit. His large drum is adorned with several various percussion instruments which he uses seamlessly throughout each song. From my vantage point, and even with photos, it is truly difficult to describe.  He makes it work though, and while listening with eyes closed, you are deceived into thinking there's a full kit up there on stage.
With the audience fully geared up, everyone took a short drink, bathroom, and food break before Five Alarm Funk took to the stage.  I've never experienced the floor emptying out almost completely between sets! But the space that was left was quickly filled as concert-goers flooded onto the floor as the lights dimmed.  I have not seen Five Alarm Funk before but have heard many good things about their shows and the Commodore was buzzing with excitement as they walked on stage. Lead vocalist and drummer, Tayo Branston sat down behind the drums and the music exploded.  Interestingly, Branston reminded me of Animal from The Muppet Show when he got behind the drum kit. The man didn't stop all night. He played with such intensity throughout the set and his bandmates met that energy with their own instruments. I was exhausted just watching them!  But their smiles were infectious and just like that, I was dancing too.
For those closer to the front, kicking it on the dance floor, free swag was thrown to waving hands.  I loved how the three guitar players moved back and forth in unison, reminiscent of Robert Palmer's "Addicted to Love" video (but these guys wore big smiles).  Branston took a moment to tell us that their band had small beginnings, just playing in a garage in Vancouver in 2003. He explained that you can never give up on a dream.  Keep working hard, don't give up and anything can happen. In fact, this 8-piece ensemble started out as a group of friends jamming at a party. That is when Branston met guitarist Gabe Boothroyd and their original bassist, Neil Towers.  Jam sessions led to local gigs and more musicians joining the group. From there they've gone on to record EP's, albums and toured throughout the Canada and parts of the US.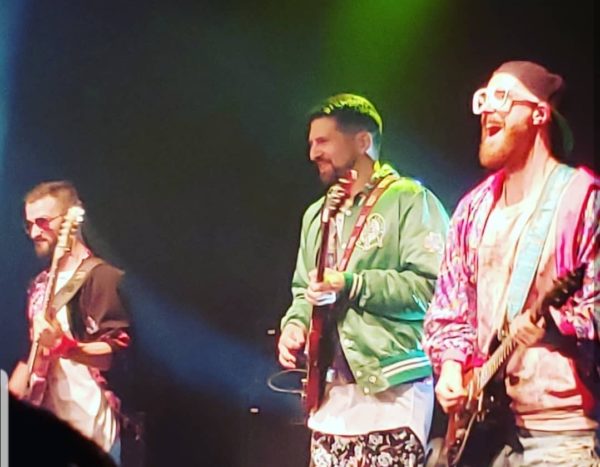 This is certainly a group of characters, each with their own fashion sense.  From a shirtless drummer to funky guitar players to a ninja inspired sax player and a moon jacket wearing trumpet player.  But, what was most impressive, was the quick and crazy costume changes of Tom Towers on the Congas! Every time I looked in his direction he was wearing something different.  It was never just a simple costume change either! He went from a plain tank top and jacket ensemble to a zebra onsie, then a full-on hot dog costume, complete with a hot dog hat.  A shark costume also made an appearance as did a shiny shark stuffie. During the encore Towers was wearing some sort of box outfit and those are only the costumes I remember! It was entertaining as we wondered what he would don next!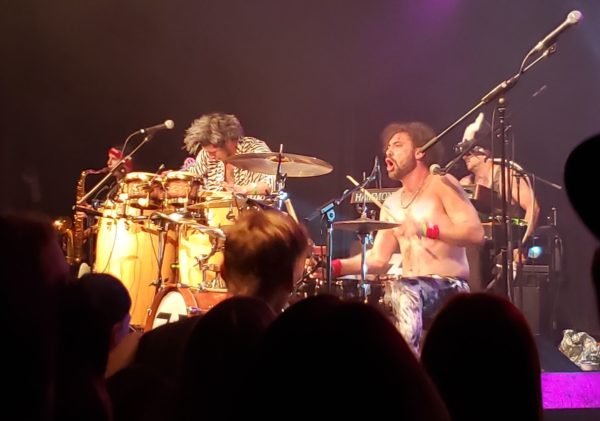 Throughout all the crazy, there was the music.  This talented group had the dance floor full and jumping the entire set.  Favourites included "Big Smoke", and "Power of Funk" while they had Leo Pellegrino of Too Many Zooz join them for "Wake the Funk Up" and "Iceberg".  Their songs flowed seamlessly into one another and they all looked to be having a great time on stage. Their encore included "Wash Your Face" and an incredible horn solo which was met with huge cheers from the audience.  The night was coming to a close and no one wanted it to end. It was a high energy send off and at the end they thanked everyone for coming and encouraged us all to get out and see some more music this week as the Jazz Festival continues.  Drum sticks and towels were thrown into the crowd as Towers high fived the front row with a rubber arm from one of his costumes while they wished us all "Peace, love and all of the above."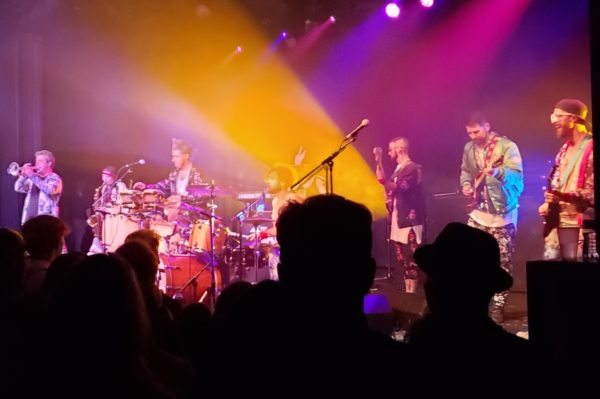 If you're interested in seeing what the Jazz festival has to offer, it runs through July 1st at various venues across town.  Check out their website at https://www.coastaljazz.ca/
Photos and review by Melinda Gill