Happy audience tackles big job with over 150 BC products on offer at annual festival
More than 600 people across two tasting sessions sampled the broadest selection of artisan spirits in Canada at the fifth annual BC Distilled on Saturday, April 14 at the Croatian Cultural Centre. Attendees of the public tasting have now completed the annual ritual of voting for the top spirits in 12 categories, with over 150 products from 38 producers to choose from.
"It was gratifying to see the positive energy of the attendees at this year's event," said festival founder Alex Hamer. "The exhibitors really noticed how friendly and inquisitive everyone was. This goes to the heart of the purpose of BC Distilled – to connect spirits fans with the people who pour their energy into making quality, locally-produced products."
Guests enthused about the canapés provided by Forage, Juniper Kitchen & Bar, Whiskey Six BBQ and H2 Rotisserie & Bar, and cheerfully mingled around exhibitors like Modern Mixers & Elixirs, Rootside Provisions, Barrelhouse Brine, Walter Craft Caesar, and Phillips Soda. But the focus, of course, was on the outstanding liquors they were able to sample throughout the evening.
"The two most exciting things for me were the number of whiskies we're seeing at the show, which indicates a maturing of our industry, as well as the number and quality of new producers, which tells me there's still a lot of growth to come," said Hamer.
In the weeks leading up to April 14, a six-course Distillers Dinner paired with spirits at Forage and a BC Whisky Master Class at Legacy Liquor got the most devoted locals in the mood for Saturday's ever-popular tasting party.
The festival raised nearly $6,000 for the Pacific Assistance Dogs Society (PADS) through a silent auction, 50/50 draw, and a portion of ticket sales. "For a distillery event, it's fun that one of the most frequently mentioned positive aspects in our post-event survey is the presence of (PADS) dogs," Hamer said. PADS breeds, raises, trains and supports certified assistance dogs for people living with disabilities and for community care professionals.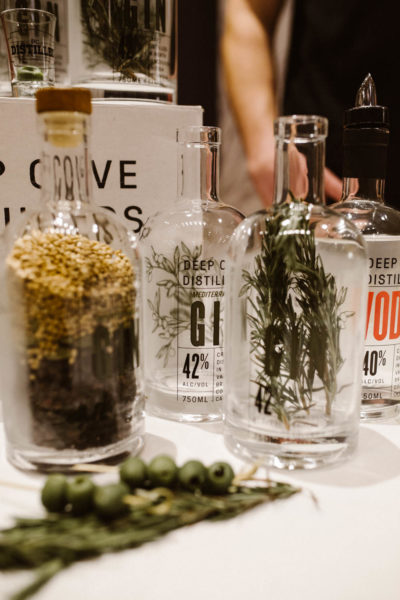 Here are the winners of the Audience Favourites Awards:
BC Distilled is grateful for the support of its sponsors, South Peace Grain, Legacy Liquor Store and The Alchemist.