The Filberg Festival has always been known for featuring exceptional Canadian talent when it comes to entertainment. Headliners over the long weekend include: Michael Kaeshammer, The Paperboys, Dustin Bentall, Roy Forbes, R&B Allstars and The Boom Booms.  Visit http://filbergfestival.com/the-festival/entertainment/  for the full line up.  Performances take place on the Comox Rotary Stage and Peninsula Co-op Garden Stage over the 4 days of the Festival.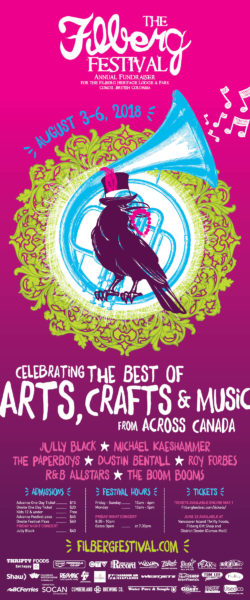 Join us on Friday, August 3rd for a special evening concert featuring Jully Black; a true Canadian Icon. Named as one of 'The 25 Greatest Canadian Singers Ever' (CBC Music) she has been dubbed 'Canada's Queen of R&B Soul' by her fans and peers.  As a platinum selling recording artist, her music career has yielded multiple singles reaching the Top 10 pop, R&B and dance music charts.  She has taken home multiple Juno Awards, earned many industry accolades and was selected to sing for the Queen of England. http://jullyblack.ca/ This concert is one of a series of four under the Live In Filberg Park banner.  Tickets are priced at $40.00 for festival seating and available on-line only.  http://filberg.com/liveinfilbergpark/
The 2018 Filberg Festival is also proud to showcase a select group of 130 artisans and makers of fine art in a variety of media ranging from metalwork, pottery, toys, woodcrafts, jewellery, paintings, glass, textiles, fashion accessories, clothing, soaps & lotions and specialty foods.
Gate admission is charged at the Filberg Festival, as it is the primary fundraiser for the not-for-profit organization which has the responsibility of restoring and maintaining the Filberg Heritage Lodge and Park's site and buildings http://filberg.com. Advance festival tickets are available online at https://filberg.tickit.ca, the Filberg Lodge Gift Shop and District Denim in the Comox Mall and at all Vancouver Island Thrifty Foods locations.
Free fares will be offered on all Comox Valley Transit routes during Festival Weekend in Comox, BC Day long weekend (Aug. 4, 5 & 6).  To view schedules and routes and to access NextRide to find out where your bus is in real-time, visit bctransit.com/comox-valley."
Set amongst the stately trees and gardens of the Filberg Heritage Lodge and Park in Comox, BC on the east coast of Vancouver Island the Filberg Festival is truly a unique event. Enjoy art and nature surrounded by beautiful gardens, rustic out-buildings and magnificent views of Comox Harbour and the Beaufort Range.