Since launching in 2017, Tiffany continues its pledge of 100% of profits and a total donation of $4 million in support of wildlife conservation by January 2020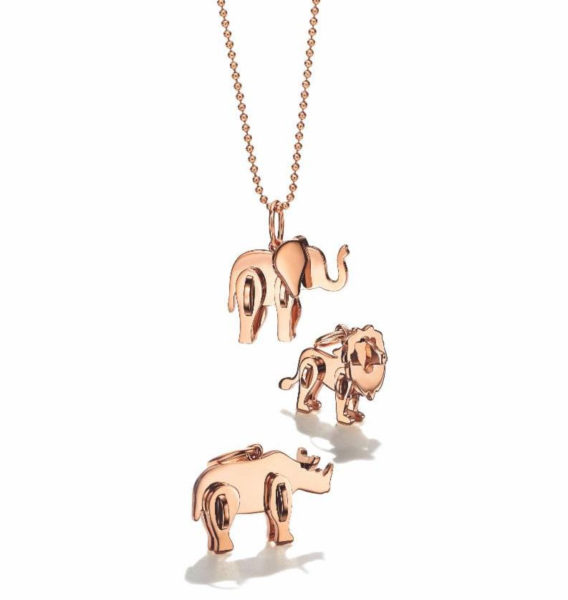 Tiffany & Co.
unveils its Tiffany Save the Wild Collection with brand new designs. The collection has expanded to include lions and rhinos in addition to elephants, all in support of the
Wildlife Conservation Network
and its innovative crisis funds to save endangered African wildlife.
As part of Tiffany's ongoing commitment to sustainability and conservation, 100% of the profits from the Tiffany Save the Wild Collection will support the protection of the respective endangered species: the elephant, rhino and lion. Tiffany & Co. is particularly dedicated to the wellbeing of the African continent, where we source many of our diamonds and gemstones, and operate diamond cutting and polishing workshops.
After launching the collection in 2017 as part of the #KnotOnMyPlanet campaign, Tiffany has already more than doubled its original commitment, with $2 million raised as of April 2018 going to support the best investments in anti-poaching, anti-trafficking and ivory demand reduction. As a result, our Wildlife Conservation Network's Elephant Crisis Fund, together with its partners, has successfully lobbied for the closure of China and Hong Kong's domestic ivory trade. Tiffany will pledge an additional $2 million minimum commitment by
January 31, 2020
. With these new charms, Tiffany continues its ongoing efforts to both raise public awareness and contribute the financial resources needed to protect endangered wildlife and their imperiled ecosystems.
"For over 180 years, Tiffany & Co. has been inspired by the beauty of the natural world – for this reason we believe we have a moral imperative to protect it," said Anisa Kamadoli Costa, chief sustainability officer, Tiffany & Co. "So we are especially thrilled to be able to lend our support to wildlife conservation efforts through the important work of the Wildlife Conservation Network."
From vocally opposing mines in sensitive ecosystems in the United States to protecting the world's marine ecosystems and relocating black rhinos to safe havens in Botswana, Tiffany has been a longstanding supporter of wildlife conservation worldwide. In collaboration with the U.S. Wildlife Trafficking Alliance in 2016, Tiffany joined a coalition of 16 companies who are committed to stopping the demand for illegal wildlife products.
Since its inception in 2000,
The Tiffany & Co. Foundation
has awarded more than $70 million in grants focused on conservation efforts, including coral and marine conservation, and responsible mining. The Foundation's mission to preserve the world's most treasured landscapes and seascapes aligns seamlessly with Tiffany's complementary commitment to conservation. With the Save the Wild Collection, Tiffany & Co. is raising significant new funding through its corporate product sales to create a positive future for endangered species.
"With more than half of wildlife lost in the past 50 years, and less than 1% of philanthropy going to conserve the natural world, the planet needs the creative and unsurpassed leadership of Tiffany & Co.," said Dr. Jeffrey Parrish, vice president for Conservation at the Wildlife Conservation Network. "We are proud to ensure that 100% of Tiffany's support goes to the best ideas from any institution to save these species."
Available in sterling silver and 18k rose gold, the newest Tiffany Save the Wild Collection charms can be purchased in stores and online September 2018. A special edition of an elephant diamond brooch will only be available at the Fifth Avenue flagship store.
About Tiffany & Co.
Founded in New York in 1837, Tiffany & Co. is the world's premier jeweler and America's house of design. An iconic brand with a rich and storied heritage, Tiffany is a global manufacturer and retailer of jewelry and luxury accessories. The company operates more than 300 TIFFANY & CO. stores in 28 countries. Please visit us at
Tiffany.com
.