Welcome to the #MarketMonday feature. Each week we will feature a different vendor, either a farmer, food merchant, food truck operator, or craft person.
Meet Dave from pottery by dave and family: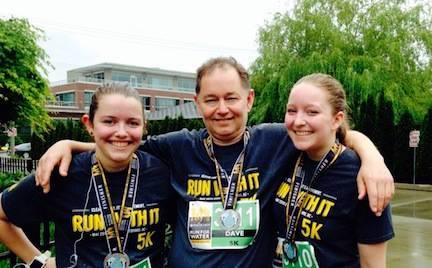 I've been quietly making pots on and off since 1975. i live in Abbotsford with my wife Val, daughter Aisa, and our 2 cats. during the last 20+ years we've concentrated on raising our 2 daughters, Alexa and Aisa. now that they are older, i'm able to get back into the pottery studio.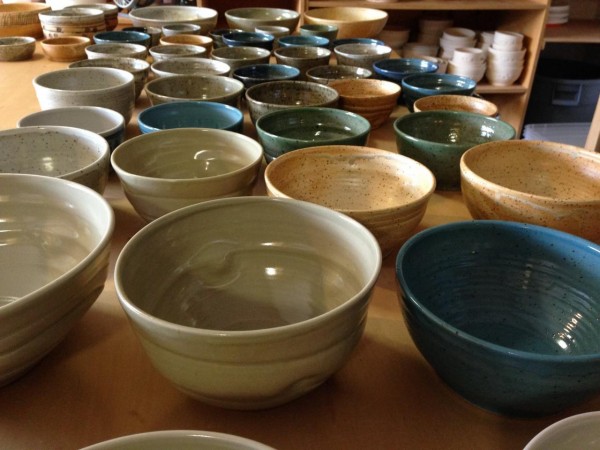 All pieces are made by hand in our workshop here in the Fraser Valley, on the west coast of Canada.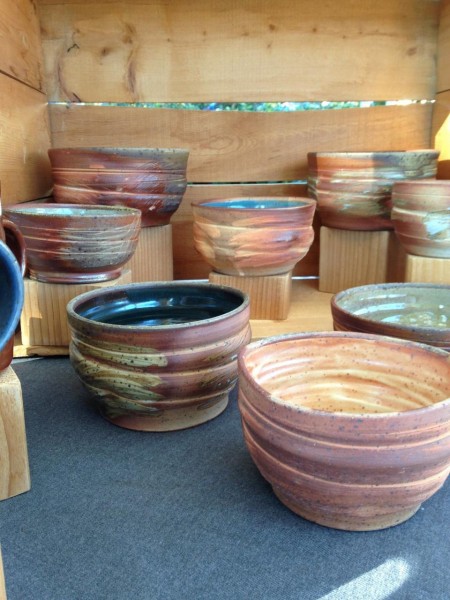 My work is largely thrown on the wheel, then carved, stamped, or altered. variety and experimentation are important to me, so I make pieces in a variety of styles:
•rustic: rough textural surfaces that are meant to be touched.
•retro: clay & glazes that evoke a "retro" look, speckled glazes that hearken back to the 70's & 80's.
•carved: carving through slips to reveal the clay beneath.
•salt-fired: fired in a different kiln & salt is thrown in at the end of the firing, giving some varied and interesting results
•wood-fired: kiln is fired with wood which gives unique colours to the finished surface
•brushwork: i'm working on a new series that involves brushwork.
All the work is dishwasher and microwave safe. glazes are made from scratch by hand, & they are lead free and food safe. my work is fired in a small gas kiln built on my old friend Herman Venema's rural farm property. a salt/soda kiln there is used once in a while for salt firings, and occasionally I have access to a friends wood kiln.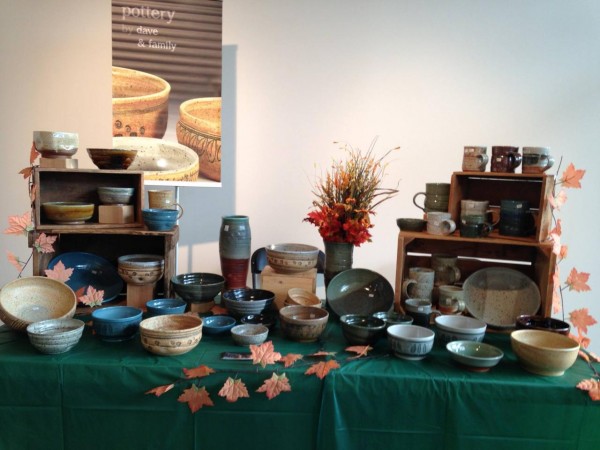 Dave: dad, husband & potter.
Family comes first to me, and to reflect that, we've named the workshop "pottery by Dave & family".
Where you can purchase Dave and family pottery 2015:
•Nat Bailey – winter market: (Saturdays: 10-2) Dec 5, 12
•White Rock – indoor market: (Sundays: 10-2) ) November 8, 15, 22; December 6, 13
2016 Farmers Markets:
We mostly sell at various farmers markets in the lower mainland.
We'll be doing the following farmers markets in 2016.
•Nat Bailey – winter market: (Saturdays: 10-2) april 2 and 23.
•Squamish: (Saturdays: 10-2)
•White Rock (Sundays: 10-2)
•Abbotsford: (Saturdays: 9-1)
•Kitsilano: (Sundays: 10-2)
•Ladner: (Sundays: 10-4)
•Yaletown: (Thursdays: 2-6)
•Trout Lake:  (Saturdays: 9-2)
•West End: (Saturdays: 9-1)
Home Show: 2016: Sunday, Nov 27th: 11-4
email: dclay@nulltelus.net
call/text: dave: 604-308-7320
val: 604-308-4154
34863 Gleneagles Pl, Abbotsford
facebook.com/potterybydaveandfamily

Hastings Park Farmers Market
Every Sunday, 10am – 2pm, from November 8, 2015 – May 1, 2016 (closed Dec 27)
Nat Bailey Farmers Market
Every Saturday, 10 – 2
from Nov 7, 2015 to April 23, 2016
(except Dec 26)