The Dance Centre presents the Discover Dance! series
Company 605
Thursday October 4, 2018 at 12 noon
Scotiabank Dance Centre, 677 Davie St (at Granville), Vancouver
Tickets $15/$13 students, seniors and children from Tickets Tonight 604.684.2787 www.ticketstonight.ca
Info: 604.606.6400 www.thedancecentre.ca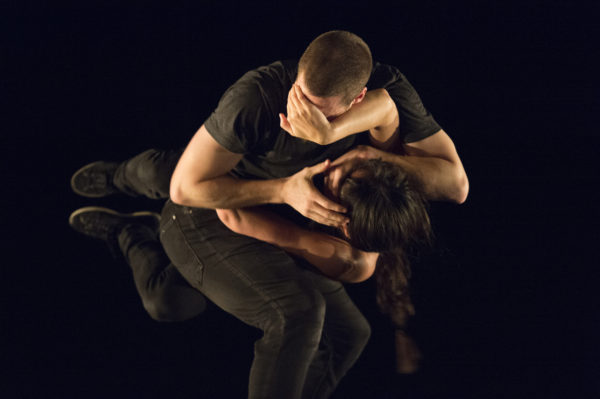 The October edition of The Dance Centre's popular Discover Dance! series features a program of thrilling work by Company 605, one of Vancouver's most dynamic and exciting contemporary dance ensembles. Company 605 fuses contemporary and urban styles to make athletic, physically demanding works that test the limits of their virtuosic performers. This presentation offers a sneak peek at their hotly-anticipated new ensemble work, plus an excerpt from Albatross, a powerful duet created in collaboration with Brussels-based choreographer German Jauregui, which drives the dancers through an intense and hypnotic cycle of continuous motion and perpetual contact. The performance will be followed by a question-and-answer session for the audience.
Company 605 is a Vancouver-based dance company dedicated to producing new dance work through a shared creative process. As part of a generation of creators inspired by the merging of urban and contemporary forms, Company 605 places emphasis on movement innovation and physically demanding works, valuing collaboration as an essential tool for new directions in dance. 605 is an ongoing exchange between separate people, bodies and ideas, recognizing and celebrating the unique possibilities created in their attempt to co-exist.
Through constant collaboration with all involved artists, Company 605 continues to push into new territory and awaken a fresh and ever-evolving aesthetic, together building a highly athletic art form with extreme physicality derived from the human experience. The company's integration of different genres has connected them to a broad spectrum of dance audiences in a large variety of settings, including traditional stage performances, dance films, and site-specific work. Company 605 regularly performs throughout Canada and Internationally, and has been presented at leading dance festivals and venues across the world. Co-Artistic Directors Josh Martin and Lisa Gelley are Dance Centre Artists-in-Residence for the 2018-2019 season.
Company605.ca
2018-2019 Discover Dance! season:
October 4 Company 605
November 22 Dancers of Damelahamid
March 14 South Asian Arts
April 18 Ballet BC
May 16 Jacky Essombe
The Dance Centre was established in 1986 as a resource centre for dance professionals and the public in British Columbia, and now offers a range of activities unparalleled in Canadian dance. The Dance Centre offer programs and resources supporting the professional development of artists, presents public performances and events, manages Scotiabank Dance Centre, Canada's flagship dance facility, and works to promote BC dance.
Facebook.com/thedancecentre | Instagram.com/thedancecentrebc | Twitter.com/dancecentre
The operations of The Dance Centre are supported by the Canada Council for the Arts, the Government of Canada, the Province of British Columbia, the BC Arts Council, and the City of Vancouver through the Office of Cultural Affairs.
The Dance Centre
Scotiabank Dance Centre, Level 6, 677 Davie Street, Vancouver BC V6B 2G6 Tel 604 606 6400 www.thedancecentre.ca