To help parents and kids battle boredom with engaging games and fun activities at home, Dairy Queen Canada is offering a downloadable kit of family-friendly activities, available at DQ Play At Home.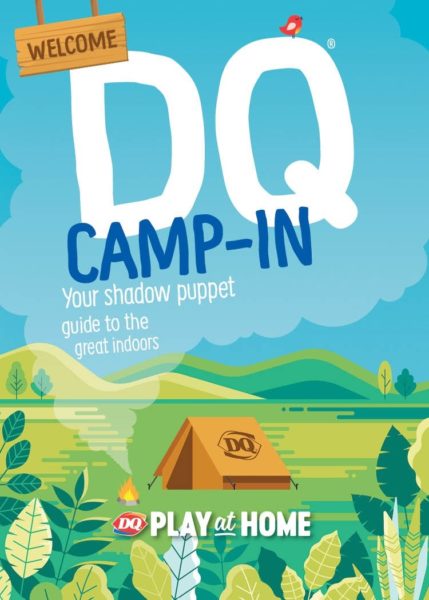 The Play-At-Home activity kit includes:
Camp-In: Delivering the great outdoors in your own living room, Camp-In brings the experience of camping to the great indoors with a shadow puppet adventure. With easy animal- and nature-themed shadow puppet instructions, all you need are your own two hands, a flashlight and a little imagination.
Happy Chats: To get the conversation flowing and the smiles glowing, Happy Chats offers conversation prompts, questions and challenges to make the time you spend with family even more fun. Each sweet card is sure to keep spirits up!
Playbook: Providing a fun-packed list of activities to do in your home, the Playbook turns down time into game time with a collection of fun games for the whole family. From a spoon relay to hallway bowling, your living room will become smile central!
Colouring Book: Offering a chance to feed your inner artist, the Colouring Book provides illustrations of iconic treats that you'll transform into treats of art. The printable colouring book encourages fans to show off their art skills by colouring iconic DQ treats from the world-famous DQ soft serve to the DQ classic Dilly Bar.
Families can access the free activities at DQPlayAtHome.com.
In need of a meal or craving a treat? While in-restaurant and outdoor dining are not available, DQ continues to offer drive thru, take-out and delivery. People can find their local store at DairyQueen.com.
Families can tag and share photos with @DairyQueenCanada using #DQPlayAtHome.
Media release and images provided by Alyssa Cabral, Media Profile