Artigiano Announces Partnership with Vancouver Mural Festival for New Cafés in Mount Pleasant and Whistler, with More to Come
The Vancouver-based, family-owned and -operated café chain builds on ambitious expansion plan, taking over former Starbucks locations in the Lower Mainland
Award-winning, locally owned and operated café chain Artigiano (formerly Caffe Artigiano), has undergone a rebrand and has been working for months to launch an enterprising expansion and franchising program that converts former Starbucks locations into Artigiano cafés, all while revitalizing neighbourhoods and supporting local artists.
As a consequence of the COVID-19 pandemic, Starbucks announced the closure of 300 locations across Canada, many in and around Metro Vancouver and the Lower Mainland. Artigiano owner Dean Shillington saw an opportunity to reanimate some of those shuttered storefronts.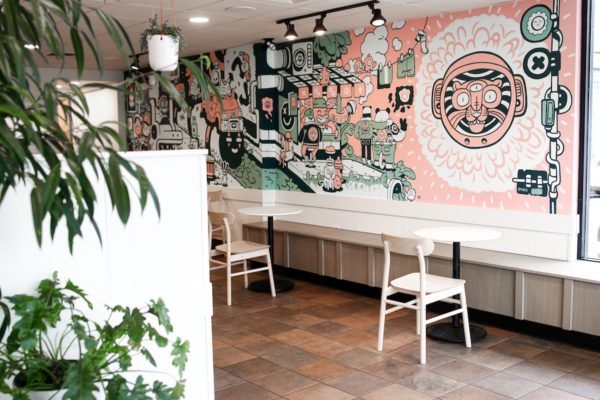 "It was a welcome chance for Artigiano to refresh our brand as well as expand," says Shillington, who saw previous expansion plans for Artigiano nixed by the pandemic. "Not only does moving into these abandoned locations make good business sense, it strengthens local communities by keeping those spaces open and keeping people employed. In addition, it has allowed Artigiano the opportunity to collaborate on a larger scale with the Vancouver Mural Festival (VMF) in support of the local arts community, which, like the hospitality sector, has taken a terrible hit during the pandemic."
 
The first of these new Artigiano cafés is located in Mount Pleasant (111 Broadway @ Manitoba), the second is slated for Whistler's North Village near the Olympic Plaza, and two more Vancouver locations are currently in negotiation. Both of the confirmed stores, and subsequent franchise locations, will feature interior and exterior (landlords permitting for exterior) murals by local Vancouver artists, in conjunction with VMF. Each location will also offer for sale mural-themed merchandise specific to that store's artwork, such as mugs, T-shirts and tote bags, with profit-sharing for the commissioned artists and VMF.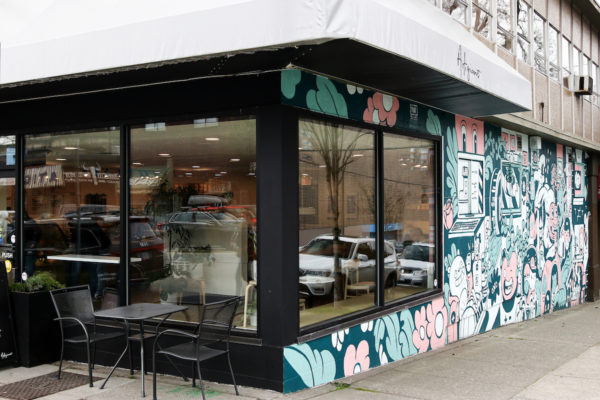 "Since 2016, VMF has brought over 250 murals to Vancouver. We're excited to partner with Artigiano to bring even more art to communities across the city and now, the province," says Andrea Curtis, VMF Executive Director (Interim). "We believe public art does more than just beautify neighbourhoods. It connects communities, inspires creativity, and transforms cities, people and perspectives. Appropriately, our partnership kicks off in Mount Pleasant, the original home of Vancouver Mural Festival and a neighbourhood renowned for both coffee and murals!" 
 
At Mount Pleasant, the mural wraps around the interior of the location and continues onto the exterior wall facing Manitoba Street. The candy-coloured and deceptively cheerful work, entitled What Comes Around Goes… and Puts a Smile on Your Face, is by Vancouver-based multidisciplinary street artist and muralist Peter Ricq, who describes his mural as a "playful look at the complexity of balancing the utopian goals of sustainability with the threat of a dystopian future."
Details of murals in future in-house and franchise locations will follow as they near completion and opening over the coming months.
 
Artigiano's new expansion plan, in collaboration with VMF, will continue through 2022, with a mix of in-house and franchise locations across the Lower Mainland. Currently, Artigiano has 16 cafés in B.C. and three in Alberta.
About Artigiano
Just over 20 years ago, Artigiano—then Caffe Artigiano—formed the centre of coffee culture in Vancouver. The brand's European bravado was known internationally, as it attracted a very loyal following of Vancouverites, celebrities, and the hearts and minds of the coffee industry. Artigiano cafes were known for their vibrant, welcoming environment, amazing coffee, and the beginning of a new trend that would soon take over the coffee scene: skills in latte art. Artigiano now owns and operates 16 cafés in BC and three in Alberta.
 
About Vancouver Mural Festival
VMF is a world class evolution of a grassroots initiative to transform the way art is experienced in Vancouver. What began as a street festival celebrating murals has grown into a full art consultancy and production agency. Since 2016, VMF has created 250+ murals, grown Vancouver Mural Festival into one of Canada's premiere celebrations of public art, and continues to reimagine public art and events in our city.
 
Social Meda
Instagram
Facebook
Twitter 
Website 
Media release and images provided by Kate MacDougall, Camber Communications