Vancouver's only gourmet four-course picnic at VanDusen Botanical Garden
You're the first to know that Truffles Fine Foods will be hosting a Gourmet Summer Picnic at VanDusen Botanical Garden starting next week!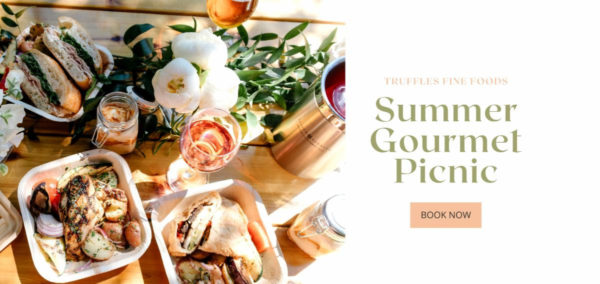 Discover a picnic like no other. Situated in our tranquil botanical garden, Truffles' menu reflects the inspiration of Italian alfresco dishes, with modern plant-based options. Whether you choose plant-based or regular, their gourmet four-course picnic will re-introduce you to the love of food.
The Summer Gourmet Picnic is available for a limited time only beginning June 16th and runs to August 29th, 2021, Wednesday to Sunday, 10am-3pm, and is $98 per person.
Price includes:
Four-course gourmet picnic meal served in sustainable palm plant containers
Two-hour admission to VanDusen Botanical Garden
Picnic table overlooking the Great Lawn for up to 6 guests
Dedicated team member to service your table
Service charges
Fully licensed picnic area with option to pre-purchase bottles of wine, cider, beer and non-alcoholic beverages.
A kid's menu is available at $15 per child under 12.
*Please note that picnics must be pre-booked 2 days in advance and liquor must be pre-ordered
Don't wait and book your Summer Gourmet Picnic by clicking below!
Information and images provided by VanDusen Botanical Garden.