In addition to the weekly wine review and the various other, usually wine-related, articles I write for My Van City, I am including a new one that will appear from time to time.  I'm calling it, 'From the Cellar'.
It will be much like the wine reviews, except that it will feature wines that have been aged.
It came to my attention that in an earlier review, I included a wine that is no longer made by a certain winery.  They were very happy with the mention and my positive comments, but they were concerned someone might try to track down a bottle and be disappointed when they found it wasn't being produced any longer.  So, from now on I will keep the 'Wednesday Wine Review' to recent vintages that should still be available and 'From the Cellar' for those that I have to blow the dust off of.  There are no hard and fast rules.  I recently bought a couple of reds at my local private liquor store that were 2010 vintages (a great deal in my eyes).  While most people drink what they buy in a matter of days, if not hours, more and more people are realizing the benefits of holding on to some of their wines and are enjoying the benefits of doing so.
Prices indicated are the costs when purchased.
2014 Gewürztraminer
50th Parallel
Lake Country, BC
$17.90
OK, who in their right mind would hang on to a fresh fruity wine like this?  Typically, they should be enjoyed within three years of release, but sometimes things happen and I don't stay on top of the wines in my cellar.  Fortunately, this one has aged beautifully, largely credit to the quality and structure of the wine.  Lemon yellow with medium-minus intensity.  The nose is layered with aromas of honey, lychee, stone fruit, wet stones, floral, and lime zest.  Well balanced with good mouthfeel.  A slightly sweet entry, but lots of acidity to balance it.  Honey, mango, perfume, pears, peaches, and lemon on the palate followed by a medium-long finish with lingering flavours.  Delicious!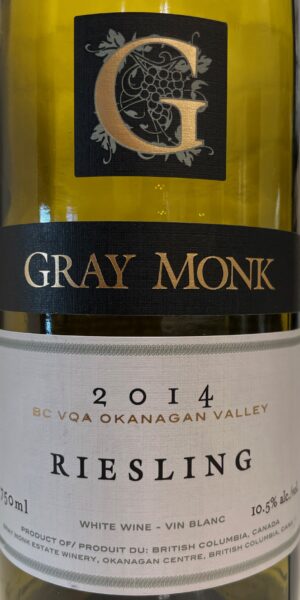 2014 Riesling
Gray Monk
Lake Country, BC
$15.99
Rieslings, unlike most white wines, have the ability to age well when they have good structure and many/most BC examples do.  In fact, two years ago I opened a 1996 Johannesburg Riesling (as it was called at the time) and was very pleasantly surprised that it was still good.  This Gray Monk example is lemon yellow with medium-minus intensity.  The nose greets you with classic aromas of diesel, lime, apple, white peach, grapefruit rind, and minerality.  Well balanced.  Lime, apple, wet slate, peach, and pear on the palate.  A medium-long finish with crisp fruit flavours lingering.  Love the 10.5% ABV.  If you are a Riesling freak, grab a bottle of one of your favourites and hide it away.  I think you'll be very glad you did.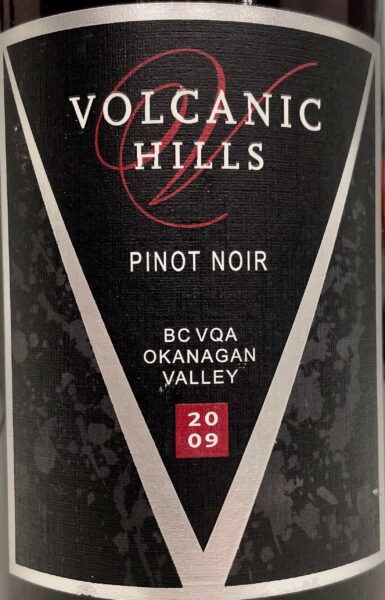 2009 Pinot Noir
Volcanic Hills
West Kelowna, BC
$19.90
Dark cherry/brick with medium-plus intensity.  Dried fruit, dark cherry, black tea, herbs, stewed plums, and savoury notes on the nose.  Well balanced with silky smooth tannins.  The flavours echo the nose followed by a medium-long finish with spicy flavours lingering.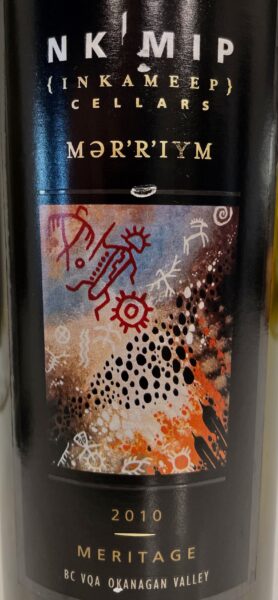 2010 Meritage (Mer'r'iym)
Nk'mip
Osoyoos, BC
$54.99
The name 'Mer'r'iym (pronounced mur'-eem'), means marriage and this wine is an impressive marriage of classic Bordeaux varieties – 58% Cabernet Sauvignon, 28% Merlot, 6% Cabernet Franc, 6% Malbec, and 2% Petit Verdot.  The 2009 vintage was a similar blend with Merlot and Cabernet switching places.  The nose is rich and layered with aromas of dried dark cherries, prune, dark fruit and berries, dark chocolate, white pepper, black tea, spice, and a hint of bramble.  Well balanced with smooth ripe tannins.  Rich, layered, and complex on the palate with flavours reflecting the nose followed by a long lingering finish.  It is beautifully aged and near its peak.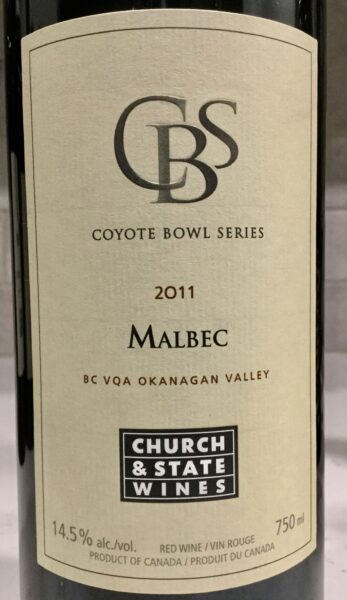 2011 Malbec (Coyote Bowl)
Church and State
Oliver, BC
$34.90
This wine is inky dark and deep.  The nose is intense and well-integrated with aromas of dusty, juicy blackberries, raspberry chocolate, dark cherries, blueberries, beetroot, and red currants.  Well balanced with velvety soft full tannins.  A joy on the palate, with the addition of full-flavoured berries, plum, and spice.  The finish is long and lingering.  Very impressive.
(All photos, except as noted – Sam Hauck)