The economic impact of the BC Wine Industry: primed for post-pandemic growth
Wine Growers British Columbia releases new data today, highlighting the momentum of the BC wine and grape economy pre-pandemic, contributing a significant $3.75 billion to the provincial economy in 2019, an 86.7 per cent increase from 2011.
This impressive growth, presented in the Canadian wine and grape industry research report 'Canada's Wine Economy – Growth and Innovation Through Global Challenges', is a testament to the dedicated efforts of BC wine industry professionals and stakeholders who have put BC on the map as an internationally recognized destination for premium wine and wine tourism. Yet, these numbers stand in contrast to the 2020 data indicating a substantial decrease in tourism impact, which could result in widespread economic consequences.
"These findings show that for the BC wine economy to re-capture the momentum and potential of its pre-pandemic growth, especially as it relates to tourism, strategic collaboration between government and industry will be required," says Miles Prodan, President & CEO of Wine Growers British Columbia.

The comparison between 2019 and 2020 tells a story of stalled BC wine tourism with reverberating effects on overall economic revenue and wages within the BC wine industry. While the 2020 reduction in numbers represents a snapshot in time with a unique global event restricting domestic and international tourism, the loosening of those restrictions has not resulted in immediate returns to pre-pandemic numbers. "In our wine shop we have observed a noticeable lack of out-of-province guests, which while not overly surprising that those coming from overseas would be fewer, we had expected US and Albertan tourists to return, which just hasn't happened," said Erin Korpisto, General Manager, Stag's Hollow Winery.
"That tourism piece is really what got diminished as a result of COVID-19," said Dr. Robert Eyler, President, Economic Forensics and Analytics, report author. "The ripple effects from a lack of tourism feeds into the wine industry and related industries. With most economists predicting that global tourism will not return to 2019 numbers until 2024/25, the wine industry needs to approach tourism differently to bridge the gap."
"Our industry has proven its adaptability over the few years of global restrictions on tourism and other challenges including supply chain issues, labour shortages, and extreme weather events," said Prodan. "The growth from 2011 to 2019 shows that the BC wine and grape industry is a significant driver of the provincial economy which needs to be advocated for as we embark on the coming years contending with continued shadow effects of the pandemic."
Wine Growers British Columbia will pursue a BC Wine Tourism Strategy that sets the path for wine tourism for the next five years (2023-2027), working with industry and stakeholders to grow back stronger in the face of global and domestic challenges. "To fully realize the economic benefits of wine tourism, we must continue making dedicated investments to propel the industry forward. We have a vision of long-term success." said Prodan.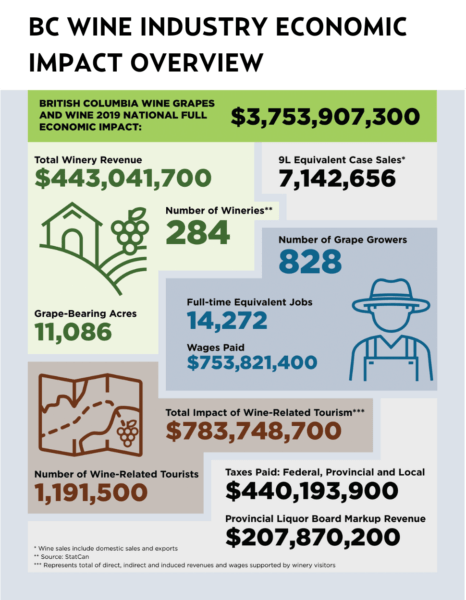 Commissioned by Wine Growers Canada, Wine Growers British Columbia, Wine Growers Ontario, and Wine Growers Nova Scotia, the report entitled Canada's Wine Economy – Growth and Innovation Through Global Challenges illustrates the magnitude of the Canadian grape and wine industry's contribution to the overall Canadian economy, especially in British Columbia, Ontario, Quebec, and Nova Scotia.
ABOUT WINE GROWERS BRITISH COLUMBIA
From 1990 on, WGBC has played a pivotal role in taking BC's wine industry from a vision to an internationally recognized niche region producing premium wines and providing exceptional wine tourism experiences. WGBC markets the wine and regions of BC; delivers quality trade, media and consumer tastings; and acts as the voice of BC's wine industry by advocating to government on behalf of industry that contributes $2.8 billion in provincial economic growth annually.
WGBC represents all wineries in British Columbia to grow the premium market share for the Wines of British Columbia, while driving awareness of our world-class wines and tourism product – currently drawing 1 million visitors with $600 million in tourism and tourism employment related economic impact every year. For more information about Wine Growers BC programs and services, please visit WineBC.com..
Stay in touch with the Wines of British Columbia through social media @WineBCdotcom.