Innovation, Philanthropy and Giving Back Earn Glenn Fawcett
the Award of Distinction from Wine Growers British Columbia
Philanthropist, innovator, community leader, and wine ambassador Glenn Fawcett is recognized for his considerable contributions to the wine industry by the Wine Growers British Columbia (WGBC) with its highest honour – the WGBC Award of Distinction. The Award of Distinction recognizes a winery representative for their outstanding leadership, commitment and passion for the advancement of the British Columbia wine industry. Previous winners of this prestigious award include wine industry luminaries such as Howard Soon, Sandhill (Andrew Peller); Harry McWatters, Time Winery; Tony Stewart.
During his 35-year career as an entrepreneur and innovator Fawcett has founded and/or consulted to numerous successful companies including Therapy Vineyards and Guesthouse and Black Hills Estate Winery. Fawcett is also a sought-after industry consultant under his company Vinequest Ltd.
"Thank you to Miles Prodan and the team at Wine Growers BC for this," remarks Fawcett. "I am just thrilled, and humbled to be selected by my peers. With more than 350 licensed wineries in the province and over 12,000 people employed in the wine industry," he continues, "this is an unbelievable honour. And I note that this accolade would not be possible if I did not have the support of many people along the way."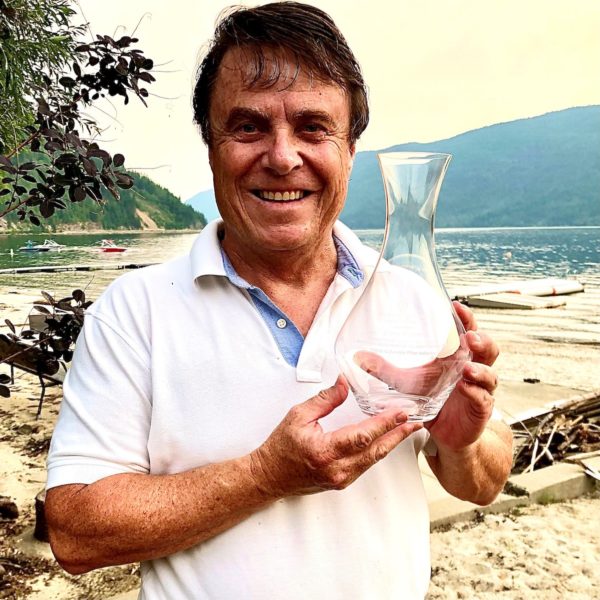 Peer Recognition
The industry recognizes Glenn for the tenacious entrepreneur he is.
Duncan McCowan, president and owner of Hillside Winery, notes before he was in the wine industry, he met Fawcett by chance when camping at a lake in Alberta. It was that meeting that led to the two men developing a 20-plus-year friendship, where they support each other and the industry.
McCowan lauds Fawcett as "bringing extensive energy to our industry in numerous capacities." He notes that Fawcett has made unique contributions to the betterment of the industry by helping create further exposure to the BC wine scene, as well as helping generate morale and networking opportunities for employees in the industry.
"He is the consummate promoter, innovator, and wine industry leader," enthuses Christa-Lee McWatters, general manager at Time Family of Wines. "His boundless energy, passion, and drive have helped create greater worldwide awareness of our wine region, to benefit all wineries."
John Peller, president and CEO of Andrew Peller Limited, notes "Black Hills Nota Bene is the leading luxury wine in Canada, and there is no way that that happens overnight. It is Glenn's perseverance and dedication," he continues. "'Chief wine evangelist', Glenn's title, represents him perfectly. If there was ever someone who represents that passion and special gift for connecting people it's Glenn."
Innovating in a Burgeoning Region
Fawcett has originated numerous innovative consumer events that have created greater world-wide recognition of the BC wine region/industry to the benefit of all wineries. Inspired by events such as the Sundance Film Festival, he created The Vinos Wine Film Festival, the world's first wine film festival which ran from 2010 to 2014 and attracted more than 160 different submissions from around the world. He is the co-founder of The Osoyoos Celebrity Wine Festival which attracted the participation of more than 35 wineries and chefs from 10 Okanagan restaurants in addition to high-profile movie stars and celebrity guests. The event shone the spotlight on a lesser-known wine region and helped BC develop into the wine industry powerhouse it is today. Fawcett created The Wine Experience Centre at Black Hills Estate Winery – a first-of-its-kind immersive wine tasting experience that has influenced how other BC wineries now design and operate their tasting rooms.
Philanthropy
Under Fawcett's leadership, Black Hills Estate Winery has raised more than $1,000,000 for 85 charitable causes. He has personally established two scholarships: the $65,000 Nick Bevanda Architectural Scholarship and the $16,000 Winemaking Excellence Scholarship at Okanagan College in Penticton. In the first three years of the Osoyoos Celebrity Wine Festival, it raised more than $128,000 for local charities in the Okanagan Valley.
Giving Back to the Wine Industry
In 2008 Fawcett created the Winemaker Cup Ski Weekend that during the past 10 years has attracted more than 520 participants representing more than 82 different BC. It is the world's only annual ski and snowboard challenge weekend for the wine industry. In a similar vein, in 2003, Fawcett pioneered an annual Harvest End Party for the industry an event that brings together everyone working in the industry to meet their peers at an end-of-season celebration. The tradition continues to this day with winery employees and managers getting together after the BC Wine Growers Viticulture Forum. The event has sustained itself through Fawcett's leadership in gathering the community. And to help further spread the wonders of Okanagan Wine Tourism to the world, Fawcett created an online community and is the administrator of the Okanagan Wine Friends (2.9K members) public group on Facebook.
For more information on the Wine Growers of British Columbia please visit winebc.com.
Media release and images provided by Nancy Wong, Town Hall Brands. Feature image photo credit: Rafal Weigel