Fifth and final in a series of five reviews of Local Flights BC Wine Tasting Event
Although 2020 required a much different method of handling the event, nevertheless the tasting, which was conducted under strict Covid protocol with each participant at their own table, social distanced from one another, was a critical success.
Overall, and covering just something better than four hours, I tasted 50 wines. Wines were divided into groups of nine per flight (except the final flight which was one wine only) meaning a total of 6 flights. I am breaking my reviews down into five flights plus one and this is a review of the final two flights of the afternoon, in the order they were tasted.
Orofino Beleza 2018
Our signature Bordeaux style blend produced from Cawston Bench grapes. 40% Cabernet Sauvignon, 40% Merlot, 10% Petit Verdot, 10% Cabernet Franc. Aromas of mint, dust and black cherries. supple tannin structure highlighting flavours of cherry and spice and an elegant mouthfeel. 18 months in fine French and American barrels. Ages well.
Built for comfort, not for speed, this ode to Bordeaux is one for the cellar. Rich black fruits mixed with spicy notes and classic Similkameen minerality. Our best barrels make up the blend. Always unfined and unfiltered to best show off our terroir.
Light, fruity scents, good colour with a nice ripe fruit finish. Flavourful dark fruits with heavy tannins.
$32.96 available online from the winery
Fort Berens Meritage 2018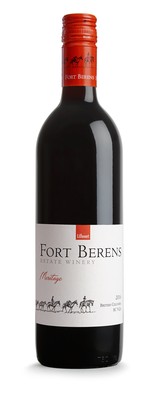 Savour the aromas of wood, spice, black currants, and bright black cherries in our classic Merlot-predominant Meritage. This full-bodied wine is juicy with a complex palate featuring notes of dark cherries, spice, and oak. It is elegant with soft, but lengthy tannins and a nice, long finish.
Winemaker Notes
This complex Meritage is a blend of 68% Merlot, 30% Cabernet Sauvignon, and 2% Cabernet Franc. Each fraction of grapes was fermentated and aged seperately. The estate-grown Merlot was fermented with wild yeast, while the non-estate grown Merlot was fermented with commercial yeast. The Cabernet Sauvignon was fermented in 1000 litre tanks to increase the skin to juice ratio. The fractions were blended together before bottling. This process helped bring out the best in each grape varietal. This wine was aged in barrels, and then further aged in bottles in our cellar before release.
Pair this mouthwatering wine with espresso rubbed beef or pork tenderloin, eggplant parmesan, or a charcuterie board with hard aged cheeses like hard gouda and applewood smoked cheddar.
Starting with scents that bring to mind of grilled onions, beef stew, stinky cheese and mushrooms. Mirroring the complexity of this wine. Dark, ripe fruits, truffles and all things good. Rich and fruity with just the right tannin balance.
$27.99 available online from the winery
Hester Creek The Judge 2017
A classic blend of almost equal parts Cabernet Franc, Cabernet Sauvignon and Merlot, the Judge is a powerful, yet elegant Bordeaux style red that is built to age gracefully. Aromas of anise, cedar, dark cherry and blackberry greet the nose. Youthful tannins show initially on the palate, followed by dark chocolate, Italian plum, and Negronne fig, with a lengthy finish. If enjoying young, decanting is recommended. Pair with a slow roasted leg of lamb and morel mushrooms jus.
Already a fan of this one I am approaching this with that slight bias. Tobacco, leather and smoke prevail in this juicy wine with dark fruit flavours. Medium to slightly heavier tannins.
$43.99 available online from the winery
Terravista Figaro 2019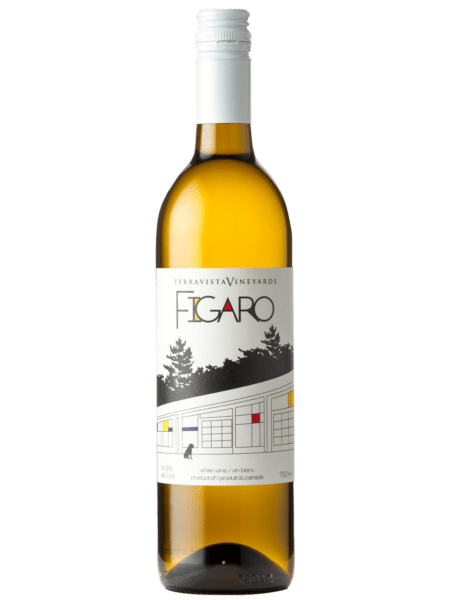 Roussanne (44%), Marsanne (30%) and Viognier (26%)
Orange blossom, apricot and almond notes on the nose. Wild honey and citrus are layered brightly in this Rhone-style white. Blossoms return and linger with ginger and fresh cantaloupe showcasing the rich presence of Marsanne on the palate. Elegantly textured, lightly toasted almonds pique your interest on the finish hinting at some years ahead. Playing off the citrus and nutty notes, prawns in coconut curry or more traditional roasted fowl may suit.
WINEMAKERS NOTES

Fruit was hand-picked and gently pressed in small batches. Marsanne and Roussanne were 100% barrel fermented and aged surlie, in a combination of neutral and second fill French oak barriques and puncheons. Viognier was stainless steel fermented.
Yummy scents of ripe fruit. Clean, crisp aromas. Light colour. Medium body, tropical, ripe fruit finish.
$26.00 available online from the winery
Black Hills Addendum 2018

The wine opens with aromas of red fruit, vanilla and dusty cocoa. Although subtle in its youth, the nose will evolve to show deep dark chocolate and black cherry given the opportunity to age further in bottle. On the palate one detects flavours of juicy black plum and cherry, as well as fresh vanilla bean from the barrel aging. This wine has medium body, tannin and acid, and leaves a slight spicy herbal note on the finish, similar to bay leaf or white pepper. If you are drinking this wine tonight, decant it for an hour and enjoy it with beef short ribs, or cellar it for up to 10 years in the right conditions.
"Our 2018 bottling of Addendum continues to showcase the unique and concentrated red fruit aromas of Merlot from our Black Sage Bench vineyards.  This year we have sharpened the focus of the blend to include only Merlot (86%) and Cabernet Franc (14%).  The small percentage of Cabernet Franc allows the Merlot to shine, while also bringing a subtle red fruit and herbal complexity to the blend. Cabernet Franc also contributes a fine and elegant tannin structure, which supports and compliments the silkiness and richness of the Merlot." -Ross Wise, MW
Dark in colour with aromas "to die for". Notes of ripe, dark fruits. Bold, dense, smooth with medium tannins. An excellent expression of a BC red blend for discriminating wine drinkers.
$49.90 available online from the winery
Clos du Soleil Signature 2017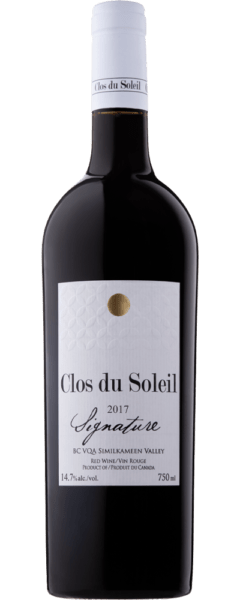 Signature is our flagship blend of red Bordeaux varieties, produced by hand, and aged for 15 months in French oak barrels. The 2017 vintage is the product of a long growing season of more moderate temperatures and was perfect for producing this classically styled iconic wine. The taster is enveloped in aromas of raspberry and blackberry, black currant, with hints of cassis bud and notable floral aromas such as violet. On the palate the wine is layered with flavours of black cherry, raspberry, cassis, mint and blackberry, with complex notes of graphite, and sagebrush and a delightful freshness. Structure is provided by the soft but full tannins, and a stony mineral quality to the long finish. Enjoyable in its youth, the balance and structure of this wine will ensure its ability to age for many years.
Most noticable the dark, rich colour along with aromas of ripe blackberries and cherries. Smooth and rich with ripe, dark fruitiness and medium tannins. Wonderfully flavourful.
$47.90 available online from the winery
Painted Rock Red Icon 2017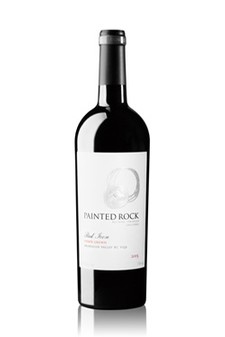 A flagship blend made from Bordeaux grapes.This wine invites you in with rich aromas of blackberry, dark plums, cassis and sweet spices. The palate, with its velvety tannins and high acid, offers bold and juicy black fruit layered with pepper, baking spices, vanilla and chocolate. Those who cellar this wine will be rewarded.
WINE SPECS
Aged 18 months in 30% new French oak.  38% Merlot, 21% Cabernet Franc, 20% Petit Verdot, 11% Cabernet Sauvignon, 8% Malbec, 2% Syrah.
TASTING NOTES
This vintage invites you in with rich, pronounced aromas of cassis, black cherry, bramble fruit and nutmeg. The palate with it's well-balanced, smooth tannins shows further development of the dark fruit with further blueberry and chocolate notes. Elegantly balanced with a rich texture, bright acidity and smooth texture.
Decanter's Canadian "Wine of the Year" 2020!
Beautiful dark colour exhibiting scents first of celery, then ripe blackberries and dark cherries. Smooth with ripe, dark fruit flavours and medium tannins.
$59.99 available online from the winery
Black Hills Nota Bene 2018

The 20th vintage of the Nota Bene is comprised of 49% Cabernet Sauvignon, 41% Merlot, 9% Cabernet Franc and new this year, 1% of Petit Verdot. This is the first vintage crafted by our winemaker, Master of Wine Ross Wise. On the nose this wine has pronounced aromas of ripe black fruits like mulberries, blackberries and plums. On the palate, the grippy tannins mixed with flavours of blackberries, mocha and dried herbs will pair perfectly with barbequed ribs or a hearty steak. This wine is deep and complex and can be decanted to enjoy this evening or cellared for up to 10 years.
Large format 2018 Nota Bene. The 20th vintage of the Nota Bene is comprised of 49% Cabernet Sauvignon, 41% Merlot, 9% Cabernet Franc and new this year, 1% of Petit Verdot. This is the first vintage crafted by our winemaker, Master of Wine Ross Wise.
Enticing aromas of wet wool, blankets, root vegetables giving way to dark, ripe berries. Somewhat lighter than I expected but delicious and very drinkable, with or without a food pairing. Rich and smooth with very light tannins. Excellent. Definitely lives up to its reputation. 
The Black Hills website indicates the magnum (3 L) Nota Bene is currently available online at $379.00. 
$61.99 available online for pick-up or delivery from Everything Wine
Moon Curser Malbec 2018
This is a medium to full-bodied red wine with a vibrant dark purple colour. Intense notes of blueberries, violet, dark chocolate and caramel dominate the nose. The refined, fruit-forward palate has characters of black cherry, plum, eucalyptus and vanilla bean. The wine has a generous, plush texture backed up with plentiful rich tannins and well-balanced acid structure. With its balanced structure and warm but delicate finish, this wine drinks well now, but with proper cellaring can be enjoyed over the next seven to ten years.
Another grape not often seen in these parts, Malbec originated in South West France but is now better known to many as the flagship grape of Argentina. Malbec is one of our small lots and single vineyard wines – keep this to yourself and enjoy in a locked room by the light of a single lantern….
Nice, very dark colour, aromas of canned cherries, plaster, dough, cherry pie, jam and jelly. Ripe fruit berry flavour with heavier tannins.
Sold out at the winery.
Moon Curser Touriga Nacional 2017
This Portuguese grape (traditionally used to make port) is also now increasingly being used to make dry table wines. This low yielding variety produces very few bunches of small grapes. The resulting high skin to pulp ratio makes for a well-structured, aromatic wine with high tannins and intense black and red fruit flavours. Moon Curser is the only producer of this wine in British Columbia and we're delighted to report that the heat and sun of our Osoyoos East Bench vineyards have provided the most welcoming growing environment for this intriguing variety. The 2017 Touriga Nacional is a dry, medium-bodied red wine with a medium ruby colour. The nose is enticing with raspberries, black pepper, anise and paprika notes. The palate is similar to the nose and with hints of leather, dried thyme and cedar. Medium weight with smooth mouthfeel and silky tannin and acid structure, the wine delivers an intriguing profile of savoury and fruity characters. We anticipate that our Touriga Nacional will evolve nicely in bottle over the next five to seven years.
The 2018 Touriga Nacional is a dry, medium-bodied red wine with a medium ruby colour. The nose is alluring, with highly aromatic notes of dark berries, black pepper, violets and rosemary. The palate rounds out the flavour profile with its notes of fresh sage and cigar box. This is an exceptionally harmonious wine that delivers a truly captivating tasting experience. Our 2018 Touriga Nacional will evolve nicely in bottle over the next five to seven years, although it is also quite approachable upon release.
Dark in colour with a perfumey aroma. Scents of cranberries, candy, the forest and ripe fruits. Medium to heavy tannins yet refreshing and tasty. Smooth and lighter than I expected.
The winery lists the 2018 Touriga Nacional as available online $39.99 or at BC Liquor Stores $42.99
Tasting notes, courtesy of Wine BC Explorer Bottle shots, courtesy of the wineries. Additional notes, when available (in blue) courtesy of the wineries. Notes in italics: MyVanCity editor Valerie van der Gracht
This was a media event and was complimentary for all attendees. All opinions are my own. With thanks to Kim Barnes, Marketing Director, and her team for their incredible organization and oversight of this event. It was an afternoon well spent.