Fourth in a series of five reviews of Local Flights BC Wine Tasting Event
Although 2020 required a much different method of handling the event, nevertheless the tasting, which was conducted under strict Covid protocol with each participant at their own table, social distanced from one another, was a critical success.
Overall, and covering just something better than four hours, I tasted 50 wines. Wines were divided into groups of nine per flight (except the final flight which was one wine only) meaning a total of 6 flights. I am breaking my reviews down into five flights plus one and this is a review of the fourth flight of the afternoon, in the order they were tasted.
Fort Berens Estate Winery Cabernet Franc Reserve 2018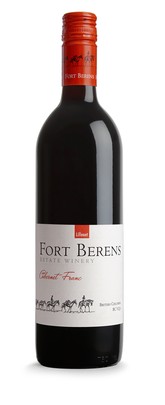 100% Cabernet Franc
This wine was made predominantly with estate-grown grapes from our Dry Creek Vineyard in Lillooet. Half of the grapes were whole cluster fermented and half were destemmed. Called partial carbonic maceration, this winemaking technique resulted in a wine that is very fruit-forward. It went through spontaneous fermentation for 9 days. This wine was aged in French and American oak barrels, and then further aged in bottles in our cellar before release.
On the nose, this complex wine is very aromatic with notes of blackberries and blueberries, white pepper, and rose petals. The soft, light tannins in this smooth, fruit-forward wine offer a beautiful mouthfeel with flavours of blackberries and raspberries, and a very long finish.
Food Pairing Notes
A touch of acidity in this wine makes it a very food-friendly wine. Pair this elegant Cabernet Franc with barbequed steak, lasagna, lamb kabobs with lemon garlic potatoes, or a portobello mushroom burger.
Dark colour, with rich, dark fruit scents. A little alcohol forward at first. Flavours of dark fruits; cherries, blackberries with a hint of tartness. Rich, full flavour of ripe plums, mellow.
$28.99 available online from the winery
Painted Rock Syrah 2017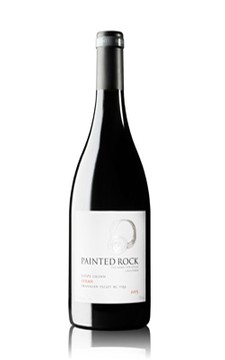 100% Syrah
Inviting aromas of rich aromas of cherry, raspberry and a beautiful floral character. The palate with it's well-balanced, smooth tannins shows off the fresh cracked pepper note our Syrah has become known for. Elegantly balanced with a rich texture and smooth tannins.
Our Syrah was hand picked from our two estate syrah blocks starting on Oct. 23, 2017. J block is planted with clone 100 and M block is planted with 99. This wine was aged for 18 months in 30% new oak. Of that new oak, 80% was French and 20% was American. The remaining 70% was aged in 2nd fill French oak.
Super, dark ruby red in colour. with subtle rich aromas. Dark fruits; cherries, pure essence, a bit of stinky cheese, excellent with dense flavours. Smooth presenting medium tannins.
$39.99 available online from the winery
Chaberton 2016 Cabernet Sauvignon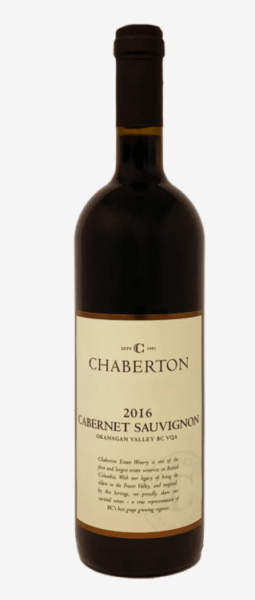 Okanagan Valley BC VQA
A full bodied red with a core freshness of blueberry and black current that is surrounded by notes of cedar and nutmeg. Charred toastiness, espresso and roasted cocoa adds flavours to a focused structure with supple tannins. Enjoy with braised or grilled red meats, strong cheeses and dark chocolate desserts.
Scents of chalk, sulphur, mushrooms, dust and stinky cheese. Rich, but lighter than I expected. A good wine with heavy tannins. Recommend opening early and lengthy decanting.
$24.95 available online from the winery
Ex Nihilo Night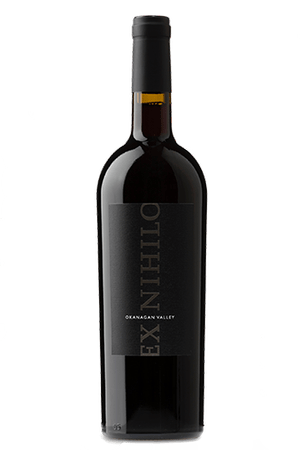 Ex Nihilo Night was created in honour of the mysterious balance the night brings to our vineyards. The cool night air that comes off the Mountain Range and Lakes lower the vineyard temperature just enough to slow down the ripening process to develop richer fruit with more complexity.
Wine Profile
TASTING NOTES
Aromas of cassis, tobacco, and black cherry. Raspberry jam and dark chocolate on the palate.
Black Sage and Golden Mile Benches
WINEMAKER NOTES
Grapes were hand-harvested, destemmed, and fermented whole berry in stainless steel for 18 days. The wine was pressed off to French and American oak barrels to complete malolactic fermentation over the winter months, and aged for 20 months. 80% French, 20% American, 7% new oak. 55% Cabernet Sauvignon, 25% Merlot, 17.5% Cabernet France, 2.5% Petit Verdot
Dark in colour with scents of armpit, stinky socks. Rich and smooth taste with light but ripe fruit and medium tannins, flavourful.
$50.00 available online from the winery
Blue Grouse Estate Ortega 2019

This wine reflects the best that warm Cowichan Valley summers can deliver. Ortega is Vancouver Island's signature grape and this wine is its perfect ambassador. The delicate floral and orange peel aromas are supported by a medium body, with lively acidity that finishes with buttery caramel notes. Pair it with oysters on the half shell or your favourite seafood.
Scents of ripe, stone fruits. Dense and rich but somewhat light and smooth. Flavours of peach. Very refreshing.
$23.99 available online from the winery
Laughing Stock Portfolio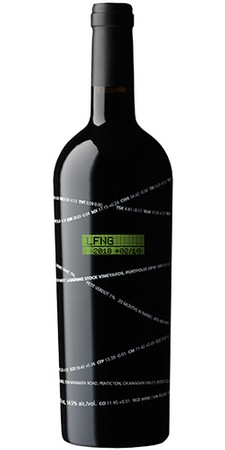 Just like a finely balance stock portfolio, putting together a blended wine takes finesse and judgement so that the experience of the whole will be greater than the sum of the individual parts. Our Portfolio is a wine that marries the art and science of winemaking with a blend of Bordeaux varietals. For over a decade, Portfolio has routinely won top accolades from wine competitions and wine critics alike: a proven chart-topper. Also available in 1.5 litre Magnum and Double Magnum 3.0L. Aromas of tobacco leaf, cedar box, leather and vanilla bean greet you. On the palette, this wine hints at blackberry, dark cherry with a touch of all spice. The bold tannins and balance of fruit and acidity will make this a great wine for ageing 7-10 years. We would expect nothing less from Portfolio.
The 2018 vintage combines the five classic varietals: 45% Merlot, 34% Cabernet Sauvignon, 15% Cabernet Franc, 3% Malbec, and 3% Petit Verdot to create a multilayered, complex wine.
Wonderful aromas of dark fruit and blackberries. Rich with flavours of ripe fruit, smooth with light tannins.
$49.99 available online from the winery
Osoyoos Larose Pétales d'Osoyoos 2016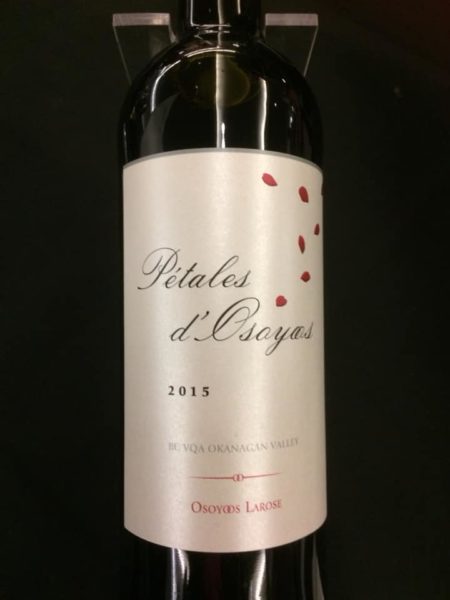 2016 image n/a
Pétales 2016 is a very fruity Bordeaux blend, with cherry note on the nose, a touch of leather and lightly toasted. The mouth is gourmet with its red fruit note and well balanced with smooth tannins. The after taste stays on cherry, and the smoke note gives a good finish.
Red Blend Merlot, Cabernet Sauvignon, Petit Verdot, Cabernet Franc, Malbec
Aromas of dark fruits, plum. Good clarity and colour. Flavours of cherries, ripe fruits, rich and flavourful.
pricing n/a
Osoyoos Larose Grand Vin 2016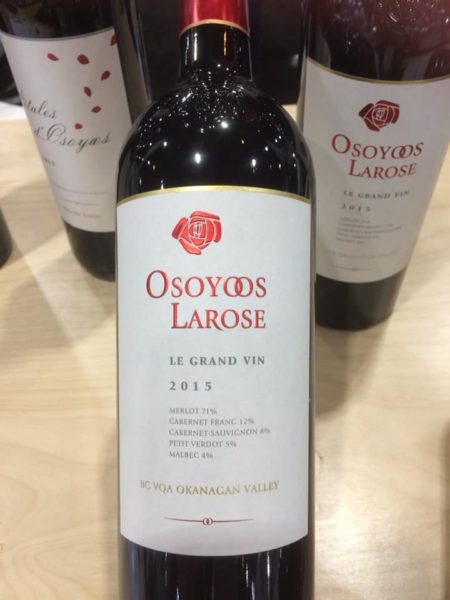 2016 image n/a
Le Grand Vin 2016 is a very balanced wine. The harmony between the freshness and fruit and the power of the tannins give a voluptuous mouthfeel with a very nice finish.
Scents of cherries, dark fruit, blackberries presenting ripe fruit flavours. Deep, dense with heavy tannins.
pricing n/a
Phantom Creek Red 2016

This rich, full-bodied Okanagan red is a tribute to the art of the blend. The 2016 edition features twelve labels, each with a different photograph by local artist, Lionel Trudel. The photos were taken at our estate vineyards and shot in the iconic "Chiaroscuro" style, literally meaning light-dark.
CHIAROSCURO
46% MERLOT
25% CABERNET SAUVIGNON 17% CABERNET FRANC
4% SYRAH
4% PETIT VERDOT
2% CARMENERE
2% MALBEC
Very dark in colour with rich, full scents and aromas of ripe fruit.Very good, rich, smooth, dense with flavours of dark fruits. Light to medium tannins.
Tasting notes, courtesy of Wine BC Explorer Bottle shots, courtesy of the wineries. Osoyoos Larose images: Facebook. Notes in blue, courtesy of the wineries. Notes in italics: MyVanCity editor Valerie van der Gracht
This was a media event and was complimentary for all attendees. All opinions are my own. With thanks to Kim Barnes, Marketing Director, and her team for their incredible organization and oversight of this event. It was an afternoon well spent.