"In this series I will be sharing my take on which BC Wine pairs well with some inspirational recipes"
Just in the nick of time my delivery of wine samples from winemaker Michal Mosny arrived yesterday. I had been invited to participate in a first – a wine tasting in Canada's first ever Virtual Tasting Room. Co-hosted by Barb Wild, Good Wine Gal and presented on Zoom. This was a unique, and soon to be trend setting, virtual tasting set in a beautifully designed virtual tasting room surrounded by the wines of Winemaker's Cut.
Winemaker's CUT has partnered with VR bandit and Barb Wild and developed a dynamic photo-realistic and interactive online platform that looks and feels like the tasting room we never had. Our Virtual Reality tasting room is going live on our website April 23rd, 2021. – Michal Mosny, Winemaker's Cut
In the vifrtual tasting room you could navigate, explore the wines, and even read the tasting notes for each wine. At the same time sample the wines I had been sent and hear Mosny's introduction to each wine. The experience allowed each participant to interact with the host and winemaker, ask questions all while listening to pleasant background music.
When the opportunity presents itself I like to pair the wines I am reviewing with a dish I make. Sometimes it's complicated, other times simple and casual. This time it was casual, delicious, if not rather time consuming, although simple. A bit unusual in that I paired all four wines with just one dish. The dish and recipe follow the wine tasting notes and my review.
Here are the wines I tasted and paired with the dish…
SAUVIGNON BLANC 2019

Varietal
100 % sauvignon blanc
Winemaker's Tasting Notes
Gently aromatic Sauvignon Blanc, both soft and supple fruity and grassy notes are offering citrusy honeyed toast. Mineral nuances are sustained by nicely evened acidity.
Dry and exquisitely tart at first, citrus, puckery on the palate. Aromas of pear, meyer lemon, peaches, stone fruits and granny smith apples. Continues mellow and smooth.
Ideal alone but would also make an excellent pairing with cheese, charcuterie and seafood.
I enjoyed this wine pre-dinner.
ROSÉ 2020

Varietals
60 % Cabernet Franc 40% Syrah
Winemaker's Tasting Notes
A pale salmon colour is followed by vivid stone fruits, citrus, cherry, and berry flavours in a light, elegant style of rosé. It's fresh, crisp, and moreish, with a smooth texture that leads to a grapefruit laden finish.
Scents of dirt quickly followed by light  aromas of roses. Wild straowberries, red apples, cinnamon and greengage plums coming together in a delicate flavour symphony of deliciousness.
I paired this with the dish and it worked quite well. The chilis were quite mild because I am not a spice fan so it allowed the tomato based Rancho sauce to work with the Rosé which otherwise might have not been one I would have expected to meld with the flavours.
The Rosé is reminiscent of a Provence style to be enjoyed on a quiet, warm summer day relaxing on your patio.
SYRAH 2019

Varietal
100 % syrah
Winemaker's Tasting Notes
Deeply coloured Syrah, the nose shows lot of black fruit, spice, black pepper, and sweet liquorice. The palate offers fresh dark berry flavours with spicy finish. Medium-full bodied and fine textured wine.
Beautiful scents of dark fruits, ripe plum, blackberries, fruit pie and hard candy. Medium body, medium but pleasant tannins. While still quite young it is enjoyable now.
For this one hubby enjoyed as he waited for dinner.
BOHEMIAN ROUGE 2019

Varietal
40% merlot 30 % cabernet sauvignon 20% cabernet franc 10% petit Verdot
Winemaker's Tasting Notes
Beautiful deep garnet colour opens up a fresh dark berry bouquet infused by hints of white pepper and herbs. Medium – full body flavours are lingering throughout a long fruity finish.
Yummy dark plum, cherries, sipened fruit. Intensely delcious aromas. Some mushroom, cooked beets. Dark and rich in colour. Medium to heavier body with slightly more intense tannins but pleasant. Fruity and ripe.
Hubby scored again as he paired this with the dish and thought it worked well.
Enter the Winemaker's CUT Virtual Tasting Room here.
The dish…
Roasted Chiles Rellenos with Black beans
Ingredients
Anaheim peppers
Mozzarella or Jack cheese
Canned black beans
Canned Italian San Marina style tomatoes
Chili
Onion
Garlic
Chopped fresh cilantro
Oregano
Jalapeño (optional)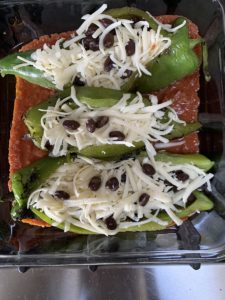 I chose Anaheim peppers because they are very mild and large enough to add stuffing. First I blackened each pepper over the gas stove, placing them directly on to the grid, turning with tongs until blackened all over. Pop them immediately into a paper bag where the steam with release and it will make removing the skin easy, if not messy.
Carefully split the pepper lengthwise and remove the seeds. Put the pepper aside to cool.
For this recipe, which actually calls for fresh tomatoes, I used good quality canned tomatoes that I had leftover in the fridge and they worked perfectly to make a Rancho sauce by combining the tomatoes, which were canned in sauce, with roasted or fried onion and garlic, chili papper and oregano. I left the sauce to simmer while I participated in the virtual tasting.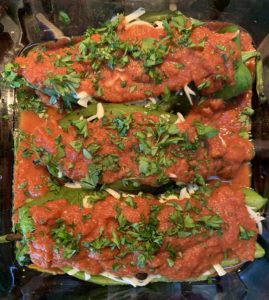 Later I finished preparing the peppers by stuffing them with black beans and grated cheese. I made them so full they were slightly open on top.
Once ready to assemble the dish, pureé the Rancho sauce ingredients and pour half the sauce into an oiled casserole dish. Top with the stuffed peppers. Pour the rest of the sauce on top and sprinkle with chopped cilantro and top with more grated cheese. Cover the dish tightly with aluminum foil and bake at 425 for about 30 minutes, remove from the oven and take off the aluminum foil and return to the oven for about 5 minutes, or until the cheese becomes golden.
Serve with sour cream. Delicious. This is both a simple but partially time consuming dish but well worth the effort.
Winemaker's CUT
" Originally from Slovakia, my wife and I, we packed our passion for wine and with our knowledge and experience and we readied ourselves for new opportunities and new experiences.
After years behind the scenes as the winemaker for a number of labels we made the commitment, my wife and I, to create our dream: the Winemaker`s CUT, producing wines that were true to us, true to what we love and producing wines that honoured our beliefs in playing classical music in our vineyard and cellar, naturally farmed vineyards and our expectations of quality through traditional harvesting and winemaking methods.
Winemaker's CUT meant a host of things to us subjectively. It spoke to finally stepping from behind the scenes and making our dream a reality. It was a piece of us, and our opportunity to capture and share a moment exactly as we saw it. It was the opportunity to make the calls for ourselves, like a director's cut, to share our unique point of view – our styling and blending of an Okanagan wine. "
Michal
Tasting notes and bottle shots courtesy of the winery. My notes (in italics). All opinions are my own. The winery supplied samples of each wine (100 ml) to facilitate this feature. Images: MyVanCity