"In this series, I will be sharing my take on which BC Wine pairs well with some inspirational recipes"
Well of course that is the plan, but sometimes life just gets in the way of best laid plans. It's pickling season and for the first time in a number of years our house has been a whirlwind of canning activity; the jars, the vinegar, the pickling salt, the sugar, the spices!
Cucumbers have been the stars throughout this exercise and thanks to local farm Amara 100% fresh organic produce has been available at every step. Starting with baby dills using Auntie Blanche's Dill Pickle recipe, followed by Quick Dills with an added twist of the addition of sliced sweet onion and pickling spice. Next up, using larger cukes, Auntie's Bread 'n Butter Yum Yum pickles. Bringing it all home with eight large field cucumbers and a few bell peppers and onions from Kehler Vegetables became, a first in this household, Sweet Green Relish. All using the old school water method of canning. Woo! It's been a busy time.
So that's the reason, excuse and circumstance for this somewhat unorthodox wine pairing. Following my philosophy of pairing a great wine with a modest dish, unabashedly it was the oh so delicious Frind The Premier 2019 paired with a good old fashioned, bbq'd hot dog. Not even a fancy one, this one was adorned with the lowly French's mustard. Accompanied by a yummy potato salad made with organic potato nuggets and farm eggs from neighbourhood Pottage Farm Produce.
Don't judge! Sometimes it's just about the wine.
Suggested BC Wine Pairing:
Frind The Premier 2019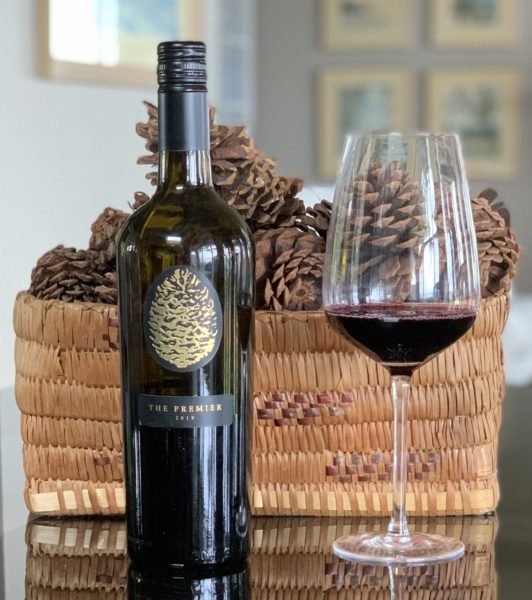 Inaugural Vintage Release
The Premier is the pinnacle blend with bold flavours, strong structure, with an elegant lingering finish. From our vineyards to our crush pad, and within our cellar and lab; our new technology, with data analysis, ensured only the finest quality fruit was
used to ferment this wine in small batches. Allowing each small lot to ferment and barrel age on its own, gives us various components to build the blend regarding flavour, structure, and finish.
The Premier is a blend of Merlot, Cabernet Franc, Cabernet Sauvignon, Regent, Syrah and Marechal Foch. On the palate, the wine is layered with flavours of bright ripe cherries, cassis, raspberry, and blackberry. Soft ripe tannins with a very full midpalate and long flavourful finish of spice and hints of cocoa, make this a beautifully bold and elegant blend.
Pair with Sunday night roast and balsamic glazed roasted vegetables.
Bronze Medal International Wine & Spirits Competition
Deep, rich aromas of ripe fruit. Good colour and clarity. For such a young wine it has excellent body and distinctly mature flavours, mainly plum torte, followed by Red Delicious apples. Definitely lack of tannins lead to smooth and velvety mouthfeel. This before decanting.
After decanting, picking up scents of tobacco and black pepper. Hard candy essence, licorice.  Some cranberry and pomegranate scents. Now, the lightest of tannins as it maintains a richness in the mouth. Ever so slightly lighter than the clear, dark ruby colour suggests. A very, very good expression of this newer winery making its mark. Definitely cellar worthy.
$39.99 available online Please note order minimum is 3 bottles
Frind Estate Winery strives to celebrate and preserve the rich history of this spectacular location.
3725 Boucherie Rd
West Kelowna, BC V4T 0A8
T | (778) 754-1118
Tasting Room Hours
Open 11:00am – 8:00pm, 7 days a week
BOOK NOW powered by Tock
UPDATE: The Provincial Health Minister has identified that the Central Okanagan region has had a very high increase in cases resulting in an outbreak. As a result, effective at midnight tonight MASKS MUST BE WORN in all public places indoors in Peachland, West Kelowna, Kelowna, Lake Country
Our tasting experience is designed with your safety and that of our team in mind, with separated tasting spaces, minimal touch wine service and contactless payment. With the limited capacity, reservations are recommended to secure your tasting experience, but we will welcome walk-ins if space allows.
Annie's Beach Café & Lounge
Walk-Ins Welcomed & Reservations for Friends of Frind Club Members only
Please see our detailed hours for both the indoor Café and outdoor patio HERE
(778) 754-1118 ext 2
annies@nullfrindwinery.com
*Please note that our Dining in the Domes are closed during the Spring/Summer months. Stay tuned for opening in Fall/Winter!
Read other wine articles featuring Frind here.
Wine notes and winery information courtesy of Frind Estate Winery. My wine notes (bold italics). I received complimentary wine to facilitate this review, all opinions are my own.