"In this series, I will be sharing my take on which BC Wine pairs well with some inspirational recipes"
What could be more classic than a Carbonara? This is a go to dish in our house, usually shared with extended family. With at least three cooks in the family, each one has their own version. For this particular pairing the dish was created by a family/guest chef and it was delicious.
This time it was served alongside a cool and refreshing salad of local tomatoes, fresh mozzarella all drizzled with a quality balsamic vinegar.
Suggested BC Wine pairing:
Maverick Rubeus 2018

Our very first red in a bottle! Rubeus/Rubicon: Named after a river in Italy (the Rubicon) that marked the point of no return. True to the origins of this wine, a portion of the different varietals used in this blend are co-fermented.
Deep ruby red with good depth and intensity, the nose has a nice toasty note from the 18 months in French and Hungarian Barriques (225L oak barrels). Cherry chocolate cake and some grenadine notes give way to a touch of spice in vanilla and cinnamon. The Syrah gives a savory note of soy and almost a tamarind like note. the palate is muscular but approachable in its youth, with blueberry jam, black currants, cola berry and licorice. Lingering in the finish are more sweet berry fruits, baking spices and warming sensation from the fine tannins.
Scents of floral, slight rose, vanilla and star anise with an undertone of ripe fruits like black cherries and blackberries. Medium colour with distinct, but not excessive tannins. Smooth with good acidity. As it sits, an essence of tobacco and spice emerge. 
Although many pair a carbonara with a crisp white wine, in our house it is always paired with a red wine. The acidity and ripe fruits were the perfect foil for the over the top creaminess of the pasta, eggs and rich cheese.
Very nicely matched with a salad of local tomatoes and fresh mozzarella. The wine also stood up to the balsamic drizzle which can be a challenge. 
This lively blend of Merlot, Syrah, Cabernet Sauvignon and Cabernet Franc was a hit all around. Young but drinkable now with decanting. Watch the temperature as it is best at a slightly cooler room temperature.
Carbonara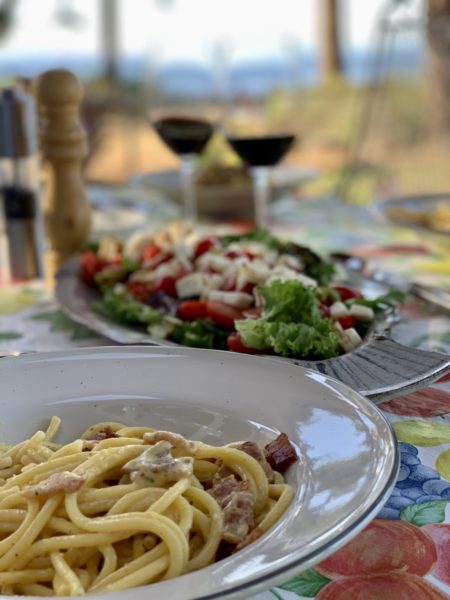 Ingredients:
farmers bacon, locally sourced, ethically raised
garlic from a farmers' market
free range farm eggs
parmsesan cheese (finely grated)
Bucatini egg pasta
salt and pepper
There are many versions of Carbonara featuring fresh eggs (local farm eggs if possible). The concept is much the same in every recipe, using beaten eggs, garlic, bacon or pancetta, and a quality pasta.
My own version includes an egg pasta (dried) (Bucatini is ideal as it is thick with a hole in the middle to capture the sauce), free range, local eggs from a neighbour, local garlic (minced) and bacon from the local butcher cured from local pork sides. (you get the drift about the preference for local and fresh).
Chop the bacon into 1/2″ pieces, fry over medium heat and add the minced garlic. Depending on how garlicy a flavour you prefer, the longer you cook the garlic the milder it becomes (don't be afraid to let it go brown and crispy for something a bit different, it adds a nutty flavour) If you prefer a more garlicy version, skip the frying pan and combine the raw garlic with the egg and cheese mixture.
Here is a trick someone passed on. Before you start to boil the pasta place the serving dish in a 250 degree oven.
Cook the pasta for 1-2 minutes less than the package instructions. (make sure to salt the pasta water well)
Beat the eggs (using one egg per person), season with salt and a generous amount of pepper. Once the pasta has cooked to al dente, quickly add the pasta to the pan with the bacon and garlic and swirl to combine.
Remove the serving bowl from the oven. Put the pasta, bacon and garlic mixture into the serving bowl, stir in some pasta water (optional) Add the finely grated parmesan to the beaten eggs, mix to combine, pour the cheese and egg mixture over the pasta, bacon, garlic mixture, toss till thoroughly combined, top with more parmesan cheese and freshly ground pepper and serve immediately.
Wine notes and bottle shot courtesy of the winery. Notes (in bold italics) are my own opinion. I received complimentary wine to facilitate this feature.