New Menus, Talent, Reviews and Recipes + Booking Updates for Fall and Beyond
Hello August!
Waking up to blue skies, lake views and that Naramata magic this morning has our team feeling great. We can't wait to greet you here in person.
New Menus!
Our just-launched mid-summer dinner, lunch, dessert and wine menus are bursting with local flavour. True to our mission, Naramata Inn's dishes star local talent like Van Westen cherries, Gurmit's peaches, and produce from as close as the Naramata Centre Permaculture Garden and even our neighbours' gardens. Have a look at all our menus here.
We are thrilled to serve local dairy from Sicamous; cheese from artisans across the valley; produce from farmers like Erin, Madison, Thomas, Jordan and Karla; as well as sustainable, ethical proteins from 63 Acres, Yarrow Meadow and Codfather's.
We've left room for the day's best seasonal ingredients in "Our Farmer's Garden" lunch dish as well as the best available catch with two new dinner seafood and fish features. Pair them all with Emily's wonderful wine selections and Dave's cocktail creations, and you have a memory in the making.
Dessert is sure to delight thanks to Pastry Chef Liz Stevenson's line up of mouth-watering treats including Stone Fruit Trifle, Naramata Pavlova, Merroir Chocolate Nougat, Okanagan Fruit Sorbet and, for those who want a bit of everything, "Little Bites of Fantastic".
Reservations are highly recommended. Book online or give us a call at 778.514.5444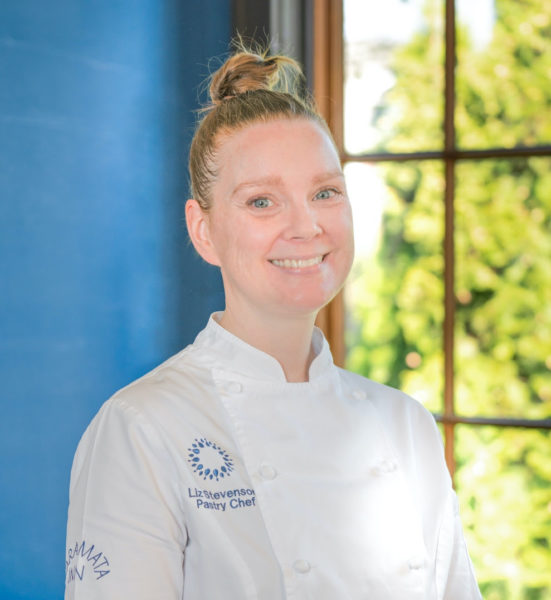 Speaking of Our New Pastry Chef Liz Stevenson
Adding some serious bench strength to our bread and desserts team, Chef Liz describes herself as a certified wine and chocolate nerd. An obsession with sweets paired with a passion for incredible ingredients, and an impressive resume of education and experience is great news for our guests.
Originally from New Brunswick, Liz cut her culinary teeth in Montreal after graduating with a Bachelor of Fine Arts from Halifax's NSCAD University. Liz spent the next 16 years abroad between London and Dubai in some of those city's best loved restaurants and bakeries, including the award-winning Rüya in Dubai and London's Mayfair, Caprice brands The Ivy, J Sheekey & Scott's, and Dominique Ansel Bakery in London.
Liz is deeply invested in policy issues and is an outspoken advocate for food system sustainability and gender equality. Completing graduate studies in food security, urban agriculture and international food governance, Liz was recognized as one of the most powerful women in F&B in the Middle East by Caterer magazine for her work in these areas.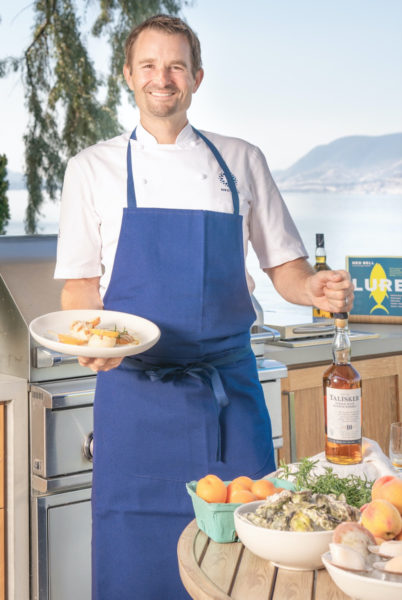 Make This Dish
BBQ Scallops with Naramata Stone Fruit 'Whisky Soda' Vinaigrette
This is a very simple, delicious and versatile recipe, perfect for a summer BBQ or beach cookout with a secret ingredient – single malt Scotch whisky (we like Talisker's 10 Year Old Single Malt) as it brings a whole new flavour to the combo of sweet and sour vinaigrette with charred scallops.
Sub in your favourite stone fruit – ideally whatever is local, ultra-ripe and in season. And if scallops aren't your thing, go ahead and use shrimp, halibut, cod, salmon or trout.
Click here for the recipe to get cooking with Chef Ned Bell.
Book Now for Fall
Autumn is an incredible season in Naramata thanks to extended warm temperatures and the excitement of the harvest. Water lovers can still take to the shores of Okanagan Lake for a paddle with the bright colours of changing leaves as the backdrop. Outdoor enthusiasts can immerse themselves in the middle of nature's colour show by hiking and biking the KVR on the Naramata Bench.
The bounty of the fall harvest makes it a delicious time to dine at Naramata Inn. Our hyper-local, seasonal menus reflect what's available from our regional farmers, giving our guests a true taste-of-place. And we can't forget about the wine! The excitement of the wine harvest radiates from dozens of vineyards on the Naramata Bench. Guests can join the fun by staying with us for the return of the much-anticipated Okanagan Fall Wine Festival.
Book Now for Summer 2022
It's hard to believe but summer dates for next year are booking at a brisk pace. Reserve now to ensure you've got the next Naramata Inn summer getaway locked down. Naramata awaits for your annual return to the flock.
Book your fall getaway and 2022 dates.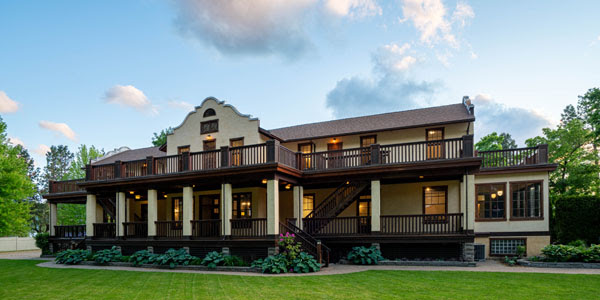 Information and images courtesy of The Naramata Inn.