WELCOME TO THE INN AT THERAPY!
Your Year Round Destination
When we purchased Therapy 3 years ago we set out to make it a complete experience. With a winery, vineyard, tasting room and inn, guests can enjoy days of wine touring along the Naramata Bench and peaceful evenings on their suite patio over a bottle of wine overlooking Okanagan Lake & our beautiful vineyard. Breakfast is prepared in our inn kitchen and served either indoor or out. As a year round destination guests enjoy our outdoor fire patio and hot tub under the stars along with a therapeutic dose of natural beauty. Book online through our website or call us to create your Therapy session.
We Hope To See You Soon!
Our Tasting Room is Open
So Is Our Patio! Stop by for Seated Tastings on our Sunny Patio!
Walk-ups Welcome!
Please reserve for groups of 6 or more.
DAILY 11 AM – 6 PM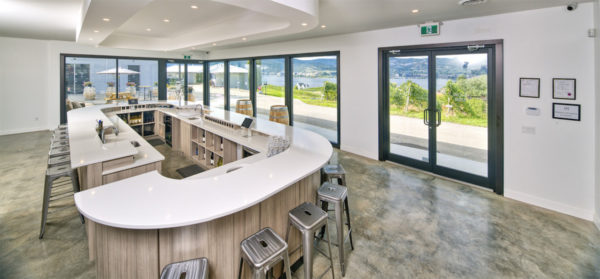 Can't Make It Here & Your Cellar Is Dry?
Our free shipping deal is still available!
PLUS:
2018 Freudian Sip Case Sale: $14/bottle
2018 Freudian Sip

The grapes used for our 2018 Sip were sourced from various vineyards in the Naramata and Summerland areas.  This diversification in locations allowed us to optimize fruit quality and capture the uniqueness of varying vineyard sites into this tasty white wine blend.
So why these grape varieties you might ask? With every good wine there must be a seamless natural acid backbone. This backbone is provided by the Sauvignon Blanc grapes while the Gewurztraminer/Pinot Blanc adds the uplifting aromatic tones. What does the Pinot Gris do?  It helps build the structure and balance of this wine.
Gewurztraminer 41%, Pinot Gris 37%, Pinot Blanc 13%, Sauvignon Blanc 9%
A NEW BEGINNING
When you visit our winery, we want you to have the most therapeutic experience. Surrounded by panoramic views of our vineyards, Okanagan Lake, and Giant's Head Mountain, this is the perfect Therapy.
Book a tour, and arrive at our Farmacy for a fun, and informative wine tasting. Enjoy a getaway in our Inn, and marvel at the view with a glass of wine in hand. Whether you're a novice or an expert, we've got the prescription for you. We have a list of wines that will please all palates: from fun and fruity blends, to single vineyard, single varietal classics, and a fortified wine that will wow your tastebuds!
So grab a bottle, gather some friends, and enjoy! It's as simple as that. Live well, drink well.
While the concept is the same, some things around here are changing. Welcome to our new beginning.
Information, images, and video courtesy of the winery.