A long time Naramata favourite currently with some great pricing and shipping incentives with Therapy joining our #ShiptoSip campaign.
Check out these excellent deals and act quickly because these will not last. Happy sipping!
2018 Freudian Sip

The grapes used for our 2018 Sip were sourced from various vineyards in the Naramata and Summerland areas.  This diversification in locations allowed us to optimize fruit quality and capture the uniqueness of varying vineyard sites into this tasty white wine blend.
So why these grape varieties you might ask? With every good wine there must be a seamless natural acid backbone. This backbone is provided by the Sauvignon Blanc grapes while the Gewurztraminer/Pinot Blanc adds the uplifting aromatic tones. What does the Pinot Gris do?  It helps build the structure and balance of this wine.
Gewurztraminer 41%, Pinot Gris 37%, Pinot Blanc 13%, Sauvignon Blanc 9%
2017 Pinot Gris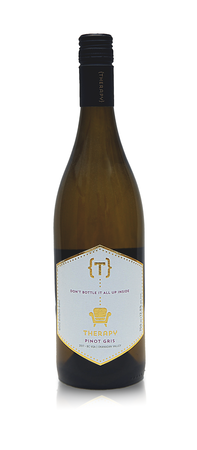 Harvested on October 10, 2018 with a brix level of 24.4, the grapes were locally grown and harvested 100% from Jack Lewko's Vineyard located at the end of Therapy Vineyards driveway. The fruit was hand sorted to remove any unwanted clusters and debris before being whole cluster pressed.  After the gentle pressing cycle the must was sent to stainless steel tanks for primary fermentation.
Utilizing a single yeast strain this batch of wine has a very distinct profile coming from the terroir of Jack Lewko's property creating an impressive wine. The must were cold fermented between 16-18 degrees, to help bring forward and develop a fruit driven profile.
After alcoholic fermentation was complete the wines were chilled to -2 for cold stabilization, and treated with a bentonite fining to provide heat stability.  The wine was then left in stainless steel vessels to age and mature, which allowed the wine time to harmonize and settle before bottling on April 13, 2018.
2017 Riesling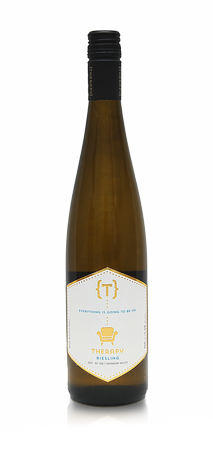 Harvested in the fall of 2017 the grapes were gently handpicked and transported to the winery from two Naramata Vineyards. The grapes were hand sorted to remove unwanted clusters and debris to keep the fruit as pure and pristine as possible going into the press. The grape clusters were whole cluster pressed in 2 press loads, after pressing the wines were sent to stainless steel tank for primary fermentation.
The must was fermented with a selected yeast strain to boost the natural fruitiness and help enhance the thiol aromas of this grape variety.  Fermentation temperatures ranged between 12-16 degrees to help release more floral and aromatic aromas.  A second enzyme was added at 9 Brix of sugar remaining in the fermentation to help liberate the beta-glucosidase compounds in the juice and to help enhance the aromas.
After alcoholic fermentation was complete the wines were chilled to -2 for cold stabilization, and treated with a bentonite fining to provide heat stability.  The wine was then left in stainless steel vessels to age and mature, the final filtration and bottling took place in April 14, 2018.
Freudified

The fruit was harvested in 2008 from Oliver, B.C. from a vineyard located on the Golden Mile. The hand picked fruit was selected because of its ripeness and was designated to a new wine style for Therapy Vineyards: fortified wine.
After the 5 day cold soak, the grapes were warmed to temperatures ranging from 28-32 degrees to begin fermentation. All of the grapes used in this blend were fermented together in stainless steel tanks. The primary fermentation took 3 weeks, and a variety of different techniques were used for skin maceration. The combination of cap management techniques including punch downs, and pump overs were applied to the fruit depending on the fermentation, and ranged between 3-4 macerations per day.
After primary and secondary fermentation were complete, the wine was sent to a combination of new and used oak barrels to age. Several years of aging and several rackings later the wine resurfaced from the cellar depths for its day of bottling.
Shipping Included on a Mixed Case (not a fixed case)
An additional 10% Off for the Valued Wine Club Members (includes case sale pricing)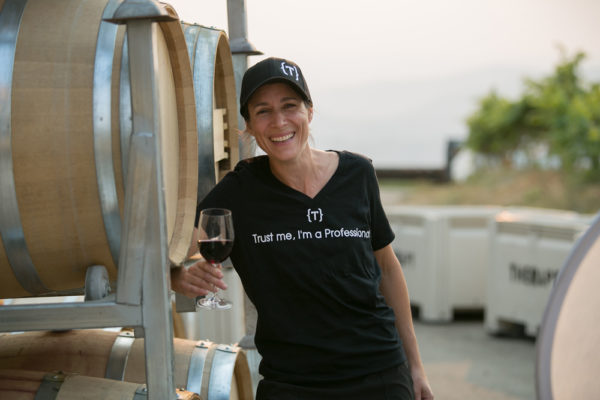 Jacq Kemp, Winemaker
Formally a research nutritional scientist, I put aside my lab coat in 1998 to follow a passion for wine making, and completed a Viticulture & Oenology degree at Lincoln University, New Zealand. In 2000, I began building my practical experience working multiple vintages in Burgundy, Western Australia, New Zealand and Canada.Since having a family and moving to Canada in 2008 I'm now actively involved in wine making in the Okanagan Valley focusing on Pinot Noir, Chardonnay, Riesling and Merlot Blends. My future endeavour with Therapy Vineyards opens up a new and exciting door for me to expand my interest and love for sparkling wines. My goal for Therapy wines is to make vineyard focused wines that are balanced, elegant and distinctly varietal. Cheers.
Bottle shots, tasting notes and image courtesy of the winery.