So much to offer at Therapy Vineyards. Plan ahead so you can take it all in, you can even stay in one of their fabulous suites at the Therapy Inn. Picture yourself around the outdoor fire on the patio or maybe under the stars in the hot tub.
This could be a full experience wine touring getaway! Sit back, relax and enjoy their portfolio of wines for your sipping pleasure.
"When we purchased Therapy 3 years ago we set out to make it a full destination. With a winery, vineyard, tasting room and inn, guests can enjoy days of wine touring along the Naramata Bench and peaceful evenings on their suite patio over a bottle of wine overlooking Okanagan Lake & our beautiful vineyard. Breakfast is prepared in our inn kitchen and served either indoor or out. As a year round destination guests enjoy our outdoor fire patio and hot tub under the stars along with a therapeutic dose of natural beauty. Book online through our website or call us to create your Therapy session!"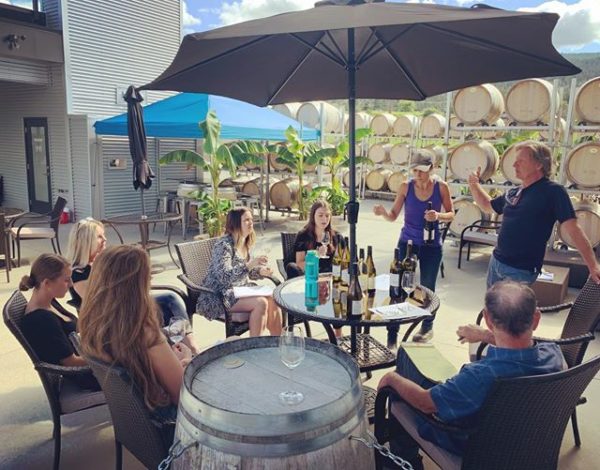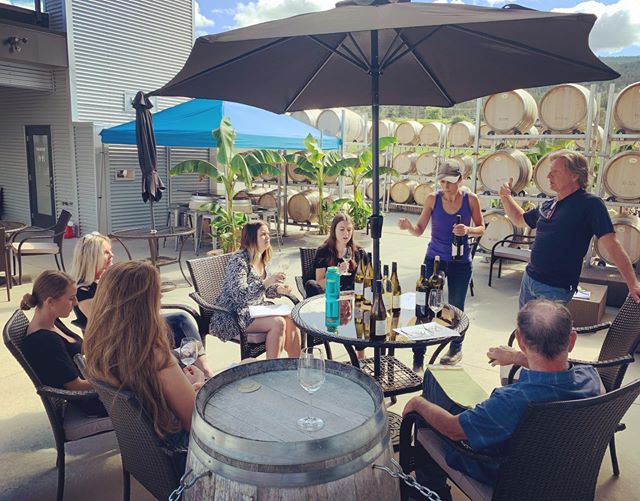 Wine shop associate education on the Therapy patio! We're all prepped to make your experience here amazing. Walk ins welcome! Reservations for groups of 6 or more please.
THE ONLINE FARMACY
Whether you are an experienced wine critic, an expert sipper, or someone whose wine knowledge starts and ends with the words 'red' and 'white', you'll find Therapy Vineyards' wines approachable, elegant, and consistent. We make the kinds of wine we like: whites that are aromatic, fresh, clean and crisp; reds that are balanced, well-aged, and approachable from the day you take them off the shelf. Therapy wines are guided by the expert hands and taste buds of winemaker Jacq Kemp who creates award winning, distinctly varietal wines.
The grapes that make up our wines are locally grown, mostly sourced from our spectacular lake-view vineyards in Naramata. We are proud to grow our grapes sustainably (we limit pesticides and try to work in tune with nature) and to be one of the few local wineries crafting wines from vines that have proven themselves for almost 30 years.
Therapy Vineyards Covid-19 Safety PlanOur promise to you:
Our employees will greet you with the same level of hospitality as always, but will refrain from shaking hands or any physical contact
Our employees will be wearing face shields to protect both themselves, and YOU!
Our employees will wash their hands before each group and throughout as well
We will be sanitizing the tasting bar, tasting sheets, stools, iPads & payment terminals in- between each and every transaction. This includes outside patio tables & chairs.
Our employees will be spaced out on either sides of the tasting bar and provide service on both ends
Pour spouts will be held at a distance above glass so as to not touch any surface and will be sanitized in-between groups
Glasses will be disinfected and sanitized after each and every use
Washroom will be sanitized routinely and after each group
All door handles will be sanitized multiple times throughout the day
Tape will be lined on floor to demonstrate groups of 4, and will be spaced 6' apart
No cash transactions
As per 50% capacity rules; no more than 15 persons (including staff) will be allowed in wine shop at a time. Staff will be diligently managing this. Outside patio may be used until space has been made available at tasting bar
Our staff has been instructed to stay home if they are not feeling well in any way
What we ask of you:
If you are not feeling well, please do not enter our wine shop – This is for the safety of everyone
Please use complimentary hand sanitizer upon entry of wine shop
Please do not touch any of the display wines or merchandise on shelf; our staff is happy to assist you!
Please respect social distancing regulations and remain 6' apart from other persons in the wine shop
No outside food or drink in the wine shop
Please use appropriate door ways for entry & exit
Information and images courtesy of the winery.
If you would like to be featured on MyVanCity.ca please email myvancityval@nullgmail.com or valerievdg@nullgmail.com, features are complimentary and with appreciation wine samples are accepted for review.