Now this is a bonus, not only can you reserve a wine tasting but you can also reserve a cider tasting. Decisions, decisions.
In the interests of full disclosure; The View is one of my "go to" wines, and that includes every white wine they craft. The wines are yummy and affordable. I love the idea of wine in a can that is perfect for on the lake on at the picnic table.
The team at The View are friendly and welcoming, a bit more laid back an if you are into wine kitch this is the place for you. Four legged friends welcome, on leash in the tasting room. Not to mention their $5 fee is probably the best you'll find!
OPEN DAILY FOR SALES 11AM-5:30PM
Tasting opportunities: We are happy to be offering tastings again!!!
Monday – Thursday 11-5:30 pm by reservation. Please email your reservation request to info@nulltheviewwinery.com. Use subject line "Reservation" or call the wineshop at 250-860-0742.
Friday -Sunday 12pm to 5:30 pm (no reservation required but social distancing will be enforced)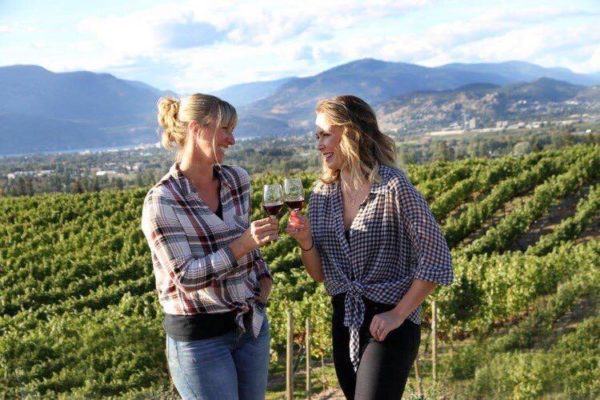 THE VIEW WINERY & WARDS CIDER TASTINGS
The View is nestled among sprawling vineyards and orchards just 15 minutes from downtown Kelowna. Our wine shop and tasting bar, set in our family's 1920's era packinghouse, allow visitors to enjoy the sights, sounds and aromas of wine making in progress.
We offer a flight of five tastings for $5 of wine or cider, each tasting is waived with the purchase of a bottle of wine, 2 bottles of cider, or a 6-pack.
Walk-ins welcome! For groups of 7 or more, please email info@nulltheviewwinery.com to book your tasting in advance so we may better accommodate you.
In the shade of the of our old growth apple trees is a quaint picnic area where you can enjoy a glass of wine.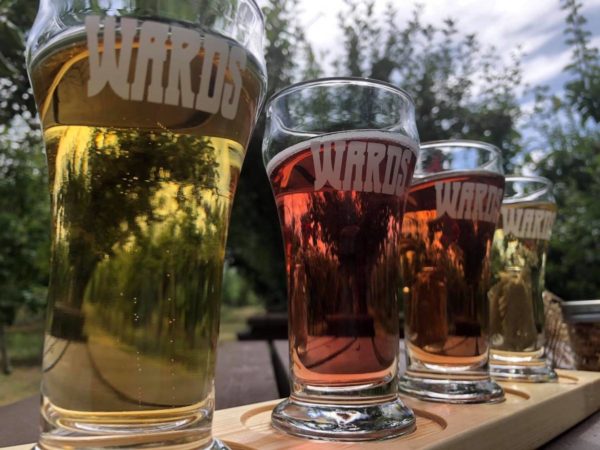 THE VIEW WINERY VINEYARD EXPERIENCE
The View Winery is nestled between rolling orchards and vines on land that has been in the Ward/Turton family for 5 generations. We are pleased to offer our guests (from mid-May to mid-September) an opportunity to join us on a guided hike through our old growth orchards and vineyards where you will learn about our history and the expression of our unique terroir in our site specific wines. The 30 minute hike features views of Black Knight and Dilworth Mountains and a sparkling tasting at the top of the property overlooking beautiful Okanagan Lake and the City of Kelowna.
A flight of 5 wines or ciders awaits you back at our authentic tasting room which is set amid the sites and sounds of a working cellar.
The cost for this experience is $30 (plus taxes) and includes a stylish, acrylic take-home sparkling glass as well as a 15% discount on wine and/or cider purchases.The whole experience will likely span 1 – 1.5 hours.
24 hours advanced booking is required.
Please email info@nulltheviewwinery.com and use the subject line "Vineyard and Orchard Experience" for more information or to book your experience today!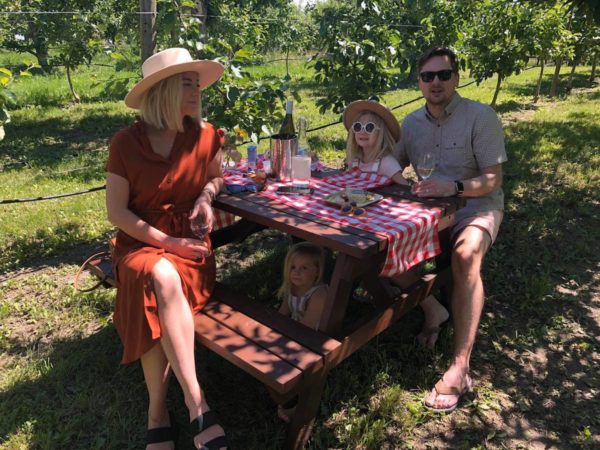 THE VIEW WINERY PRIVATE PICNICS
Picnics feature a private table under the boughs of The View and Ward Cider's old growth apple trees and include charcuterie boxes for two guests ($32.00 per box) plus wine and or cider at 15% discount. (wine club members receive 20% discount).
Reservations and payment are required a day in  advance and can be made by emailing info@nulltheviewwinery.com using subject line "Picnic" or calling our Wineshop Manager at  250-860-0742 ext. 3.
UPCOMING EVENTS