Sometimes I am fortunate to find myself in BC Wine Country in a totally unexpected way. For this trip it just so happened we were attending a family wedding that turned into somewhat of a family reunion for about 30 members of my husband's family.
That actually left little time for what would normally be a working, touring, investigating, and tasting experience trip. So with what time we did have we made arrangements in advance to stop into the Mission Hill Family Estate Winery. It had been about a year and a half since our last visit which took place in the spring of 2018. That visit was to have lunch at the Terrace Restaurant and write a review. You can read my review here.
So here we found ourselves in what should have been the most idyllic time of the year instead short of time and making the best of some very inclement and unseasonable weather.
On this occasion we were privileged to join Bram Bolwijn, Head Sommelier, on an overview excursion of the tours available at Mission Hill Family Estate Winery.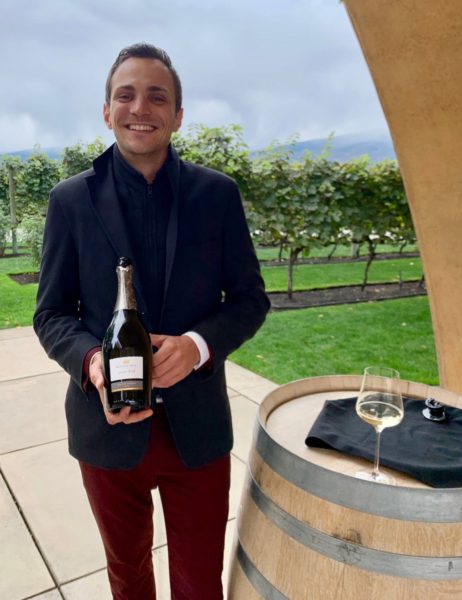 We were greeted on a very chilly afternoon by Bolwijn with a glass of Mission Hill Reserve Brut.
A delicious sparkling wine that was light and fruity with good flavour. A perfect way to start our tour.
We made our way rather quickly inside because it was unseasonably brisk and we soon found ourselves in the beautiful Chagall Room with a roaring fire in the stately fireplace. What a beautiful space with paintings and tapestries.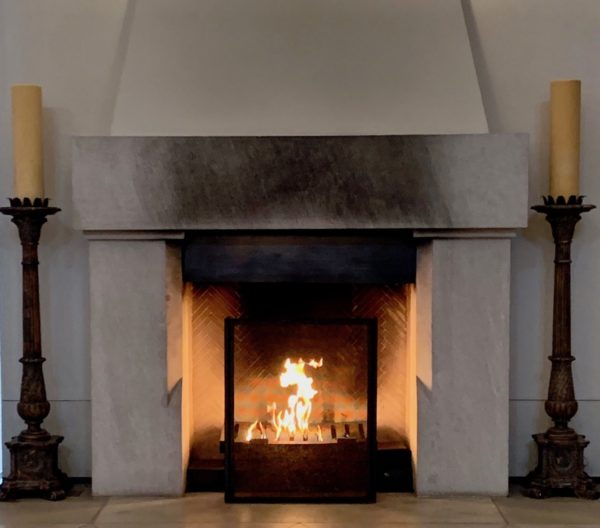 The centerpiece of the room is a shiny, black concert grand piano almost dwarfed by an amazing tapesty.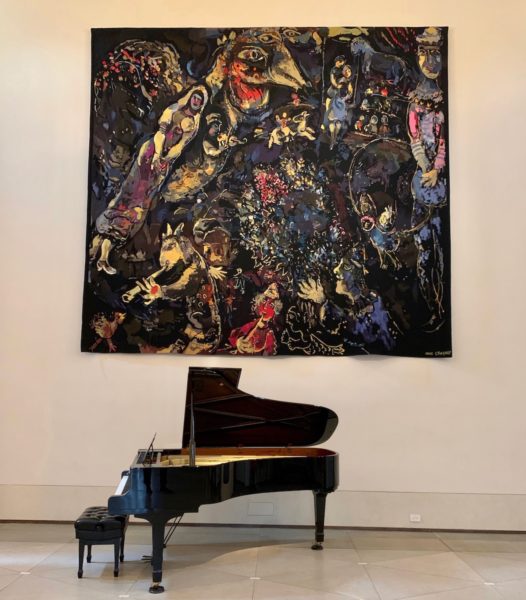 The very piano that many of the touring musicians and singers have used for their performances in the amphitheatre. A few of those visitors have left their mark.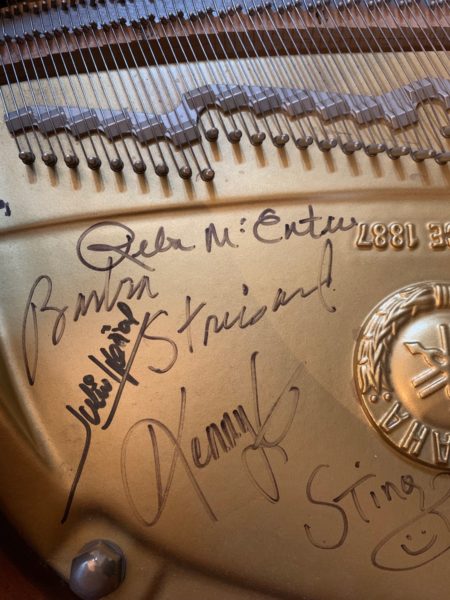 Bolwijn poured us each a glass of the Terroir Collection Simes Vineyard riesling while he told us a little about the background of the Chagall Room.
With glass in hand we entered the Culinary Theatre where the Culinary Workshops take place now through December. There are several options for the Dynamics of Food & Wine series where the professional Culinary team prepare dishes that guests will later enjoy paired with Mission Hill wines. Read our feature on the Culinary Workshops here. Tickets are limited and sell out quickly.
Bolwijn explained a bit about the special program that Mission Hill has that benefits them and the participants equally. Partially providing good team members to ensure consistency in staffing throughout the year and especially to hold on to good staff during the low season. Working anywhere in BC Wine Country can be challenging when it comes to consistent and reliable work situations and placement. It is equally difficult for wineries; both large and small, restaurants and other businesses that cater to visitors who come to experience wine tourism during the high and shoulder season and then these same businesses have to rely strictly on locals doing the off season.
The program at Mission Hill, which started three years ago, has already doubled in size. The focus is on hiring people and giving them the opportunity to move on to the next step. It sounds similar to a paid internship and benefits both the winery and the young people who are invited to take part. The HR department of the winery, located in Toronto, helps with the recruitment of satisfactory applicants. Candidates will have completed a university degree (in any field; for example business); have completed WSET 2 or higher, or be close to completion to qualify. The successful candidates receive extensive training, including testing. They participate in activites within the scope of the winery and culinary areas. One of the goals is personal development of young talent.  Each year there is a new group of potential talent who will get to do a "shadow" day to learn and explore their options. Visits are made to the University of Guelph to promote the program. On completion of the program the candidates move on to other areas in the world of culinary and wine hospitality. Most, but not all, will continue in an active role such as working in the kitchen of a good restaurant or in a capacity at a winery, but a handful will move on to administrative opportunities in the industry.
The kitchen of the Culinary Theatre is also partly a test kitchen for new dishes in the Terrace Restaurant. Supplying accompaniments to the wines in the Members Lounges and the Tasting Rooms. Supplying in-house made charcuteries; sausages, salamis, cold cuts and vinegars.
We also chatted about some interesting and ongoing advances of the winery and their viticulture program. The winery is using chickens and falcons to help control pests. Growing buckwheat to attract wasps, these parasitic wasp are to counter other insects. They have an organic viticulture teacher and are trying different methods of planting and use of machinery. Production is expanding as far north as the 50th parallel with the addition in vineyards in Lake Country.
Next it was down to the cellars where the aromas of the barrel room makes you want to stop and breathe deeply. Just slow your pace and enjoy the atmosphere. Under the Bell Tower scents of clean damp earth and wet stone plus a litte raw, fresh cut wood. Later the aroma of crisp apples.
We now were given the opportunity to taste a 2018 Cabernet Franc from the barrel. It is interesting as later we tasted a Cabernet Franc of a different vintage as a comparison. Predominately French oak.
Next we are moving on to the Estate Room, a Wine Club members lounge, to relax and taste more wines and experience Old World History and New World Hospitality courtesy of Bram Bolwijn.
We began with the another splash of the Mission Hill Simes Vineyard Riesling from the Terrioir Collection.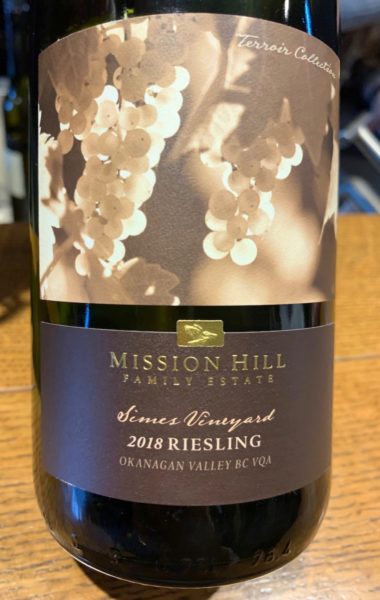 The Riesling was dry, smooth and lemony, with nice aroas of citrus. Fruity and tangy. This is a special Wine Club and from the winery offering with just 30 cases made. Winemaker Ben Bryant. The location is dedicated to, now retired, former winemaker John Simes.
Tasting Notes
Intense green apple, fresh limes and floral notes supported by a fine line of natural acidity.
The unique aspect of this vineyard makes for a particularly rewarding harvest for our viticulturists. Simes Vineyard has a northern facing slope and it's soil consists of fine silts and clay leftover from glacial activity; this makes it quite challenging to bear fruit. The vines are forced to dig deeper to get their nutrients, and as a result, they yield smaller grapes of remarkable intensity and concentration. All this lends an incredible brightness and acidity to our Riesling.
The next wine we tasted was a Legacy Series 2017 Prospectus Pinot Noir.
2017 PROSPECTUS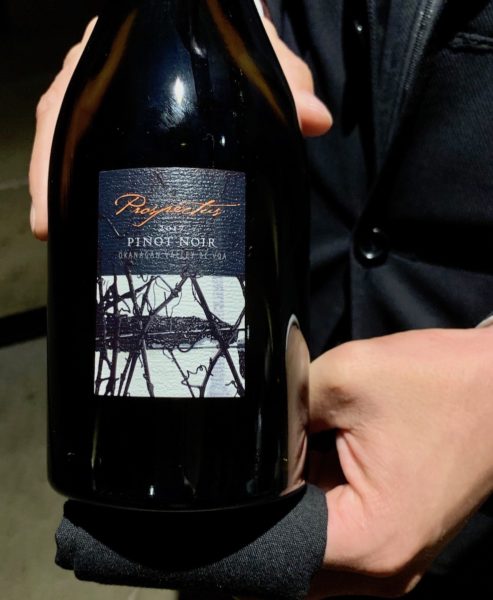 With scents of cinnamon and cheese, minerals and wet stone. Later aromas of cherries, plum and dark fruit, more stone. As it sits more scent of stone shows itself. Swirl and the taste of plum and fresh fruit. Bolwijm suggests that because the wine should be kept quite cool to decant briefly before enjoying.
The wine becomes more flavourful with an ever so slight alcohol forward scent. The wine is a bit lighter with very light tannins with a musky aroma. Tart and puckery. It has a medium colour that seems like it is darker than the lighter body suggests.
Winemaker Ben Bryant. 20 barrels made and exclusively at the winery or wine club.
The Pinot was excellent. Nutty, peppery, spicey aromas, cardboard scent, later tobacco, plum pudding and hard candy. Slightly sweetish, light, young but delicious and fruity.
EXPERIENCES & TOURS
Explore Mission Hill Family Estate throughout the year with our immersive Winery Experiences and Tours.
Our exclusive Sommelier-Guided Experiences begin with a glass in-hand and offer an intimate first-hand understanding of our winemaking philosophy, property, and history at Mission Hill Family Estate, and the factors that make Okanagan wine country so unique and special.
Be introduced to our Estate with a Winery Tour. Beginning in our Boutique, you will receive an overview of our Estate Winery, and conclude the tour with a tasting of two of our exceptional wines while exploring our boutique offerings.
WINE PORTFOLIO
We invite you to discover our distinctive wines that showcase the diverse Okanagan Valley.
For more than three decades, our commitment and passion have never wavered. Each wine is an expression of precision viticulture, sustainable farming, and winemaking in our estate vineyards and winery. 
The pinnacle of excellence at Mission Hill Family Estate. This luxury collection includes Oculus, our Bordeaux-style wine, Compendium, Quatrain, Prospectus and Perpetua.
The heart of our passion: each wine expresses distinct viticultural aspects of our vineyard estates driven by soil, clone, climate, and precision farming showcasing Okanagan Valley's unique microclimates. Extremely limited.
Hand-selecting the blocks of grapes, extreme viticulture management, longer barrel time, more lees stirring, all this and more is expressed in our Reserve wines.
The Estate Series demonstrates Mission Hill Family Estates commitment to craftsmanship and sustainability in our estate owned and farmed vineyards. 
THE WINES
At Mission Hill Family Estate we are guided by a single philosophy – it all begins in the vineyard. We are relentless in our pursuit of quality, at every turn. 
Under the watchful eye of our viticulture and winemaking team, a combination of intuition, experience, and science drives the many meticulous decisions we make to ensure that every step of the way – from selecting a proper clone, understanding the soil, drip irrigation, canopy management, climate factors, cover crops, to picking the grapes at the perfect time, and then treating them lovingly at the winery – results in wine that over-delivers in flavour and balance.
Please reserve in advance to secure your preferred tour date and schedule. If you have any questions or require further information please contact us at 250-768-6483 or by email at tours@nullmissionhillwinery.com.
Be privy to new, unique, and exclusive ways to experience Mission Hill Family Estate. 
JOIN NOW
JOIN NOW
JOIN NOW
  *average cost per shipment plus taxes and bottle deposit *members must receive a minimum of three shipments
For more details, please read our Membership Policies.
MINIMIZE OUR FOOTPRINT
Our goal at Mission Hill Family Estate is to ensure that future generations of farmers will continue to produce the Okanagan Valley's finest grapes and visitors will be able to enjoy the area's majestic beauty.
Sustainability is critical to that long-term success. As a family-owned winery with strict control over our operations, vineyards, and quality, we are able to infuse sustainability into a variety of stages both in the vineyards and at the winery. 
We have taken several steps to keep that promise.
LONG-TERM VINEYARD VIEW
SUSTAINABILITY IN ACTION AT THE WINERY
With special thanks to Bram Bolwijn for his time and expertise, making our tour a very special one. All remarks and information in italics are courtesy of the winery. All images, except as noted, MyVanCity. I received a complimentary visit for myself and a guest in order to facilitate this review. All opinions are my own. Feature image courtesy of the winery.
[wdi_feed id="2″]