Day five of our #FavouriteThings Holiday Gift Suggestions! Already? Time is really marching on and so should you if you want to share in some great BC wines this holiday season.
We spent a couple of days in Naramata this summer and a visit to Serendipity was definitely on our agenda. Fabulous wines! Who can say no when the winemaker greets you with an unlabelled bottle of bubbly and suggests we open it up and share, just for the purpose of identifying the varietal. Strictly for scientific fact finding purposes of course!
Here is a link to the article I wrote, about winery owner Judy Kingston, following our visit.
Let's get on to the personally recommended wines from Serendipity.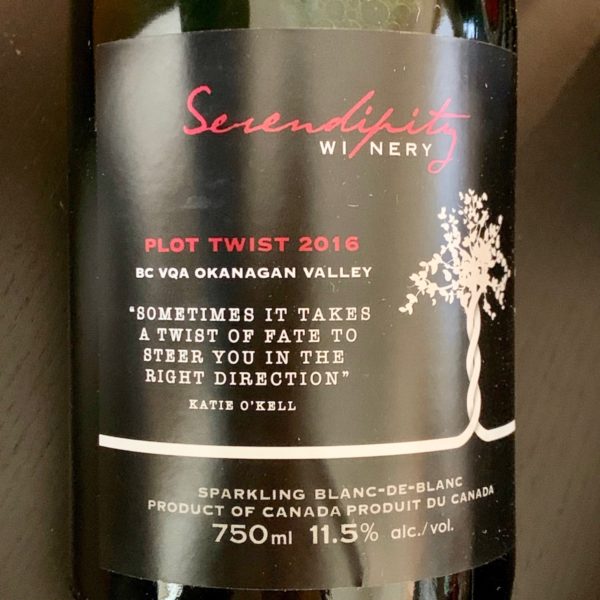 This innovative wine combines the old and the new. We took viognier grapes and used them to create a traditional method sparkling wine. In a twist of technique, we topped up this wine with raw viognier juice. We wanted to bring you the best of both worlds – the soft, citrusy flavours of the viognier grapes with the light bubbly texture of a champenoise style sparkling. With a 9 month elevage and 31 day hand riddling program, this wine is truly a blend of the old and the new. $35.00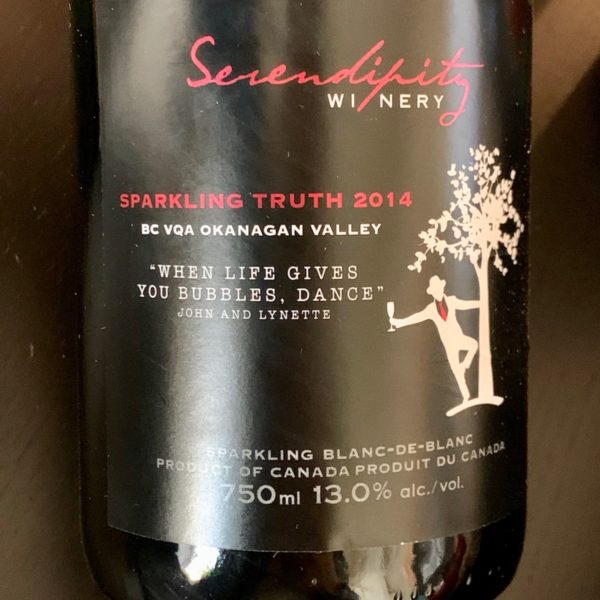 With a clean, floral nose, and crisp minerality with balanced acidity, this elegant BC bubble offers flavours of granny smith apple, almond/marzipan, creamy lemon tart, sweet pastry, mandarin and pear. It offers a luscious mousse with an elegant mouthfeel and generous length.
A 16 month elevage and 31 day hand riddling program give this wine a delicate yeasty flavour, inspired by old world champagnes.
SKU: 21354654 $50.00
A nice and smooth Pinot Noir, made in the traditional style and ready to drink right now. It is full bodied with notes of coconut, vanilla, crème brule, blueberry, cherry pie and milk chocolate. $33.00
About the winery
Serendipity Winery, located in the heart of the Naramata Bench in the Okanagan Valley, BC, is owned by Judy Kingston and assisted by second-in-command Katie O'Kell.
The adventure began in the fall of 2005 when Kingston embarked on a holiday wine tour of the Okanagan with a view to finding a retirement property in the south Okanagan. Instead, she found an old orchard in Naramata. This was the first Serendipity "aha" moment, as she set out to convert the orchard to a vineyard with the goal of establishing a new boutique winery.
Beginning in the spring of 2006, the property was completely re-landscaped to provide the optimum slope and orientation for the new vineyard. Kingston selected the wine varietals for planting to match the micro climate and four distinct soil types on the property. In 2007, she planted eight acres of vines, with Syrah, Merlot and Cabernet Franc as the main reds, and Viognier and Sauvignon Blanc as the whites. Subsequently she has added to the vineyard with additional plantings of Syrah, Pinot Noir and 'a little Malbec for blending'.
The first harvest was in 2009, and was of exceptional quality. It was a tribute to the many hours of hard work and dedication that Kingston put into the vineyard, and her goal of producing quality over quantity. To add complexity and diversity to the wines, additional grapes have been purchased from local Okanagan growers who share the same commitment to quality. In the time since releasing these first wines, the winery continues to delight, surprise, and capture accolades and in 2013 the winery was named BC Winery of the Year at the New York International Wine Competition.
Nestled among the rolling hills of the picturesque Naramata Bench, a visit to Serendipity is all about discovery, surprise and warmth. Each guest of the winery becomes a member of the extended Serendipity family. Visitors enter the estate through a simple farm gate entrance but after rounding a short dusty bend between rows of vinifera, they come face to face with the winery's gorgeous 25-foot double doors, which feature Serendipity's logo cast in stunning wrought iron.
Either Judy or Katie is usually at the winery, welcoming every visitor with a smile and a glass. The passionate mother and daughter team are always pleased to share their passion and education with their guests.
Information and feature image courtesy of Serendipity. Bottle shots MyVanCity. I received one bottle of each wine in order to facilitate this feature.
[wdi_feed id="2″]