There are good times and then there are really good times. I'm putting the Marriott Canada Cocktail Crawl is the category of really good times!
Last night I joined a few other bloggers/influencers for a round of cocktails at three different locations, all of them a part of the Marriott family.
Of course to me a Cocktail Crawl means a pseudo "Mad Man" event sans the downsides of the era. To me that meant dress for the occasion so I donned my best little black dress, some killer heels and a vintage leopard skin coat (faux of course). Was I over dressed? Most definitely! Did I care? Not one whit!
We started at the H Tasting Lounge in the Westin Bayshore with a glass of bubbly. As one of my colleagues reminded me this is an ode to Howard Hughes who was once upon a time in residence here. I've actually stayed in the updated version of that very suite but that's a whole other story for another time.
The Lounge is very swish with banquette seating running the length of the room directly under a half wall of glass that lets the lights of the landscaping send reflections into the room. On another outside wall is a massive fireplace with a cozy seating area with sofas and a huge coffee table. The room is so inviting but first I wanted to cruise around and take it all in. Food stations had been set out for us and everything was so very good.
The menu is just transitioning into more late Fall, winter fare with shared plates. More warm, comfort food and a little less of the lighter fare. Not to worry you will enjoy everything on offer I'm sure. Also on offer were the last of the "summer" cocktails. Those I would miss because they were very West Coast inspired and of course delicious. I stuck to the mocktails (Rolling Uphill) to start the evening knowing it might be a long one. That is not a suggestion by the way. Feel free to indulge your cocktail fantasies when you hit the H lounge.
Rye Chai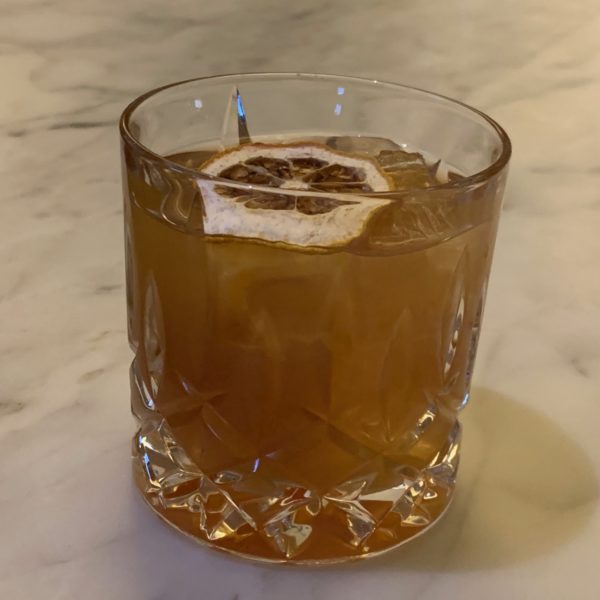 rye, mescal, apricot liqueur, falernum, lemon, chai tea
Climbing over the Arbour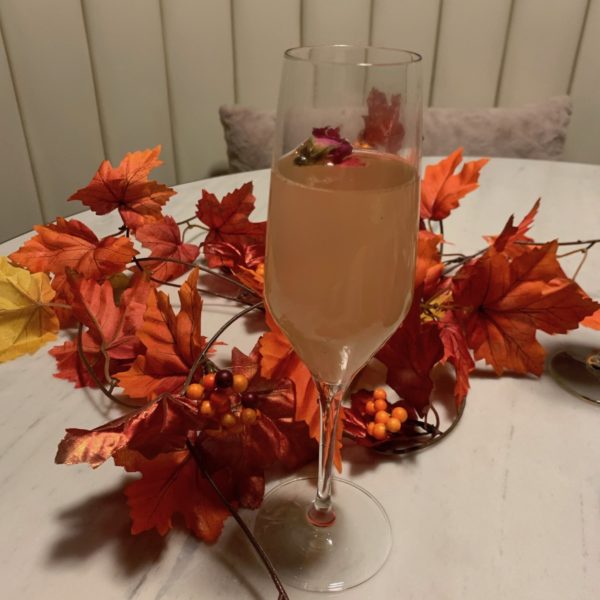 gin, lemon, celery bitters, sparkling crémant rosé
Thinner Walls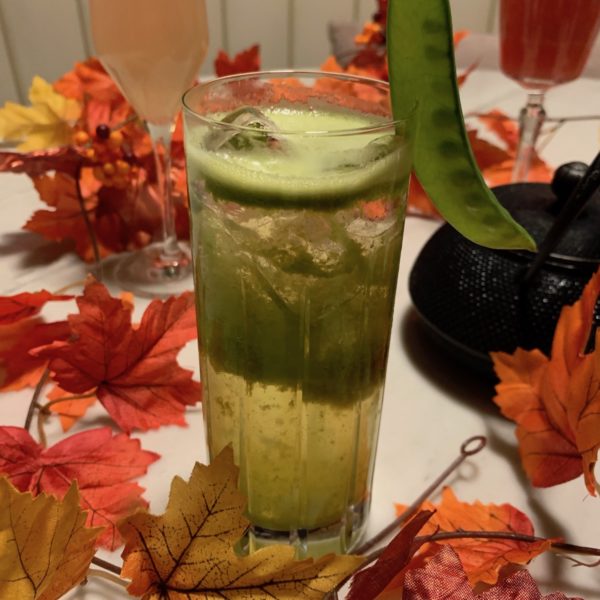 tequila, snow peas, suze, lemon, soda
Rolling Uphill
mountain berry tea, coconut, lime, soda
When we thought we couldn't eat anymore Mushroom Toast, Crab Cakes, oysters, prawns, cheese and charcuterie we were whisked away to our next stop on the Marriott Canada Cocktail Crawl to the Showcase Restaurant and Bar in the Pinnacle Hotel.
We were once again greeted by a friendly and welcoming team who escorted us to a couple of high tops that were laden with even more food. Baked in-house sour dough bread with whipped butter and their very own honey from the rooftop hives. If you haven't tried it yet make sure you do, very soon. There were many dishes that paired well with the special seasonal cocktails. Eggplant dip with pumpkin seeds, Southern fried chicken pieces which were a big hit, cheeses, charcuterie, olives and some very addictive deep fried naan bread. I couldn't keep my hands off them, they were like eating potato chips where you can't stop at one, so why would you want to.
White Peach
Long Table vodka, Lillet blanc, peach liqueur, house apple shrub
Lady Wallflower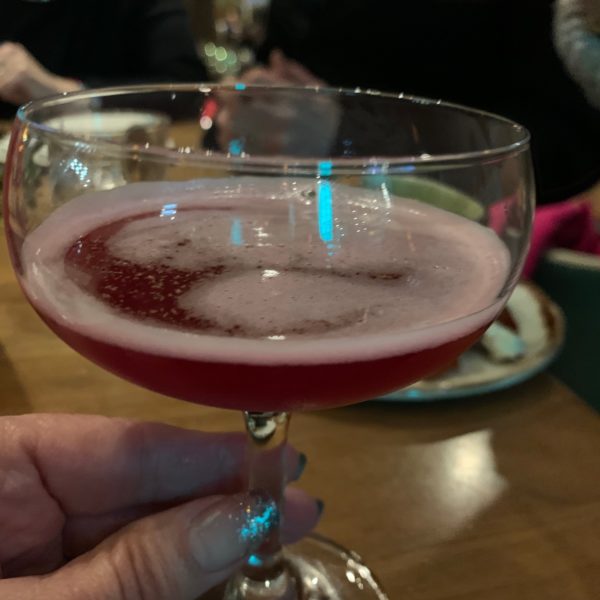 Long Table gin, creme de cassis, fresh lime, cinnamon syrup, Ms Betters botanical vegan foamer
(This one I tucked into before realizing it was boozy but it was so delicious I kind of wanted to keep it)
Hibiscus Soda (zero proof)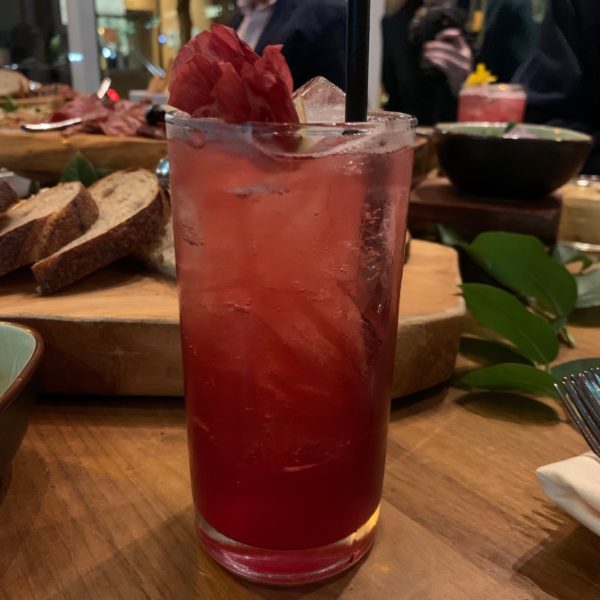 salted hibiscus syrup, fresh lime, orange bitters, soda
It seemed almost too soon we were on our way again. This time to our final destination The Victor. The newest jewel in the crown The Parq is very popular and quite the popular spot. Take the elevator right up to the 6th floor and scoot outside along the pond following the lighted boardwalk to the big wooden doors and you're there.
A massive space with a top rated restaurant with the most envious of seafood bars. But for this night we were destined for the lounge. A very happening place with subdued lighting and a sophisticated vibe. We were treated to a cocktail demo by their mixologist. A delicious concoction made with Sapphire Gin and a touch of Sake called Crouching Tiger. Served in a coupé glass, so very retro. Drinks flowed and snacks appeared. The beef tartar was luscious. Scallop or Prawn ceviche served in tiny scallop shells that you downed like an oyster slider. Very tasty. More crab cakes! I love crab cakes when they are full of crab like these ones and the ones from H Tasting Lounge. I could eat them for breakfast and let me tell you these are the real deal definitely not potato cakes like you get in other places. Everthing in a Marriott is gong to be first class, expect it, that is the way it is!
Crouching Tiger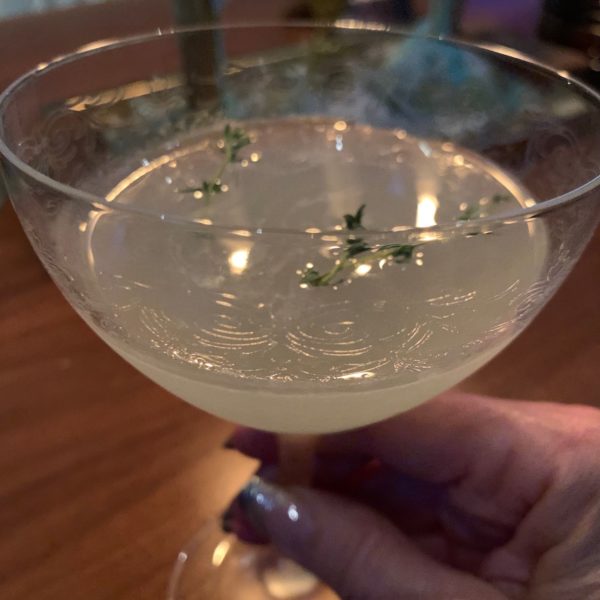 Bombay Sapphire gin, Fukumitsuya sake, lillet blanc, yuzu, lime, thyme
Parq Yule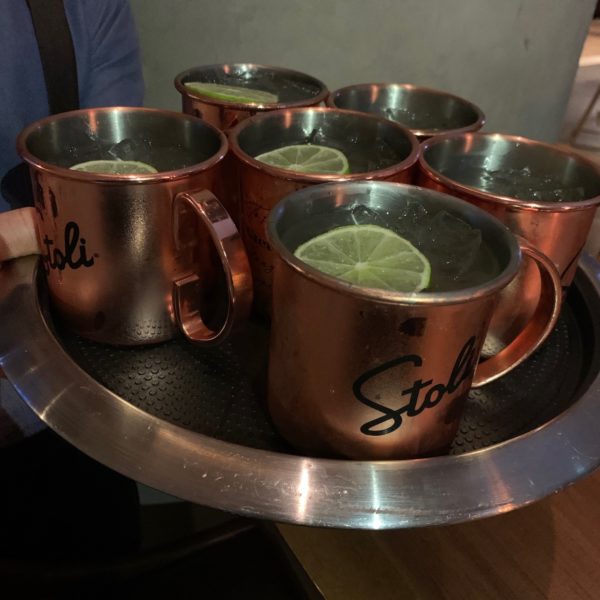 Stolichnaya vodka, lime, apple, tropical spices, Fever Tree ginger beer
Oaxacan Warrior
cazadores blanco, sombra mezcal chili chocolate argave, orange bitters
Wow what a night but all good things, eventually, come to an end as we are whisked home in a taxi.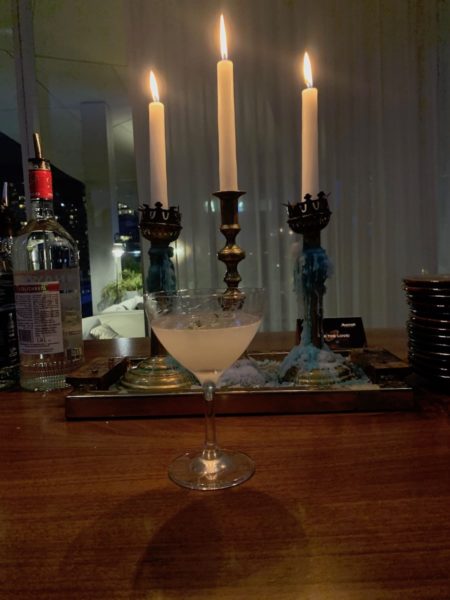 Wonderful night, fabulous food, superb cocktails, fantastic locales and fun companions. With thanks to all the Marriott teams at the Westin Bayshore and H Tasting Lounge; the Pinnacle and the Showcase Restaurant and Bar; and the JW Marriott Parq and the Victor for showing us a great time.
You really should go, good times, great food, to die for cocktails. Remember, plan for how you are getting home; a designated driver; a cab or get a group together and book a limo to ride in style. Enjoy responsibly, always.
I was part of a media group who received the evening complimentary to facilitate this review, all opinions are my own.
With thanks to everyone from the H Tasting Lounge, Westin Bayshore; Showcase Restaurant and Bar, Vancouver Marriott Pinnacle Downtown; The Victor, The Douglas who made this such a super evening.