On June 11 members of the media were invited to enjoy a small selection of BC Pinot Noirs that will be featured at the upcoming BC Pinot Noir Celebration.
The tasting started with a welcoming glass of Fitzpatrick Family Vineyards 2015 Blanc de Noir which was light and tasty with yeasty and citrus notes. Light and Dry.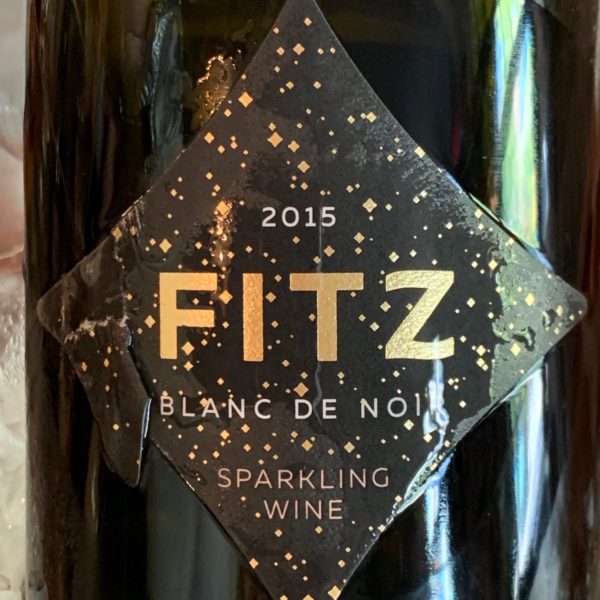 This is what we tasted:
Howling Bluff Estate Winery
2016 Acta Pinot Noir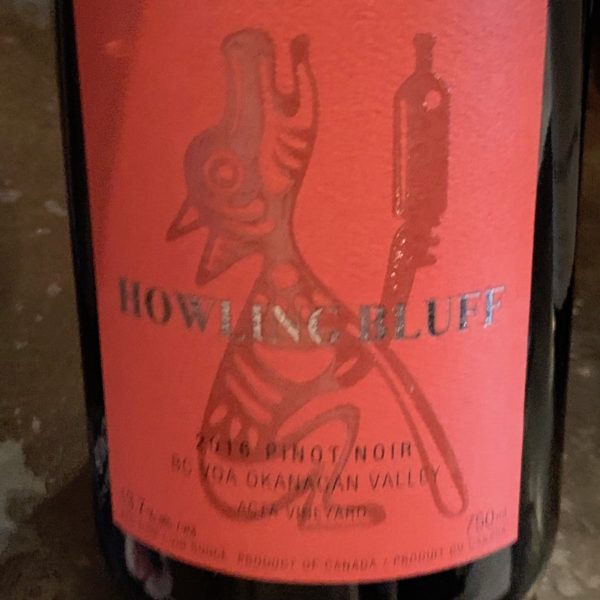 The Acta Vineyard: our Northern most vineyard on the Naramata Bench. It is western facing, rock, sand and gravel soil. The vineyard is all clone 777. Aged for 12 months in 30% new, 35% second fill and 35% third fill French oak.
I found this wine to be sweetish, juicy, and fruity with great body. $35.00
2016 Three Mile Creek Pinot Noir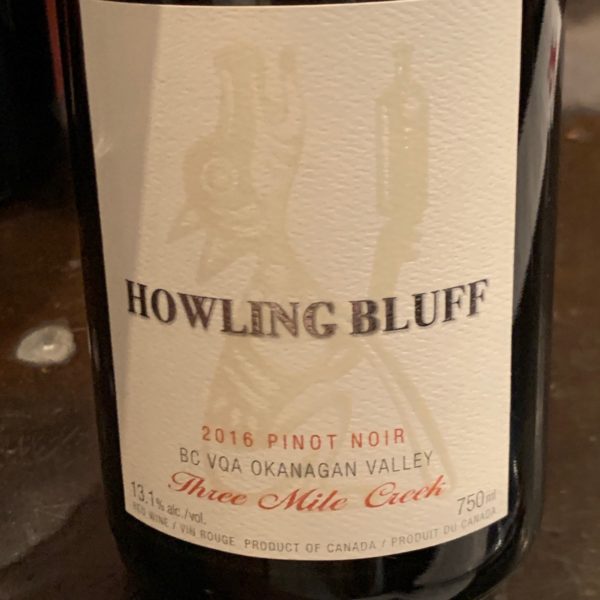 This is a complex Graves style white. Sixty percent of the juice was fermented in and aged four months in new French oak puncheons while the remainder was fermented in stainless steel. A modest volume of Semillon in the blend adds complexity.
This wine was slightly lighter and I found more tannins than the Acta. $22.00
Meyer Family Vineyards
2017 Old Block Pinot Noir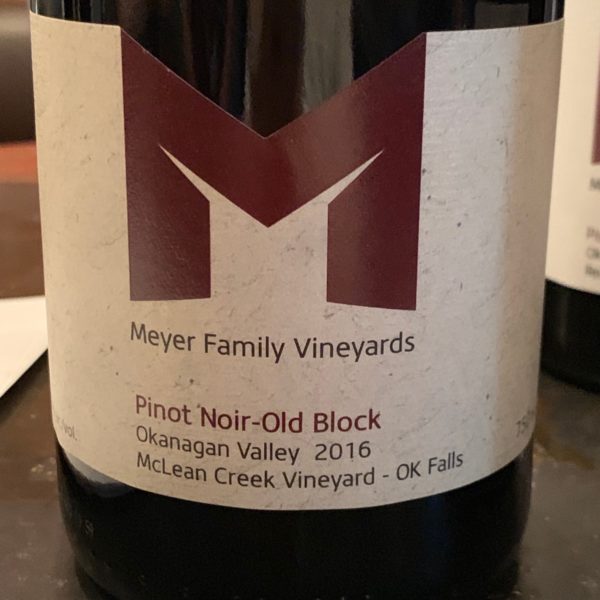 We produced 311 cases of "Old Block" Pinot Noir. The "Old Block" is one of the original vineyard plantings from 1994 and is part of the largest block of Pinot Noir at our McLean Creek Road vineyard.
On the nose is wild raspberry, cranberry and leather with hints of savoury wet forest floor and vanilla. Sour cherry and violets on the palate, a medium light body and well-integrated tannins that feel velvety. The wine is approachable now but has all the components to allow it to age gracefully.
I found the Old Block to have a delicately sweetish flavour, rich and smooth. Lighter fruit scents and really good.  $43.58
2016 Reimer Family Vineyards Pinot Noir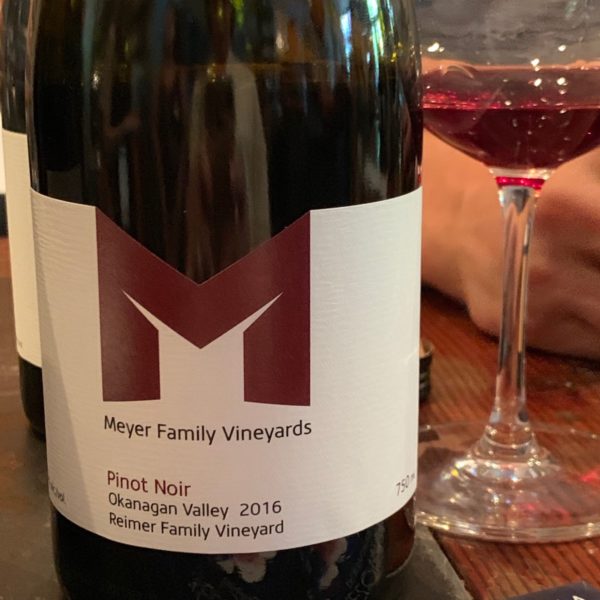 This is a sold out wine that may be available in very limited quantities to Wine Club members. This Pinot was featured at the Celebration in 2017.
Flavours of cherries that were a combination of sweet and tart, a slight alcohol scent, good tannins and fairly smooth, nice depth.
Moraine Estate Winery
2017 Pinot Noir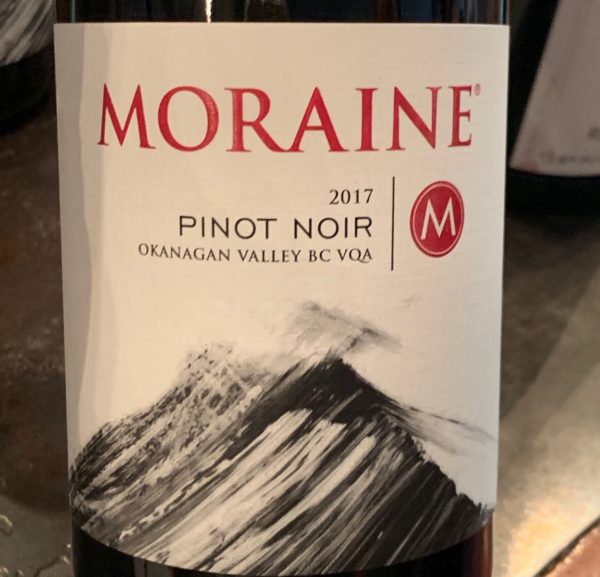 Our exclusive Pinot Noir was grown at Sophia's vineyard,  carefully fermented is small bins for assuring of developing high fruitiness and lovely aromas of the wine. Pinot Noir was aged for 10 months in the premium French oak.
I found this Pinot to be rich and heavier in body than some but it lightened as you enjoy. Very light tannins, tastes of plum with a slight tartness. Very good. $30.00
Joie Farm
2016 En Famille Reserve Pinot Noir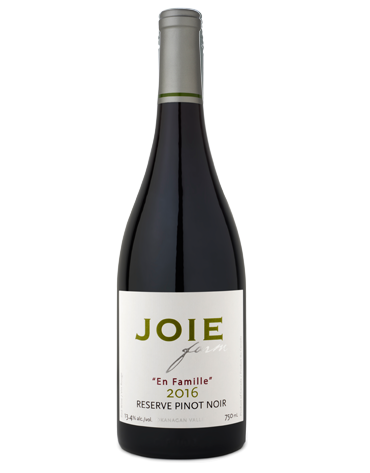 At its best, cool-climate Pinot Noir is bright, focused, and elegant by nature. In a hot vintage, this Pinot Noir can also be powerful and incredibly perfumed and complex. While we draw our inspiration from the wines of Burgundy, it is the lesser-known villages of Fixin, Santenay, and Mercurey that are most influential. Our Reserve Pinot Noir is a clonal selection, with the grapes sourced from select vineyard sites on the Naramata Bench and Summerland. These vineyards have been chosen for their qualities belonging to the smaller berried Dijon clones, and we have supplemented their tendencies for finer tannins and floral aroma through meticulous canopy management and low yields. Our approach to this wine is vineyard based and, as such, our winemaking process is relatively simple. We employ a clean, simple ferment followed by a gentle pressing, and the wine is aged for 8 months in select Burgundian barriques. The wine is further aged for twelve months in bottle before release.
I found jammy scents and aromas of dark cherries. A bit lighter in colour with a tart finish. $34.70
Quails' Gate Winery
2016 Stewart Family Reserve Pinot Noir

Our flagship red wine, the Stewart Family Reserve Pinot Noir is elegant and complex blending Old World charm and New World nuances. It is made in limited quantities and only in vintages of exceptional quality.
An elegant and enchanting wine, expect an inviting blend of cherry, raspberry and cranberry fruit with classic notes of undergrowth and the quality French oak providing an intriguing array of spices. The palate is seductive and complex with smooth, polished tannins and a lingering finish. Try pairing with French onion soup, duck confit, or even braised beef with roasted root vegetables and celeriac purée.
With scents of stewed plums, slightly tart with medium tannins. Some alcohol scents and lighter than I expected. $51.99
2014 Richard's Block Pinot Noir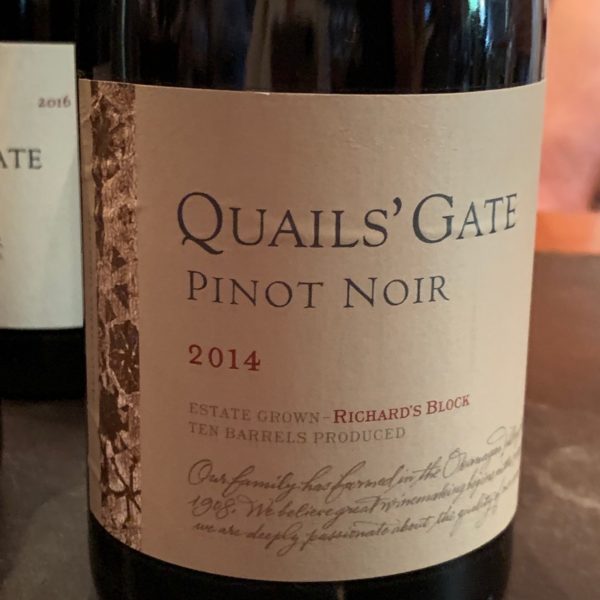 The wine is named after our Father, Richard, who was instrumental in bringing this noble grape to the Okanagan Valley in the early 1970s. All of the fruit was sourced from established blocks on the Boucherie slopes right above the winery.
A bit lighter in colour with scents of alcohol and candy. A pleasant light taste with light tannins. $54.99
CedarCreek Estate Winery
2016 Platinum Block 4 Pinot Noir
On the upper slopes of our CedarCreek Home Block Vineyard, the sandy loam soils in Block 4 provide excellent drainage.  These 21-year-old vines work hard and dig deep to access water, forcing lower yields and increased concentration – smaller berries, darker colour, and increased aging potential.
In 2016, the long, cool vintage meant more hang-time for developing complexity in the fruit.  In the winery, this wine went through wild fermentation and wild malolactic fermentation.  It's a powerful, structured Pinot Noir.  Naturally farmed, wild fermented, bottled unfined and unfiltered.
Medium colour with scents of candy floss, mushroom and mustard. Pleasant, traditional with medium to light tannins. $54.99
Tantalus Vineyards
2011 Reserve Pinot Noir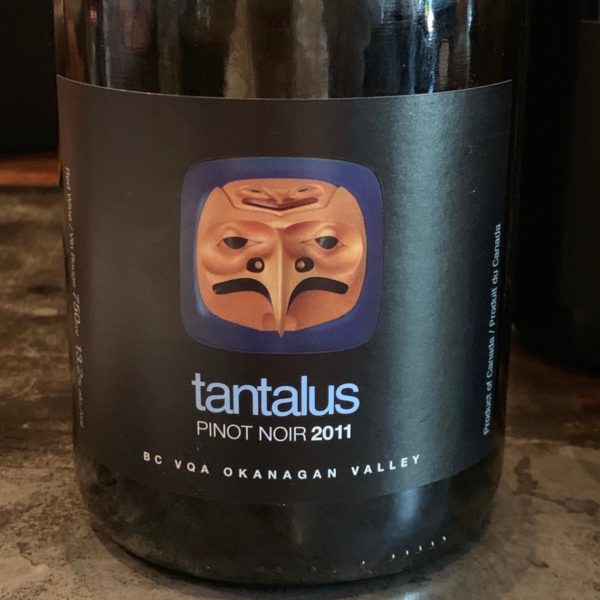 Passion for Pinot – our flagship red varietal.
Inviting brambleberry aromas give way to a touch of mushroom and fresh wild sage. On the palate, focused flavours of raspberry and watermelon are followed by layers of red plum and Bing cherry. Soft tannin and just a hint of oak show through in the wine's lengthy finish.
The 2011 growing season trended towards the cooler end of the temperature scale in the Okanagan Valley. Viticulture practices were consistent with our ongoing sustainability program. 
I found it had less fruity aromas but lots of fruit flavour. It was rustic with light tannins and a very slight smokiness in the background. $60.87
2016 Reserve Pinot Noir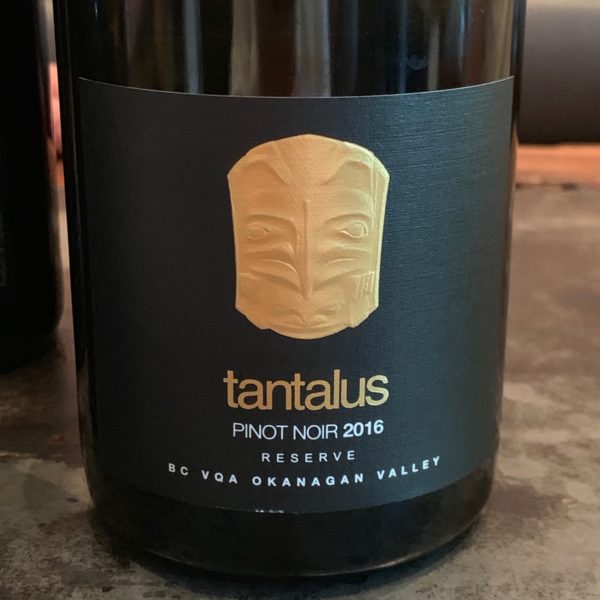 The second release of our reserve-tier Pinot Noir – a small lot wine made to honour our winemaking philosophy, our historic estate vineyard and the special relationship between Tantalus and artist Dempsey Bob.
Deep garnet in the glass, subtle notes of violet and wild bramble berry balanced by earthy beetroot and forest floor, brim forward as the wine opens. The palate is refined, with bright, ripe cherry, cranberry and sage, pulled together with a lush, silky finish. Great length, and only just beginning to show its charm. This wine was built to age.
Delicious aromas of cherries and a little bit of candy. Essence of stone fruits and an ever so slight strawberry. Light to medium tannins. Fairly light with great colour.
Spearhead Estate Winery
2018 White Pinot Noir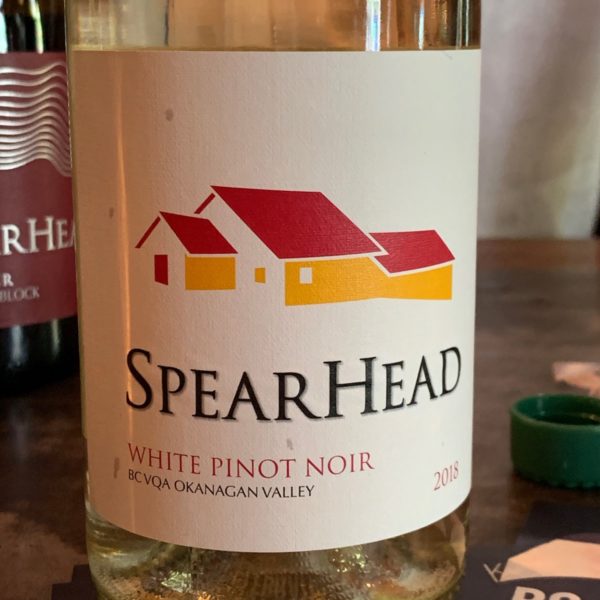 This is a very unique wine.  It is challenging to make a white wine from red pinot noir grapes.  A few wineries in Oregon are doing it as are some Alsatian wineries.
Our White Pinot Noir is a great food wine with rounded edges to compliment richer cuisine. Enticingly fruit forward with aromas of white peach, cherry, citrus and beeswax. A dry rich palate is framed and focused with flavours of spiced pear, honeydew, wet stone and mineral notes. 
Very light, crisp and sweetish. Mellow and peasantly light. Easy drinking. $25.00
2017 Saddle Block Pinot Noir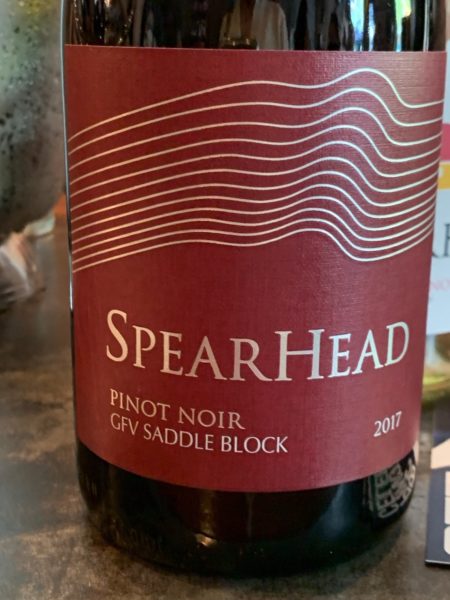 The GFV Saddle Block is produced from our estate Gentleman Farmer vineyard.  Saddle Block is the site of our original Pinot Noir plantings, and made up of 3 Dijon clones: 115, 777 and 828. 
Tightly bound aromas of ripe black cherry and dark fruits entwined with savoury dried herbs and five-spice. The palate is rich, sweet, and vibrant with flavours of blackberry, vanilla bean, gamey meats,and spicy oak.  300 cases produced.
Light but tasty, stinky scents in a good way. Light in taste and colour with very little tannins. $33.00
Every Pinot Noir on offer rated Very Good to Excellent to Exceptional and I expect the same level of premium BC Pinot Noirs at the Celebration in August. This is an event not to be missed. Where else can you taste so many highly rated Pinot Noir wines all in one place?
Followed by remarks by Jak Meyer, Meyer Family Vineyards and David Paterson, winemaker, Tantalus Vineyards. All wines represented at the BC Pinot Noir Celebration 2019 were chosen in a blind tasting conducted by the Canadian Association of Professional Sommeliers (BC).
On August 17 wine lovers, oenophiles, wine fans, aficionados, connoisseurs, and wine collectors will decend on the UBC Kelowna campus to taste the best of BC Pinot Noir. This premier event is not to be missed by anyone interested in tasting pinots from 35 BC wineries.
In addition to the main event this spectacular day will also feature three sessions where Celebration attendees can register and purchase tickets in advance.
2019 Event Program:
9 a.m to 10:30 a.m
The Science of Wine: Free Educational Session hosted by UBC.
UBC is pleased to invite BC Pinot Noir Celebration participants and members of the general public to join them for a presentation showcasing their cutting-edge research related to wine. Attendees will learn about how the chemistry and biochemistry of grapes and fermentation impact the flavour profiles of wine. Tickets to this session are free and must be booked in advance.
11:00 a.m to 12:30 p.m
Breakout session A: Pinot Noir from Coast to Coast hosted by BC Pinot Noir Celebration.
$30 + gst per person (tasting included)
In this breakout session you will have the rare opportunity to taste pinots from coast to coast with representation from Nova Scotia, Ontario, and British Columbia. You will learn how terroir, climate, vineyard management and wine making techniques affect the pinots that are produced from these unique regions and of course, you will taste the wines to judge for yourself. Limited seats available, tickets must be purchased in advance.
11:00 a.m to 12:30 p.m
Breakout session B: Something Old, Something New by BC Pinot Noir Celebration.
$30 + gst per person (tasting included)
British Columbia is considered a young wine region but some of its producers have been making pinots for a number of years now. You will have a chance to taste some 'old' and 'new' wines from four British Columbia wineries. During the tasting there will be a discussion about how the vines, wines and times have changed in the last decade. Limited seats available, tickets must be purchased in advance.
3 p.m to 10:30 p.m
$150 + gst per person 
Festival gates open, bubbly reception held in UBC's Okanagan campus courtyard followed by a festival-style tasting. Cocktail-style dinner and wine bar from 6PM to 8PM followed by live music.
*Breakout sessions are not included in festival ticket. Advanced purchase required, limited seats available.Must be 19+ to attend this event, photo ID will be required.
Participating Wineries: 
50th Parallel Estate Winery 
8th Generation Vineyard 
Arrowleaf Cellars 
Averill Creek Vineyard 
Black Swift Vineyards/ The Hatch 
Carson 
CedarCreek Estate Winery 
Fitzpatrick Family Vineyards (Sparkling Reception) 
Hillside Winery & Bistro 
Howling Bluff Estate Winery 
JoieFarm 
Kitsch Wines 
Laughing Stock Vineyards 
Lightning Rock Winery 
Meyer Family Vineyards 
Mirabel Vineyards 
Mission Hill Family Estate 
Monte Creek Ranch Winery 
Moraine Estate Winery 
Niche Wine Co. 
Nk'Mip Cellars 
Noble Ridge Vineyard & Winery 
O'Rourke's Peak Cellars 
Quails' Gate Winery 
Roche Wines 
Savard Wines 
Scorched Earth Winery 
Spearhead Winery 
Stag's Hollow Winery 
Stoneboat Vineyards 
Tantalus Vineyards 
TH Wines 
The View Winery 
Tinhorn Creek Vineyards 
Unsworth Vineyards 
About BCPNC 
The BC Pinot Noir Celebration (BCPNC) was conceived in 2013 when a collection of passionate Pinot Noir producers across the province got together (over a pint of beer) to discuss a vision to create an event for an intimate group of winemakers and Pinot Noir lovers. The idea was simply to get together for a casual evening to enjoy great wine and incredible food, and open the dialogue about Pinot Noir in BC, how it compares to benchmarks around the world, and where the varietal is headed. The event is coordinated and managed 100 per cent by dedicated volunteers from the local wine and event industry. 
I was invited as a member of the media and attended on a complimentary basis. All images, except as noted, MyVanCity. Featured image: CK Stenburg Visuals, Chris Stenburg. #sp
[wdi_feed id="2″]