On our most recent trip to BC Wine Country we included an excursion to the future site of the Phantom Creek winery, tasting rooms, restaurant, and amphitheatre. The construction site high on a hilltop on Black Sage Road is as impressive as it is massive. The winery has been designed for both world-class winemaking and immersive visitor experiences, including private tastings and experiential tours that conclude in a circular barrel cellar underneath an original Chihuly chandelier.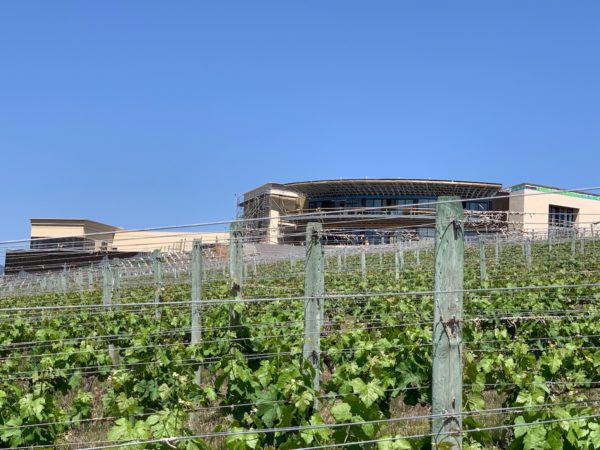 Production areas are housed underground to diminish the overall scale and to take advantage of cooling temperatures and three levels of gravity flow. Above them sits two levels of hospitality space, including a tasting room, restaurant, and private upper floors, accessible via a spiraling staircase that rises from the barrel aging cellar to the roof.
The project will not be completed until 2020 but it was interesting to view in the construction stage. When we were there in May the amphitheatre was taking shape and the exterior patio next to the restaurant had just been completed. Most of the the exterior of the winery and tasting rooms were almost finished including the floor to ceiling sliding window panels.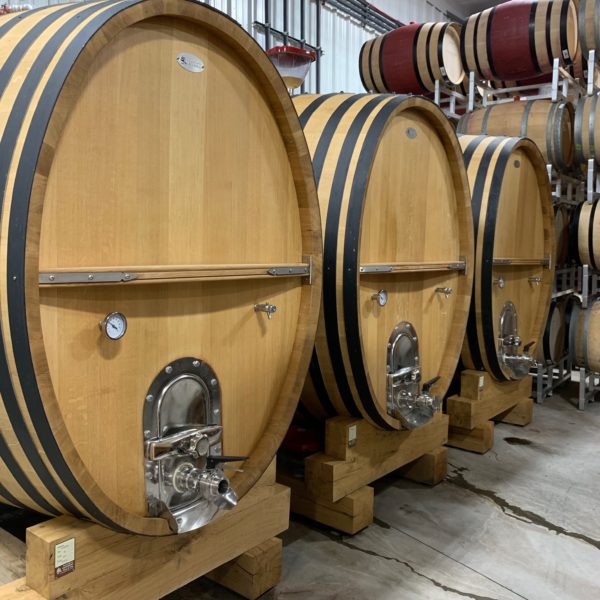 Presently visits to the winery are by appointment only and do not include a site visit at this time. On an adjoining property there is the temporary winemaking facility. Temporary it may be but the equipment, barreling and winemaking methods are impressive.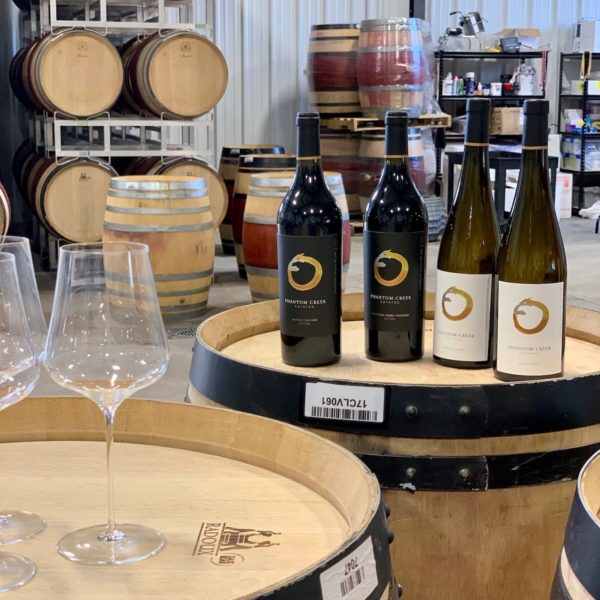 Grapes are hand harvested with stems removed and hand sorted. By using an advanced camera analysis in a process involving bursts of air every berry is tested for ripeness resulting in a remarkable fruit loss of only 1 to 2%. Whites are whole cluster pressed with a 12-14 hour press cycle with a long wild fermentation of 10 months on lees. The 2017 barreled whites are turned three times a day. Bottling for the 2017 is projected to be July 31 and 2018 whites on January 20.
The 2017 Co-fermented Merlot blend is barrel in an oval cask and tank blended using bulldog nitronizing barrel by barrel then feed back into the same barrel. Using oak and stainless steel for the barrel fermentation. The oak toast is medium to medium light.
What we tasted:
Pinot Gris 2017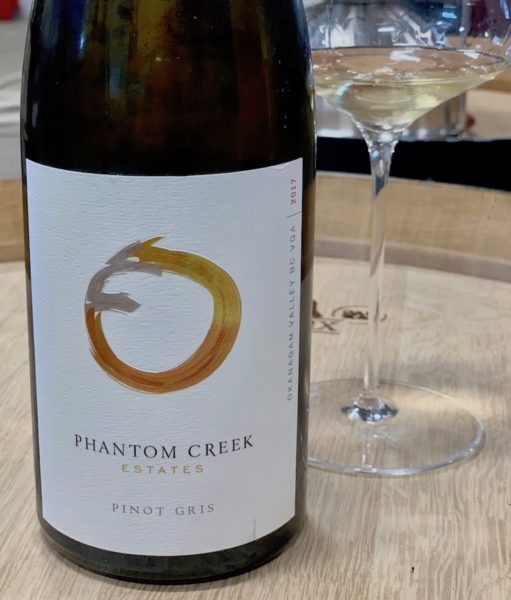 From two idyllic vineyard blocks in Okanagan Falls, the 2017 Pinot Gris was slowly fermented to dryness over seven months by indigenous yeasts for added depth and weight. A portion was also aged in traditional oak casks, providing additional richness and intriguing spice notes. 
The Pinot Gris was light and fruity, tangy on the tongue with a very slight flavour of oak. I tasted apples, peaches, citrus. It was acidic although light it was delicious. $30.00
Riesling 2017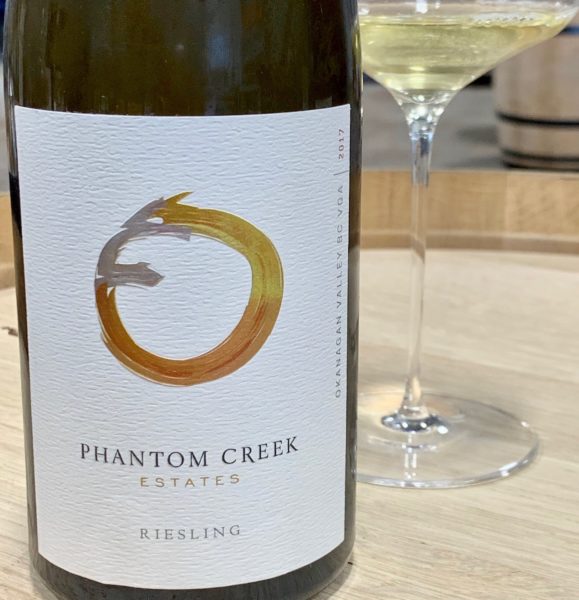 From a 10 year old parcel in East Kelowna, this dry Riesling was gradually fermented over four months by indigenous yeasts to bring additional richness and complexity. We used a combination of stainless steel and neutral barrels for maturation to preserve the natural purity inherent to Riesling.
Aromas of honey followed by diesel, slight scent of wet fur as it opens and diesel continues to open more. Peach flavours, complex yet light, very acidic, mild citrus with tart finish, delicate. Would pair well with lighter foods. $30.00
Cuvée 2016 Becker Vineyard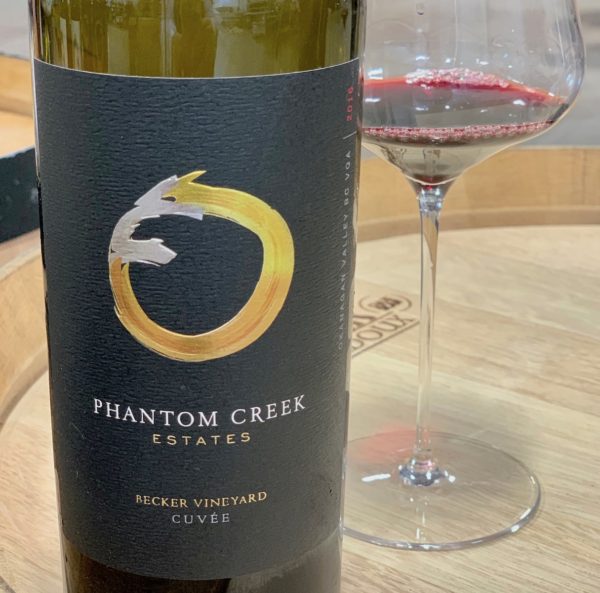 It has now been 24 years since Becker Vineyard was replanted to Cabernet family varieties, proving that late ripening red varieties could thrive in the South Okanagan. The 2016 Becker Vineyard Cuvée is a Merlot dominant blend, and is a true expression both of this historic vineyard and the 2016 vintage.
Scents of dark cherry and oak. A background of pleasnt musk, raisins, mushrooms. Showing more richness as it sits in the glass. Single vineyard with some tannins. A lighter, oaky taste with a flavour that grows as you continue to taste as it becomes more delectable and richer. $60.00
Cuvée 2016 Phantom Creek Vineyard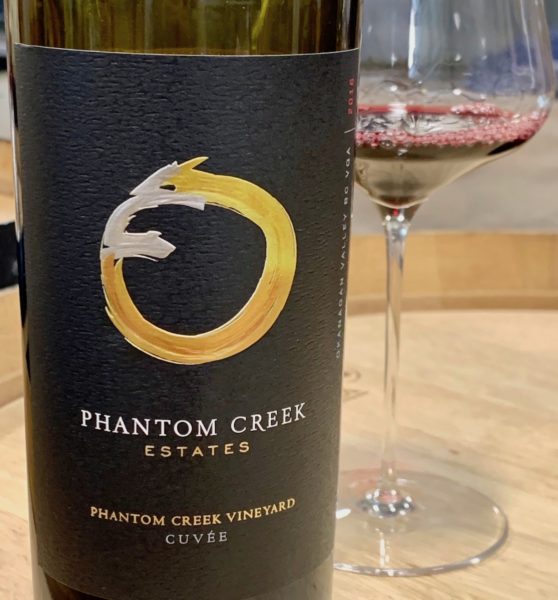 The Phantom Creek Vineyard Cuvée is our best expression of this acclaimed vineyard. In 2016, this Cuvée is a Cabernet Sauvignon dominant blend that captures the power and opulence of our namesake vineyard.
Sweet scents of cherries and plums. Smooth with tannins way in the background. Heavenly aromas, heavy flavours, rich, dark "to die for". $100.00
The wines will eventually all be 100% estate grown, organic, and biodynamic. There are future plans for library wines.
The circle on each wine label symbolizes the Upper Bench, Lower Bench and the Sun.
Phantom Creek Estates has certainly changed the landscape of the hamlet of Oliver. In a "if you build it they will come" assurance that this part of BC Wine Country is in for some big changes, more visitors, more recognition, wines of distinction and promises of an exceptional wine experience.
The Wines
Phantom Creek Estates produces, through minimal intervention and wild fermentations, elegant Bordeaux-style reds and textural Alsatian-style whites that showcase a strong sense of place. Fruit from Phantom Creek and Becker Vineyards' combined 59 acres is handpicked and hand-sorted, with some blocks passed through six or more times during harvest, resulting in concentrated reds like the flagship 2016 Phantom Creek Vineyards Cuvée ($100) and the 2016 Phantom Creek Vineyard Cabernet Sauvignon ($80), blended from three different clones to achieve complexity and depth. The 2016 Phantom Creek Vineyards Syrah ($75) is sourced from 1.2 planted acres of the variety, which helped to firmly establish Syrah as a benchmark in the Okanagan with savoury old-world complexity. While on the upper terrace of the Black Sage Bench, Becker Vineyard's higher elevation results in a more gradual growing season, producing wines of finesse and elegance, like the 2016 Becker Vineyard Cuvée ($60). The rich, textural 2017 Riesling ($30) and 2017 Pinot Gris ($30) are created by means of 12-hour press cycles and long aging in Austrian foudres from cult barrel producer÷ Stockinger.
Exceptional Vineyards Farmed Organically and Biodynamically
Phantom Creek combines historic vineyard sites farmed in transition to organic and biodynamic certification, an internationally renowned winemaking team and a world-class winery. After an intensive two-year search of the area, two pioneering sites—Phantom Creek and Becker Vineyard—were purchased in 2016 for their historic significance and established pedigree. Established in 1996 by leading viticulturist Richard Cleave, Phantom Creek Vineyard has been consistently recognized for producing some of the best red wines in Canada. Becker Vineyard was originally planted in 1977 as part of the Becker Project, which demonstrated that traditional European white grape varieties could thrive in B.C. However, by 1993, Becker Vineyard's potential for late-ripening red varieties was realized, and the vineyard was replanted predominantly to Cabernet Sauvignon and Merlot.
Visiting Phantom Creek Estates
Welcoming guests by-appointment-only in 2019 (fully opening to the public in 2020), Phantom Creek Estates is designed to be a world-class wine destination offering a range of tasting experiences. Visitors can marvel at artist Wu Ching Ju's soaring "Pro Terra et Natura" as they approach the winery's courtyard before embarking on an in-depth tour that begins in the History Room. From there, they'll be led into the vineyards to learn about organic and biodynamic farming techniques before returning back to the winery and entering the crush pad. After seeing the crush pad in operation, visitors follow the gravity flow of wine to the Alsace cask room, red oak fermentation and barrel fermentation rooms.  They then descend a grand staircase that corkscrews through the center of the space to the barrel aging rooms and the historic cellar, before taking an elevator up to the top floor for a private tasting with sweeping views of the vineyards and South Okanagan Valley.
When the winery fully opens to the public in 2020, Phantom Creek Estates will have its own onsite, indoor/outdoor restaurant, as well as a 526-seat amphitheater, providing guests even more ways to sip, savor, and soak in the full Okanagan experience.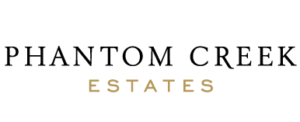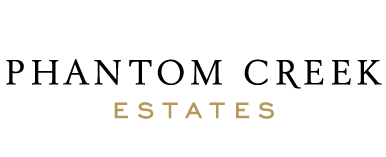 ABOUT PHANTOM CREEK ESTATES 
Farming single vineyard Cabernet Sauvignon, Merlot, Alsatian whites and the Okanagan's benchmark varieties of Viognier and Syrah from storied vineyard sites, Phantom Creek Estates is set to open late summer 2019. Located at 4315 Black Sage Road, Oliver, British Columbia, Phantom Creek Estates will only be open by prior appointment in 2019, but in 2020 will offer an expanded array of experiences, from casual drop in tastings at the bar or on the patio to immersive tours with food and wine pairings. For more information, please contact the winery at 250.498.8367 or visit phantomcreekestates.com.
Tasting notes and background information courtesy of the winery. We received a complimentary tasting and purchased wines at the prices indicated. All opinions are my own. 
[wdi_feed id="2″]