Singletree Winery Releases New Bubble
In Time for Father's Day
Celebrate Father's Day by popping a bottle of Singletree's new release
Just in time to celebrate Father's Day, Singletree Winery releases their first traditional method sparkling wine, Merryfield. The release is in perfect time to celebrate dad with a an exclusive bottle of BC VQA Wine.
This sparkling is named after one of the founding Mt. Lehman families in the Fraser Valley, known and honoured as one of the first to settle farming activities in the area. The Merryfield family homesteaded the property in Abbotsford where Singletree Winery is now located and where the Etsell family lives.
However, they share much more than just this piece of land.
Hard work, honouring of the land, and determination are common values shared by these two Fraser Valley families and so, the Merryfields give their blessing to have their name on this sparkling wine.
Grown from 100% Mt. Lehman estate grapes, this wine is made of 50% Pinot Noir and 50% Chardonnay and left to rest for 24 months on lees to develop depth and texture. After two years, the finished product is a crisp and lively wine with strong citrus notes and aromatic nose.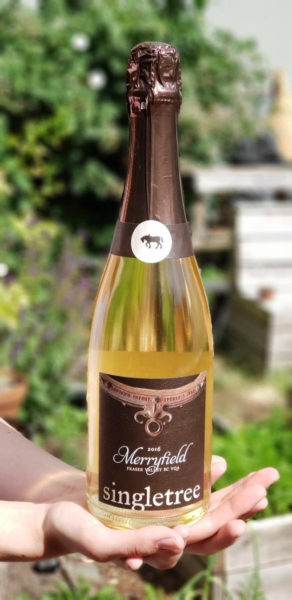 The Merryfield is a special release for $39.95 a bottle, their first wine produced in the traditional champenoise method, and named for Mt Lehman's founding family. Only 183 cases were produced. The public is invited to look for the Merryfield in Abbotsford and Naramata.
Father's Day weekend – June 15th and 16th – from 12:00 pm to 5:30pm (Abbotsford) and 10:30 am to 5:30 pm (Naramata)
Those who can't make it to the winery can order the wine online at
singletreewinery.com
while quantities last.
Abbotsford: 5782 Mt. Lehman Rd., Abbotsford, BC V4X 1V4
Naramata: 1435 Naramata Rd, Penticton, BC V2A 8X2
Media release and image of Merryfield courtesy of Singletree Winery.
[wdi_feed id="2″]