No matter whether your favourite #bcwine is a White, Red, Rosé, Still, Sparkling or Bubbly we have recommendations to make your Valentine's Day special.
Is there anything more romantic than sharing a glass of wine? I think not. If that glass of wine just happens to be a BC Wine you're on the right track. We at MyVanCity are big fans of BC Wine and we definitely have our #FavouriteThings Wine list to make your Valentine's Day something extra special.
We know your first thought may be all about Bubbles, and BC sure has some top notch Bubbles and Sparkling wines, but the romantic in us is thinking Shades of Red. There are so many Shades of Red from ruby red to rosé so we've chosen a select few that we really love. We want you to think about the passion that is in each glass of BC Wine whether you are drinking Bubbles or #ShadesofRed.
Wow! What a great idea from Bench 1775 skip the flowers and go straight to the heart of the matter with Bench 1775 Bouquet of Rosé. We highly agree with this one!
BOUQUET OF ROSÉ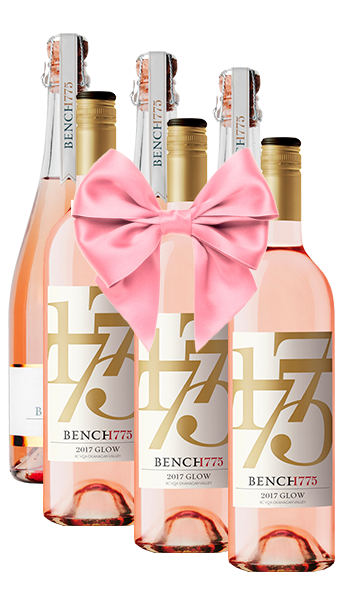 3 bottles – 2017 Glow Rosé
3 bottles – Brut Rosé (Silver Medal – 2017 Cascadia Wine Competition)
"Skip flowers this Valentine's Day and get your loved one what they really want; a half dozen bottles of Rosé! Our Bouquet of Rosé package offers 3 bottles of 2017 Glow Rosé and 3 bottles of Sparkling Brut Rosé. As we say here at the winery, Rosé All Day!"
Any order for 3 bottles or more receives free shipping from Jan 23rd to Feb 8th.
Out of province: Please order before Feb 6th to get them delivered in time for Valentine's Day.
BC: Please order before Feb 8th to get them delivered in time for Valentine's Day.
It's all about the Bubbles! We love Bubbles! This delightful option is from Giant Head Estate Winery.
Blanc de Noir 2015

Our Blanc de Noir is made from one hundred percent estate grown Pinot Noir grapes. This wine is perfect for any special occasion, pairing with seafood or on its own as a refresher on a hot summer's day.
Our Blanc de Noir is made by lightly pressing whole cluster, early harvest Pinot Noir grapes, to extract maximum flavor and as little color as possible.
This Frizzante Style wine won Best of Category – Charmat Method at the 2016 Northwest Wine Summit.
Our wines can be purchased directly from the wineshop, VQA – Save On Foods and select liquor stores.
We love every bit of the sentiments that go with 40 Knots Vineyard & Estate Winery Valentine's offerings.
Soleil Rosé

GOLD winner in the Lieutenant Governor's Awards 2018.
Inspired by the work of LGBTQ, and our society's rising shown as a pink sun rising, we created pink bubbles to celebrate.
"We are all a part of the solution… including those that have taken actions against us".  Tim Cyr.
Aged on lees for three years.  Riddled and disgorged, dosage with our own Syrah to bring out a bright berry flavor with soft tiny bubbles.
The Promise Box
This promise box contains a bottle of 40 Knots wine, as unique and everlasting as your love. It is a wine that softens when it ages and becomes more valuable with every passing year. Contained also in the box is a glass for each of you. Envelopes are in the box so that love letters or vows may be written to each other and then sealed. These letters describe the reasons you fell in love, why you love each other and the promises you make to each other. This promise box will be kept in a place of honour and displayed as a reminder of the commitment to each other. Should an occasion of great celebrations or on an occasion of insurmountable hardships fall upon each other, as a couple, the box will be opened, the wine will be poured, and the letters will be read to each other. By reading these love letters you will reflect upon the reasons you fell in love and chose to be together. The promise box is then to be restocked with the letters and wine, and resealed.
Straight from the unspoiled environs of Vancouver Island.
Blue Grouse Paula Sparkling 2017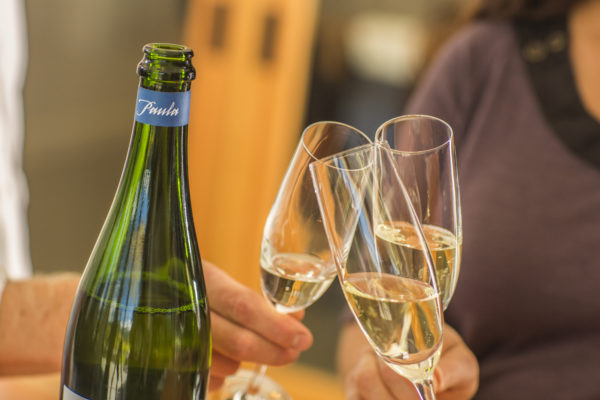 This sparkling has aromas of pear, green apple and bit of earthy mushroom. It is perfect to be tasted at the start of your celebration with your loved one because it is a perfect pair for goat cheese appetizers or oysters. Available online or at the winery for $31.
We think exploring the unique regions of BC Wine Country would be a wonderful way to celebrate.
Singletree Victory 2017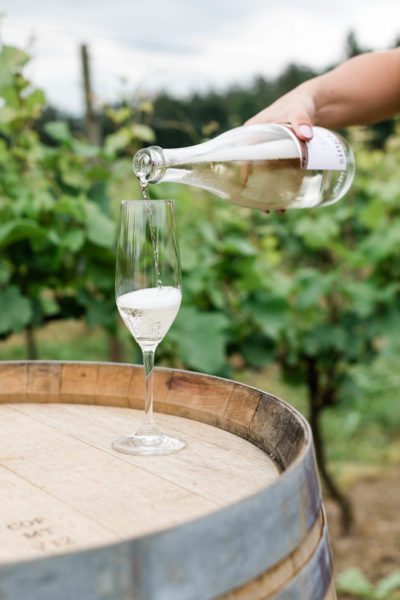 Victory is a delicate frizzante made from Siegerrebes (see-geh-RAY-buh) or "Victory Grape" in German. This wine has aromas of rose petal and tropical fruit notes on the palate. It is a great bottle to enjoy with a light dinner and fruity desserts. Serve this to your love and you are in for the win. Available to order here.
Wildly popular since its inception you can't go wrong with the tried and true.
Haywire Bub 2016

The Bub is a bold sparkling. With crisp and fresh citrus and toasty notes, this wine is made in  the champagne method and carries good acidity and tiny bubbles. It is all you need to feel the French vibes even if you are not going to Europe this Valentine's Day. This popular choice also comes in a mini version called Baby Bub. Both available online here for $29.90 and $17.30, respectively.
Available online starting Monday, February 4.
We agree Evolve Cellars Pink Effervescence is hard to resist, so we recommend you give in to your impulse.
Evolve Cellars Pink Effervescence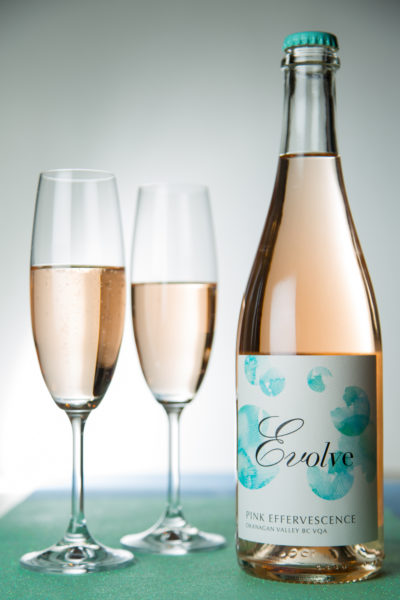 This Evolve is a light blend of Pinot Blanc, Merlot and Chardonnay and offers notes of ripe peach and rich berry fruit. Colored for the occasion, this bubbly is easy to drink and you will find hard to resist a refill. The Pink Effervescence an ideal gift for a date night. Find it here for $19.99.
The perfect #shadesofred this blushing Bub is a favourite
Haywire Pink Bub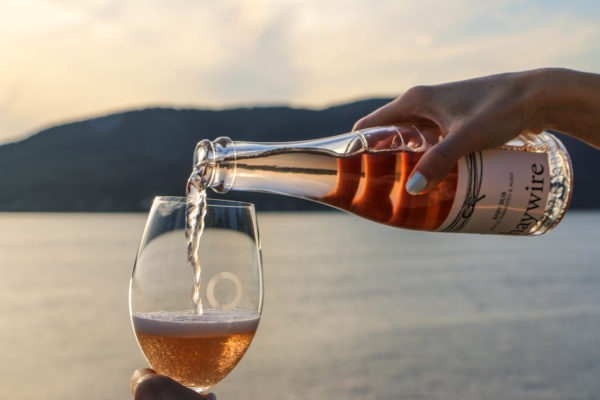 Pink Bub is bottle fermented and aged using Pinot Noir and Chardonnay grapes grown on cool vineyard sites in Oliver and Summerland. A tiny of amount of red wine gives it a warm pink glow. Fresh and lively. Ideal to pair with soft cheese, oysters, crab, or on its own. Available online here for $29.90.
Available online starting Monday, February 4.
We think this is one exclusive offering. Wouldn't you agree?
Free Form Ancient Method 2017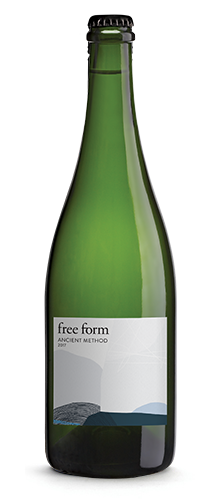 This is a 100% organic Pinot Noir wine with ripe red apples on the palate and crisp lemon finish. Each Free Form wine is one of a kind, made to never be repeated. The exclusivity of organic grapes, native yeasts and the lack of rough handling makes this wine a unique gift for a special person. Find it online here for $34.90.
Gifts! Who doesn't want to receive a gift of wine? It is even more special when the wine comes in pairs AND in a beautiful gift box! 
Clos du Soleil Estate Reserve White

Clos du Soleil's Estate Reserve White is a true "vin de terroir" – a wine which speaks directly of the soil on which it was grown. On the nose the wine is a dense assemblage of lime peel, wet stone, and grapefruit aromas. It is precise and piercing.
On the palate the wines opens up more broadly: bone dry, and yet rich with grapefruit, green apple, and lime juice, with a vibrant mineral streak and a long, lingering finish. The firm structure will allow this to age for years. This elegant wine is the definition of the wind-swept and stony Similkameen Valley.
Clos du Soleil Signature

Signature is our flagship blend of red Bordeaux varietals, produced by hand, and aged for 16 months in French oak barrels. The 2014 vintage, the product of a year of ideal growing conditions, is a classic example of this iconic wine.The taster is enveloped in the dense aromatic profile of ripe red berries, forest undergrowth, and hints of both cedar and mint.
On the palate the wine is the epitome of elegance with integrated flavours of blackcurrant, blackberry, raspberry, and black pepper notes.
These two wines are available in a gift box of 1 bottle Estate Reserve White 2015 and 1 bottle of Signature 2014, including beautiful branded wood gift box, at the promotional price of $89.80 after-tax (78.09 before tax + 11.71 tax).
You had me at French Burgundian! We love their style. They're taking romance to an all ncw level.
Meyer Family Vineyards
In traditional French Burgundian style, this Okanagan Falls winery focuses on small case lots that express their unique place of origin.  Hand harvested and hand crafted with attention to detail, Meyer Family Vineyards takes great pride in each bottle of wine they produce.
2017 Stevens Block Chardonnay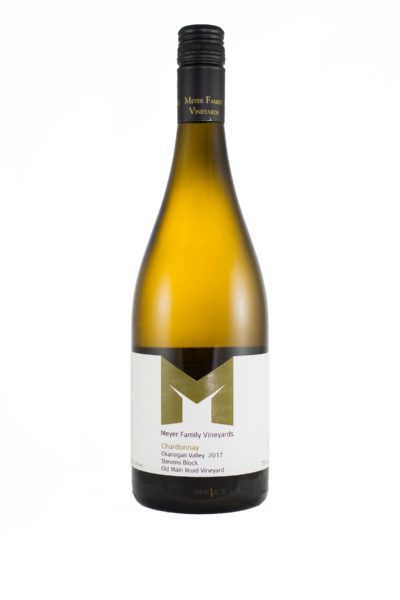 This Valentine's Day we recommend taking your sweetheart out on a snowshoe and having a picnic in the snow with a bottle of the Stevens Block Chardonnay paired with crab dip served with a baguette.  The Stevens Block is name after co-proprietor, Janice Meyer-Stevens and is as romantic as the day is.  Stevens Block is not only floral but also has a beautiful kiss of strawberry.  It has a nice round mouth feel as a result of 100% natural malolactic ferment and 4 months on its fine lees .  Stevens Block is 2006 plantings of Wente clones 4 & 5 on our Old Main Road property in Naramata.   The soil is comprised of clay and silt loams with alluvial and windblown deposits and has a north facing gentle slope.
NV Méthode Traditionnelle, Extra Brut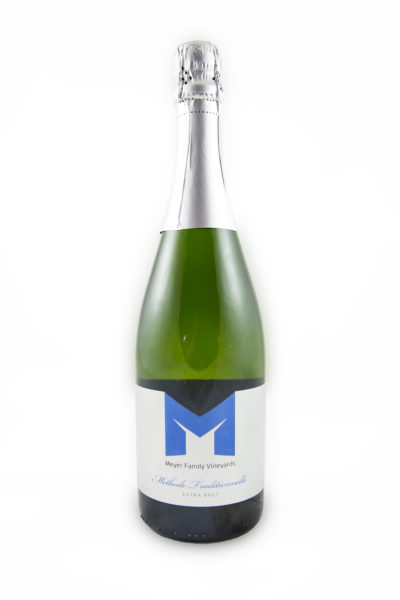 If your sweetheart is more of the bubbly type maybe consider taking the Meyer Family Vineyards Extra Dry NV Méthode Traditionnelle Sparkling on your snowshoe.  No better way to celebrate than by sabering a bottle of sparkle in the forest! This wine is so dry we can guarantee no hangover with the first bottle!  No promises with the second.  We've done the research for you…you're welcome!  This sparkling wine has been compared to a fine French pastry, with a lemony curd and a kiss of apple.  This wine is a blend of grapes from the 2012 & 2013 vintage, 70% of which is Chardonnay and 30% of which is Pinot Noir and topped off with Chardonnay after it was disgorged.  This wine spent 20 months on its fine lees and was hand riddled so expect fine, mousey bubbles.  We enjoy it with sushi!
Where to buy:
Meyer Family Vineyards wines are carried at a multitude of private liquor stores.  Alternatively, you can also order direct from the winery online.
How much fun can you have with wine? If it's a View wine the answer is lots! We love their attitude and we love their wine.
The View Pearls Traditional Brut
Packed with racing acidity and fermented dry, this sparkling is Brut in style with 5 g/L residual sugar. Subtle notes of Granny Smith apple, lime zest, citrus fruit and minerality mixes with traditional toasty bready notes from the secondary bottle fermentation.
Just a little treat in case you prefer something a little more exclusive!
Poplar Grove Rosé Brut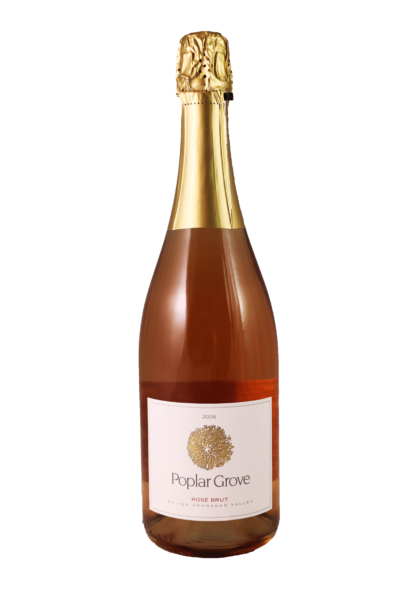 Only 30 cases made of the Rosé Brut and just in time for Valentine's Day… 100% Malbec. Traditional Method. Dry and delicious. Available online and in the tasting room.
Always a favourite with fruity flavours we love. Enjoy this one with your valentine.
Poplar Grove 2017 Blanc de Noirs

Tasting Notes
Pale coral plunges into the glass. A compelling aroma of candied berries mingles with pink grapefruit to awaken the senses. Our 2017 Blanc de Noirs is a classic, dry Rosé with alluring avours of crunchy strawberries, watermelon and rhubarb. A summer sipper perfect for enjoying under the sun on the beach, boat or barbecue.
Harvest Notes
A cold Canadian winter, unusually wet spring, and dry summer yielded wines with excellent balance and distinct varietal flavours. Crops were lighter than normal, but the vintage will be remembered for unprecedented ood and drought conditions; and a persistent haze from nearby forest res. While not directly affecting our grape-growing areas, the haze blanketed the sun coverage, preventing the customary heat spikes and positively impacted the growing season by slowing down the grape ripening periods and avour development. Ripening was assisted by the rigorous leaf plucking and bunch thinning of our dogged, never-say-die vineyard crew. Ultimately, slightly lower yields and phenomenal fruit quality delivered an excellent 2017 vintage, characterized by high avour concentration, moderate alcohol, balanced tannins, complexity and natural acidity.
Winemaking Notes
Merlot and Malbec bunches were hand picked and sorted in the vineyard. The extracted juice from the crushed grapes was left on skins for four hours, then cold settled and fermented at 15ºC to preserve the bright fruit flavours. The yeast consumed most of the grape sugars leaving 1.8 g/l and yielding a wonderfully rich dry rosé.
Cellaring Notes
This wine is meant to be enjoyed upon release. Drink this year for best enjoyment!
Put a little fun into your Valentine's Day with Rosie!
Monster Vineyards "Rosie"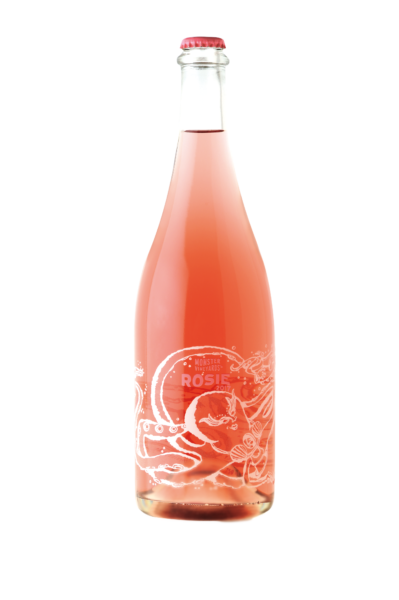 TASTING NOTES
Rose petal pink sparkles in the glass. Rosie has returned for her fourth release to excite the palate and delight your taste buds! Awaken your senses with aromas of raspberries, vanilla, and watermelon. Stawberry pops on your taste buds with elements of rhubarb, and brisk grapefruit.
Prepare the patio! Rosie makes this perfect pairing for optimistic sunny summer days.
Winery Price $19.90 +857235
HARVEST NOTES
2017 was a roller coaster year – the valley faced both ooding and drought that haven't been seen for decades. Winter was chilly! Arctic outows were very cold (-20) and lasted longer than usual but caused no bud loss. Overall, spring was cool with fewer sunlight hours and more precipitation. This resulted in a later bud break (2 weeks) and more pruning in the rain than the vineyard crew is used to. Areas of Okanagan Lake to Osoyoos Lake experienced flooding; the small Haynes Creek, which flows through our Osoyoos vineyards, overowed and flooded our southern vineyard. Summer came in hot and dry bringing lots of sunshine and one of the most intense re seasons on record. From early July, smoke was a common sight in the valley. The fires were not close to our vineyards which meant no smoke taint for the grapes and vines that enjoyed the intensity of a hot summer. A classic warm autumn allowed for a long ripening season. Overall, 2017 was a year of ups and downs where the vineyard team embraced the struggle with Mother Nature and ended the ride with ripe, balanced, beautiful grapes and another stunning vintage.
WINEMAKING NOTES
The grapes were harvested at 23.7ºBx. Juice from the Merlot, Malbec, Cabernet Franc, and Syrah harvest was extracted from the grapes before any signicant skin contact occurred. It was then cold settled & fermented at 15ºC to preserve the bright fruit avours. 5.2 g/l of residual sugar and moderate carbonation adds both richness & excitement to the finished wine.
CELLARING NOTES
This Monster is ready to be set free upon release. Drink now.
This is classic and always on our #FavouriteThings list.
Noble Ridge "The One"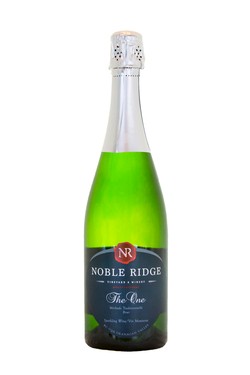 Our 2015 "The One" sparkling spent 28 months sur lees. Beautiful aromas of toasted biscuit and home made bread are complimented by a zesty citrus note.  This medium bodied, traditional French style brut highlights our single vineyard estate grown Pinot Noir and Chardonnay.
The soils, climate, altitude and wind patterns of Okanagan Falls are distinct from other parts of the valley; wineries in this area worked with scientists to establish the new Okanagan Falls sub-GI designation.
Clones:  Chardonnay – Clone 76 and 95, Pinot Noir Clone 115 and 777
Viticulture:
Geneva Double Curtain (Pinot Noir), Modified Scott Henry (Chardonnay)
Winemaking:
Whole Cluster pressed, cool fermented, Méthode traditionnelle, en tirage 28 months.
Did you know they call them Nighthawks because they become active at night? Don't wait for night to enjoy this delicate Rosé, enjoy it anytime.
Nighthawk Pinot Noir Rosé

Celebrate this Valentine's Day with one of the award-winning wines from Nighthawk Vineyards.  Their Pinot Noir Rose is a perfect pairing for this romantic month.
[wdi_feed id="2″]