Time to talk Bubbles! Both Christmas and New Year's Eve wouldn't be the same without the pop and the bubbles so we are giving you our suggested sparkling wines that will make your holiday festivities bright and fun.
Bench 1775 Brut Rosé

The wines that form our Brut Rosé come from 2014 and 2015 and were harvested early for acidity. The grapes were picked into small bins and quickly transported back to the winery for whole-cluster pressing. Fresh, lively and fun, pair this bubbly with avocado salad or fresh catch.
A lively elegant blend of 50% Chardonnay and 50% Pinot Noir, this sparkling wine has been aged on lees and blended over two vintages for complexity. The unique copper hue comes from precise Pinot Noir skin contact.
Best paired with cheeses and light food.
In the off-season the tasting room is open by appointment and their doors are open 7 days a week from April through November. We encourage you to visit for an informative and fun tasting to learn about and sample a wide variety of table wines and sweet wines. At Bench 1775, they strive to create a space that is causal and welcoming to newbie wine tasters as well as the worldliest wine drinkers. The Bench tasting room and designated picnic area are pet friendly, so feel free to bring your pooch and maybe you'll meet the two winery dogs, Lulu and Bruno. During your visit don't forget to ask the staff about creative ways to pair wines with food and good times!
Bench charges a tasting fee of $5 to taste a flight of 5 delicious wines. Each tasting fee is waived with the purchase of 1 bottle of wine.
Hours: Open Daily 12:00 pm – 5:00 pm
Address: 1775 Naramata Rd, Penticton, BC V2A 8T8
Tel: (250)490-4965
Email: wineshop@nullbench1775.com
Meyer Family Vineyard NV Méthode Traditionnelle, Extra Brut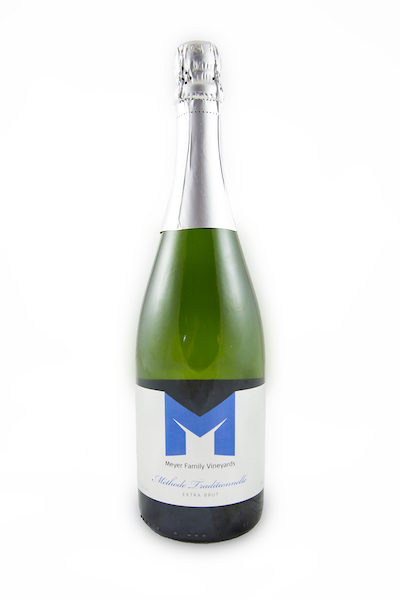 Our inaugural NV Méthode Traditionnelle, Extra Brut sparkling has a fine and persistent mousse thanks to the traditional method secondary fermentation in the bottle. Clean, crisp, and fresh palate with mineral notes wrapped in flavours of orchard apples and pears, finishing with a rich and creamy texture from the extended bottle age. The wine is dry from start to finish making it the perfect aperitif wine.
This beautiful sparkling wine has been impressing wine critics across the country scoring 91 points in the Globe & Mail from Beppi Crosariol, 92 points from John Schreiner and 90 points for UK's Jaime Goode.
Winemaker Notes

The fruit (70% Chardonnay, 30% Pinot Noir) for the sparkling wine was loaded into the press whole cluster immediately after picking was completed. A special champenoise press program was employed; this is a very slow and gentle press program lasting over 4 hours. This allows for maximum quality juice extraction while minimizing astringent phenolics. The juice was cold settled overnight then transferred off the heavy sediment into a stainless steel vessel where it commenced fermentation. Once completed, all batches were combined and the base wine was aged for 2 years with several rackings throughout this time to eliminate deposits/lees. The base wine went through a full natural malo-lactic fermentation and was then bottled under crown cap where it would carry out its secondary fermentation in the summer of 2014. The bottles were then aged on lees for 20 months and were disgorged from May 2016 through to June 2016 with no dosage while being topped up with 2014 vintage blanc de blanc base wine.  This wine is unfined and unfiltered to preserve its inherent characteristics.
Vineyard Notes

Our family owned "McLean Creek Road Vineyard" is located in Okanagan Falls, BC. The vineyard has a predominantly steep southerly aspect with the soil comprised of alluvial and glacial deposits making up a mix of gravel and sandy loams. The Chardonnay is planted in two separate blocks, one on the far east side of the south facing slope and the other on the west end of the slope. The Pinot Noir blocks are planted with five different French Pommard and Dijon clones and are planted in three distinct blocks on the 16-acre property.
Production Notes

550 cases.
The View Pearls Traditional Brut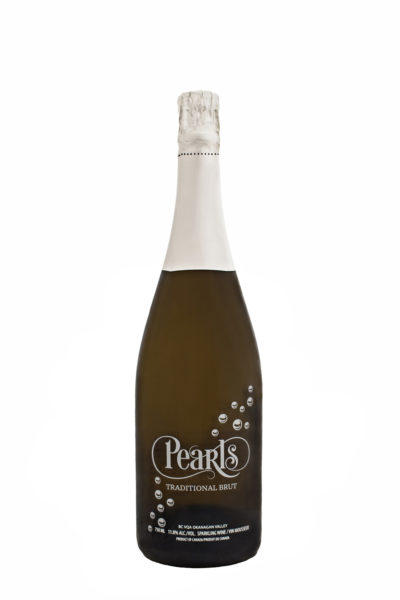 Packed with racing acidity and fermented dry, this sparkling is Brut in style with 5 g/L residual sugar. Subtle notes of Granny Smith apple, lime zest, citrus fruit and minerality mixes with traditional toasty bready notes from the secondary bottle fermentation.
The View Winery is situated on a parcel of land that has been in the Turton/Ward family for 5 generations. Historically, apples were grown on the property. In the mid 1990's a transition began and orchard rows were replaced with vines. Spartans and McIntosh gave way to Gewürztraminer, Riesling, Ehrenfelser and Pinotage
In 2006, plans began to make our own premium wines and the beloved old packinghouse built by Great Granddad Ward in 1922 was transformed into a winery.
The View now produces over ten thousand cases each year. Our diverse portfolio of award winning wines includes Riesling, Gewürztraminer, Pinot Gris, Ehrenfelser, and our signature reds: Pinotage and Pinot Noir. Our rosé has emerged as a favourite as have our Silver Lining Estate blends. In 2013 we added Canada's first wine in can with our wildly popular BLING Sparkling Wine.
Original plans were to build a new retail store and tasting room at the top of the property hence the name "The View". However, we have grown to love and embrace the unique historical qualities of our family property, so instead chose the original apple packinghouse for our wine shop and winery.
Built by George Ward in 1922, the packinghouse is the last from its era in the Kelowna area.
Pentage Fizz Blanc

A blend of Pinot Gris, Chardonnay, Viognier, Gewurztraminer and Muscat
Fizz Blanc is a delightful sparkler with aromas of crisp stone fruit and bright citrus notes.  A juicy mouthful of pear and peach with a bright citrus finish. Fun summer sipper not to be missed. Price: $20.00
Pentâge premium wines are available to purchase on their website. Buy Wines here. Pentâge premium wines are also available at numerous restaurants and at retail wine shops. See a full list here.
Interested in visiting Pentâge Winery? Here's what you need to know about visiting Pentâge.
Steller's Jay Mountain Brut

The harvesting of our premium Pinot Noir and Chardonnay grapes for Mountain Jay Brut begins in mid to late September which assures ideal sugar levels. The Pinot Blanc follows and is added to the Brut base. Early harvesting of these grapes ensures a crisp, fresh acidity in our traditional method sparkling wine.
TASTING NOTES
Aromas of citrus and green apple, with hints of biscuits and semi-toasted almonds. The palate is crisp and clean with apleasant and persistent mousse, while the refreshing acidity provides a long, clean finish. A well-orchestrated blend of 38% Chardonnay, 34% Pinot Blanc, and 28% Pinot Noir.
FOOD PAIRINGS
Steller's Jay Mountain Jay Brut displays smooth flavours which complement a variety of dishes. This dry, delicate sparkling pairs beautifully with flavourful seafood dishes such as sushi, caramelized sea scallops or rich lobster risotto. And never forget the simple luxury of a fresh chocolate-dipped strawberry with a glass of Steller's Jay.
TECHNICAL NOTES
Steller's Jay sparkling wines are hand crafted in the Okanagan Valley using the traditional French "Methode Classique." First produced in 1989, Mountain Jay Brut stays true to its tradition by remaining one of Canada's preeminent sparkling wines. White peach and golden hues flatter the ripe orchard fruit and citrus blossom aromas in this crisp and complex sparkling wine. Rich flavours of toasted nut and red berries layer the palate, resolving to a soft and creamy floral mousse finish.
Haywire Vintage Bub
VINEYARD Secrest Mountain Vineyard is a 50-acre site, home to a 38 acre (15 ha) vineyard situated on a flat south-west facing bench in a high mountain setting 487 meters (1,600 feet) above sea level. This cool site has flat alluvial soils studded with coarse gravel and sandy loam with limestone layers. The vineyard was planted in 2000 with Chardonnay, Gewurztraminer, Pinot Blanc, Pinot Gris, Gamay Noir and Pinot Noir. Since 2010, it has been farmed under the direction of Okanagan Crush Pad and a conversion to organic farming practices was started in 2014. In 2018 when Brad and Dave Wise decided to retire, the winery purchased the property from the family and will carry on with the work that the Wise family has done for the past 18 years.
WINEMAKERS Matt Dumayne, Jordan Kubek
WINEMAKING This special cuvee was bottled in early January, 2014 and remained on its lees in tirage for 52 months. At disgorgement we chose not to add a dosage, believing the wine had achieved balance all on its own.
WINE PROFILE When originally released, the wine demonstrated classic warm bread aromas and a crisp green apple finish. Now, with aging, toasted hazelnut aromas are emerging with a creamy red apple palate and white grapefruit freshness to finish.
Lakeview Fresh Possibilities

The FRESH Sparkling Rosé wine does Niagara proud with rich characteristics of ripe red berry fruits. Sweet or savory, this versatile rosé goes with whatever your eating!
Winemaker's Description
FRESH Sparkling Rosé offers up refreshing notes of cherry, strawberry, pomegranate and citrus dominate the nose. The palate echoes with additional notes of raspberry and strawberry jam.
Food Pairings
Enjoy this delightful Niagara wine with salted potato chips or with strawberry cheesecake!
Varietal
60% Riesling, 40% Gamay
Lakeview Fresh Ideas

Winemaker's Description
A light and refreshing sparkling wine with notes of tangerine, melon, lemon zest, green apple and mineral on the nose, followed by delicate bubbles on the palate with characteristics of citrus, lemon, autumn apple and light honey on the finish.
Food Pairings
This versatile Niagara sparkling Riesling can be paired with many types of food from appetizers, to entrees to desserts. Try it with a summer salad topped with mandarin oranges or cream cheese on crackers topped with mango chutney.
Varietal
100% Riesling
Monster Rosie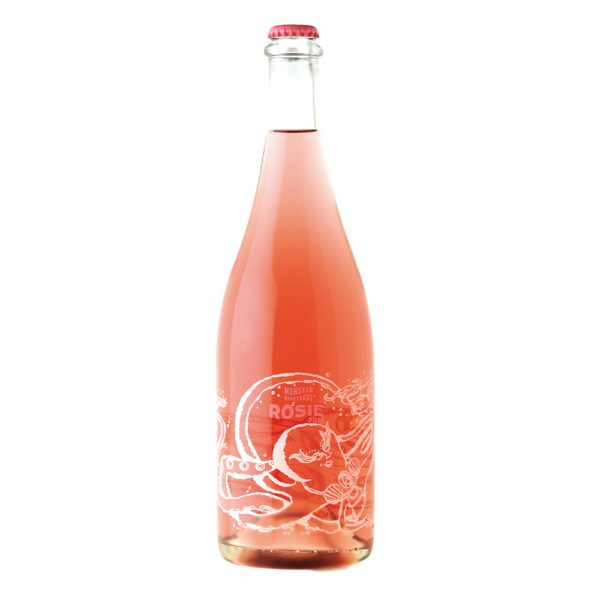 Watermelon pink sparkles in the glass.
  Perk up your nostrils with aromas of cream, melon, and tangerines.
 Watermelon pops on your taste buds with notes of cranberries,
and field strawberries.
$19.99 online at Monster Vineyards.
40 Knots Soleil Rosé Brut

Inspired by the work of LGBTQ, and our society's rising shown as a pink sun rising, we created pink bubbles to celebrate.
"We are all a part of the solution… including those that have taken actions against us".  Tim Cyr.  
Root stock planted 2005- 2007 from France on glacier till soil facing the Salish Sea.  2014 brought the perfect climate to this perfect Coastal Cool Climate terroir.
Tourmaline hue, earthy aromas backed with light bery fruits and fresh baked bread.  Strawberries shine with a bramble bush character and fresh citrus.  Pair with naturally sweet kushi oysters.
About 40 Knots Winery
Located on 24 stunning acres, 40 Knots is the largest grape winery in the Comox Valley,
and one of the largest on Vancouver Island. With striking views of land and sea, and capable of
seating 150 guests, 40 Knots is the perfect destination for your business conference,
wedding, party, or celebration.
Tasting notes and images courtesy of the wineries. I received wine samples in order to facilitate this feature. All opinions are my own.
First published December 19 as "Holiday Gift Suggestions", reposted December 28, 2018.