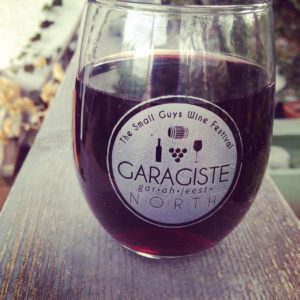 It was with a touch of nostalgia that I participated in Garagiste North this year.  The first time I attended this wine festival was at Kelowna's Laurel Packinghouse in 2015, just as I was starting the BC Wine Trends blog.  That weekend I started friendships with some passionate BC winemakers that actively support my blogging efforts.  To name just a few, Rob Hammersley, Rob Westbury, Bradley Cooper, Jennifer Schell, Daniel Bibby, Jay Drysdale and Mark Simpson.
This year's event had strong participation from the Garagiste North winemakers.  As always the event was planned and executed perfectly by Jennifer and Terry at Wine Party.
20+ wineries! Anarchist Mountain Vineyard | Anthony Buchanan Wines | BC Wine Studio | Black Cloud Winery | Black Market Wine Co. | Bottega Wine Studio | Coolshanagh Winery | Dames Wine | Forgotten Hill Wine Co. | Giant Head Estate Winery | Lariana Cellars | Marionette Winery | MOCOJO Winery | Nagging Doubt Wines | Schell Wines | SKAHA Vineyard | Tall Tale Wines |vinAmité Cellars | Winemakers Cut…AND Kelowna's hottest new beer & cider makers: Vice & Virtue Brewing and Truck '59 Cidery!
Now to the Garagistes and their wines.
Anarchist Mountain Vineyard
Andrew Stone was pouring 2016 Elevation Chardonnay and 2016 Mayhem.  The Chardonnay is lightly oaked with tropical fruit notes and crisp acidity.  Mayhem is a Merlot/ Cabernet Franc (33% Cabernet Franc) blend. Lush red fruit with flavours of tobacco, pepper and leather.  Smooth tannins and a long finish.  Visit their website for more details.
Anthony Buchanan Wines