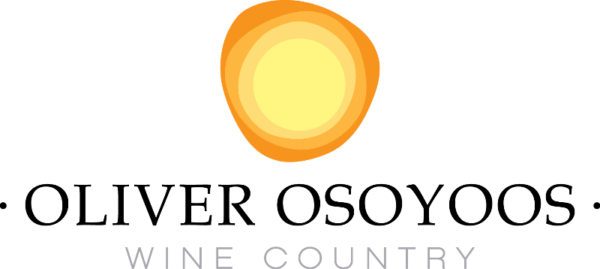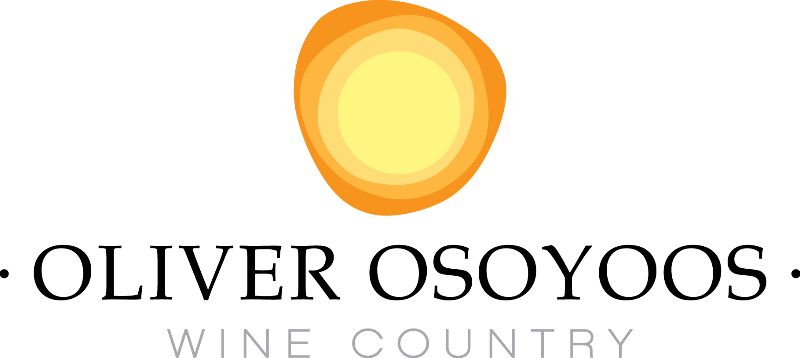 #UncorktheSun… Plan Your Summer Trip!


UNCORK THE SUN IN OLIVER OSOYOOS WINE COUNTRY!
Thanks to the cooperation of British Columbians around the province, we have now entered Phase 3 of BC's Restart Plan. Our wineries cannot wait to welcome you with open arms and full glasses! A visit to Oliver Osoyoos Wine Country will be different, but our colourful characters, award-winning wines, and authentic wine country experiences are just as captivating and are guaranteed to leave lasting memories. For more information on our region, maps and other ways to help to plan your trip ahead, please visit our website. We love seeing your experiences of our region, so when you are ready to visit, tag @uncorkthesun and we will share the best! We look forward to seeing you soon in warm and sunny Oliver Osoyoos Wine Country.
Celebrating National Indigenous Peoples Day 
Our region is exceptionally proud to be home to Nk'Mip Cellars, the first Indigenous-owned and operated winery in North America. A proud member of the Osoyoos Indian Band, Winemaker Justin Hall started at the winery after he graduated from high school and worked his way from cleaning equipment and hoses to winemaker, responsible for an award-winning portfolio of wines. Learn more about Justin's approach to winemaking by clicking here. Keen to share Nk'Mip's history and heritage, winery Chef Orlin Godfrey curated a selection of recipes, which pair perfectly with wine selections from Justin Hall. Find them on Nk'Mip Cellars' website: www.nkmipcellars.com.
Welcome French Door Estate Winery
We are excited to announce the opening of French Door Estate Winery, brand new to Oliver Osoyoos Wine Country! Family owned and operated and located on the famed Black Sage Bench, the team at French Door focuses on creating honest, low-intervention wine from sustainably grown grapes in classic, old-world French style. Their tasting room is now open daily from 10am to 5:30pm, and they are taking reservations as well as accepting walk-ins on a first come, first serve basis. For more information visit: https://frenchdoorwinery.com.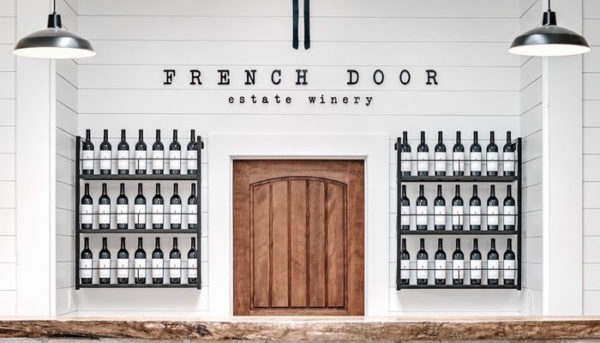 The perfect summer picnic from Quinta Ferreira Estate Winery
Family owned and operated, Quinta Ferreira Estate Winery is located at the very northern end of the Black Sage Bench, just minutes from Oliver. Originally tree fruit growers, the Ferreira family now care for 20 acres of estate vineyards featuring varietals including Merlot, Chardonnay, Syrah, Viognier, Malbec, Zinfandel and Petit Verdot.
Perfect to have on hand for a summer picnic, Quinta Ferreira has partnered with local artisan cheese producer Terroir Cheese to bring you a wine and cheese pairing package straight to your door. Enjoy three delicious wines: a refreshing Rosé, a bright Unoaked Chardonnay, and a rich Cabernet Merlot paired with three different organic cheeses: Mt. Ida (soft-ripened Brie-style), Cascadia (mild hard cheese) and Jurassic (stunning semi-firm cheese). For more information visit www.quintaferreira.com/product/wine-and-cheese-pack, packages are $125 each and ship to BC and Alberta while quantities last.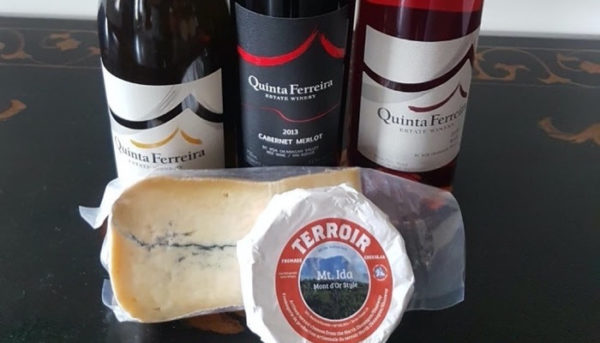 Terroir Talk: Soil
This week, we're focusing specifically on soil as we continue to explore Oliver Osoyoos Wine Country's unique and diverse terroir. The soil makeup in our region varies greatly from one area to another and has important impacts on the vineyards.
North of Oliver, the soil contains a true mix of gravel, sand, rock, and traces of minerals like limestone – contributing to the boldness of the red wines found at wineries like Covert Farms Family Estate and River Stone Estate Winery. The West side of our region features the famed Golden Mile Bench, with high elevation and thin topsoil giving way to damper and cooler soil as the bench slopes. The multiple creek systems have influenced the soil here, and the wineries in this region produce an expanse of varietals including Sauvignon Blanc, Pinot Gris, Merlot, and Syrah. The East side of our region is home to the Black Sage Bench, characterized by loose, sandy soil – creating an almost beach-like environment that sees the vineyards working extra hard to get nutrients. At the northern end of the Black Sage Bench is the Black Sage Gravel Bar, a tiny area of extremely unique, rocky subsoils – home to excellent Pinot Noir varietals from wineries like Stoneboat Vineyards. South towards Osoyoos, the sand and soil sees traces of granite, adding mineral depth to the growing vines and contributing to deep red varietals like Cabernet Sauvignon (check out Bordertown Winery) and crisp whites varietals like Viognier (check out Lariana Cellars).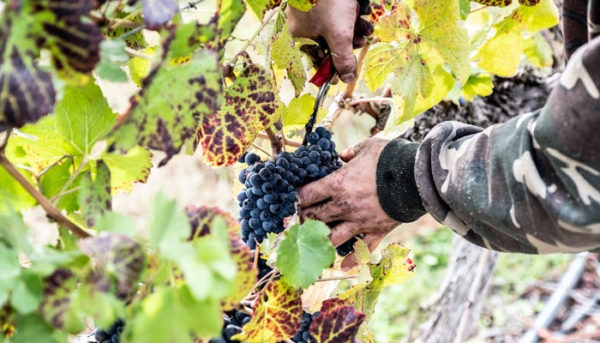 New tours at Covert Farms Family Estate
Rural and rustic and authentic, Covert Farms Family Estate offers engaging wine country experiences for all ages. A series of newly launched tasting experiences showcase different areas of the farm and winery: Private Hands on Harvest Tour is a personalized version of their truly Okanagan adventure – touring the 650 acre organic farm and vineyard in a cherry-red '52 Ford Mercury truck followed by a wine tasting and local charcuterie and cheese board (two-hour tour); the Private Epicurean Tasting offers a guided tasting of seven wines, including new 2019 certified organic spring releases, paired with local charcuterie, cheeses and fruits (one-hour tasting). Little ones aren't forgotten with a Private Mini Farm Tour for Kids, where there's the chance to visit the farm's heritage chickens, ducks, sheep, llamas and Dalilah the pot-bellied pig. They can even participate in a Kid-approved Tasting alongside their parents, with locally made juices and a colouring sheet featuring animals from the farm, and bounce on the famous reopened jumping pillow! For more information and to book, visit www.covertfarms.ca.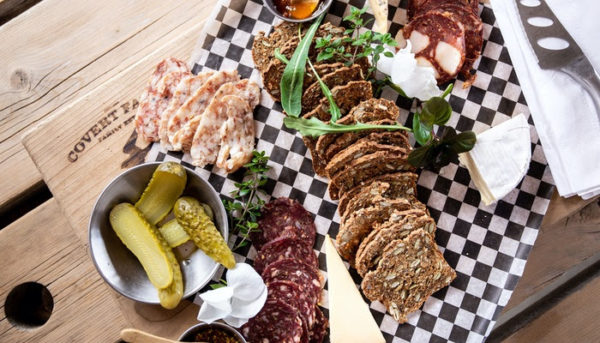 FINALLY … UNCORK THE SUN Podcast and Live Tastings
Episode #6 of our popular Oliver Osoyoos Wine Country Podcast Series is now available, along with episodes #1 (creating a wine cellar), #2 (terroir), #3 (barrels / oak aging), #4 (grape vines and viticulture) and #5 (planting and propagation) via our website, iTunes, Spotify or other notable app service. Hosted by Moss Scheurkogel of Oliver's popular wine school, The Vinstitute, Episode #6 features special guest John Pullen, owner of brand new Second Chapter Wine Co. Episode #7 airs on Friday, July 17 and will focus on the harvesting process.
Our next guided virtual tasting, also hosted by Moss via Facebook Live, takes place Tuesday, July 7 at 7pm PDT and highlights the softer side of red wine. Wines featured include: Desert Hills Estate Winery Gamay Noir, French Door Estate Winery Gamay Noir and vinAmité Cellars Gamay Noir. We encourage you to purchase from your local liquor stores or from the wineries directly (most will have the wines with you in 3-4 days).
Where to find these wines:
Join us again on Tuesday, July 21 at 7pm PDT  for a look at the versatility of aromatic whites.
Wines featured include: Bordertown Winery Gewürztraminer, Nk'Mip Cellars Qwam Qwmt Riesling and Phantom Creek Estates Riesling.
Where to find these wines:
All of our previous live tastings can be found on our YouTube page for viewing at your leisure. 
Information and images provided by Oliver Osoyoos Wineries Association.