Phantom Creek Vineyard has been consistently recognized for producing some of the best red wines in Canada.
It was established in 1996 by Richard Cleave, a true pioneer in the BC wine industry and one of the most respected growers in the Okanagan Valley.
It has been named one of the "Top 10 Single Vineyards Around the World" by Wine Access Magazine, and has won "Best Wine in Canada" on three different occasions. *
This week I enjoyed a chat with Phantom Creek Estates CEO Santiago Cilley. An Argentinian transplant who started his career in the wine industry first in California, next Chile, then back to California which brings us to the BC Okanagan.
What inspired you to work in the wine industry?
Cilley tells me his appreciation for wine began as a teenager in Argentina, a country with many descendants of Italians where wine was always on the table.
"A setting where you learn to appreciate wine from an early age, there is a positive association. Wine that is drunk in moderation with good food,  friends and good times."
While living in San Francisco there were two choices to make; tech sector or the wine industry. Cilley felt he could relate better with the wine industry than with tech. "The nature of the business keeps you grounded in reality" Cilley told me.
His base came from working with Jackson Family Wines where he worked closely with the late Jess Jackson, founder. While working with his mentor he learned the basics of the wine business;  farming, wine making, local and international sales, marketing and everything, from Jackson himself.
What drew you to the Okanagan?
Cilley says initially he had some exposure to BC wines but had not yet visited. Later he had tried a few BC wines during visits to Vancouver and as he became more familiar he developed a good impression of the wines. 
While working at RBC in San Francisco he gained a respect for Canadians whom he found to be low key, neither exhibiting highs or lows, and with a healthy work and life balance.
Talk of old world versus new world and how the Okanagan is both the next world, and young, within the new world of wines.
"There is a unique wine region, and where an opportunity to leave an imprint on the wine experimenting with aspects like cross pollination and sharing of ideas." Cilley finds the region is adaptable and flexible, where you can find a uniqueness to place.
When asked about spare time.
Not surprising, team sports, or the lack thereof, and yes, Cilley is both a soccer fan and player. I passed on my hope that he will be able to find a league to play next year. He was kind in his few words about the Whitecaps…"maybe in four or five years". I think fans and former fans said that in the first four or five years of play.
In the meantime Cilley is learning to fly, and by that I assume he meant taking flying lessons. Makes sense as there is an aerodrome in Oliver and trips to Vancouver would be so much more enjoyable by air.
Pleasures in life include; wine, beef, and soccer.
Time to start talking about Phantom Creek wines and the challenges you face.
It is obvious that the culture of Phantom Creek is both unique and challenging. The winery and Cilley have a clear idea of what lies ahead. There is a process of self selections and those who are all working  towards a common goal. 
"It was a conscious decision to choose this location. We have a clear idea of becoming the hallmark for fine wines in Canada. The foundation of the idea started with the vineyard, the single most important component, when it was just an idea. Two and a half years were spent looking on the Golden Mile and more recently Similkameen."
"The wines are based on the proven plantings of the vineyards from '93, '96. Unique growing conditions leave an imprint on the wine. There are challenges such as experimental cross pollination and a sharing of ideas."
Cilley oversees all components of the business, including; farming, wine making, International and local sales, marketing, and the culture of Phantom Creek.
"We have brought precision and excellence in the way the vineyards are farmed, we went organic immediately, the team has brought the farm to its highest level."
Which varietals have been the most successful, or the most challenging?>
"Generally since opening consumers intention and style has been across all wines regardless of variety.
There is a huge demand locally and internationally for Cabernet Sauvignon, more demand than supply. Coming next year Becker, Phantom Creek South, and just South, the lower terrace of Black Sage Bench. Similkameen will produce mainly Pinot Gris and Riesling. Our consulting winemaker, Olivier Humbrecht has a long time interest in Pinot Gris and Rieslings."<
"Bordeaux reds, most interestingly Syrah and Cabernet Sauvignon are challenging. Ripening is disproportionate, requires time, special treatment and is not always the way we want. We didn't make a Cabernet Sauvignon in 2019 because the fruit was not good enough."
"We are picking Syrah now and Merlot, both are what we are most used to. The Cabernet Sauvignon is challenging due to late ripening, and the Petit Verdot the most challenging but if it ripens properly it is heaven on earth."
What will visitors experience in the future post Covid when visiting the winery?
"A year from now, if things are better, a full restaurant, the building exists and is fully furnished and equipped. We plan for full service next April or May, 2021."
"We plan to have a concert series in 2021. Our Amphitheatre seats 500 plus with our balcony and patio up to 700. We will start next year, even with limitations. Initially with local, independent musical artists. We have not set a genre but will bring in artists that fit with the place and what we want to do. A lot of ideas, we will see. We will find a balance"
"Looking back, opening in the middle of a pandemic will be something to tell my grandchildren but it has not been easy. We have a great owner, and team. With lots of planning it has been rewarding and has worked well. Changed plans were good for setting the tone for our team, flexibility. Good things came out of a bad situation. It provided experience with regulations and being safe, protocols. I am satisfied we have been able to provide a level of experience we wanted along with strong safety measures. I am pleased about that. It brought everyone together, more discussions, more details, the message was clear from the beginning, no compromise. The owner wanted to wait until there was no risk. I was convinced we could do it. We were able to do it and do it safely, a highlight."

"Phanton Creek is all about single vineyard expressions. our Estate red, the first ever estate wine pulling from multiple vineyards is a tribute to art of the blend. Universally well received from critic to consumer. The power of blending done by Philippe Melka. That wine has six original Bordeaux Carménère, Sauvignon Franc, Syrah, Merlot, Petit Verdot, and Cabernet Sauvignon. It has a series of labels, an art series of twelve from different sites in the vineyards highlighting the dark and the light."
"The wine was released a year later, shows complexity, a winter wine, good with fondue."
Cilley challenged me with the following suggestion. "The 2017 Becker concentration and structure are good for aging. Decant for 1.5 hours ahead, about a 1/3 of the bottle, put the cork back and put the bottle in the refrigerator to try over 10 days. With a 44% Merlot 34% Sauvignon,  Cabernet Franc balance on oak for 16 months this is a great vintage for aging, great structure, overall a very beautiful wine."

"Some of our whites are still sourced from independent growers. Pinot Gris is the best example of type, Alsatian style, textural, layers, aged 12 months in stainless steel and neutral oak, cooler nights of the Okanagan Falls, great acidity and texture mid palate. We gained the highest scoring of Canadian wines in London by Jancis Robinson. Our wine is different from other Okanagan Pinot Gris. We highlight aging for white wines. With the quality of fruit and winemaking our whites will age properly, corked for 10 year aging because of our corks are tighter than other corks. We are saving it to see what it does. We will do a ten year vertical, maybe a five year perspective."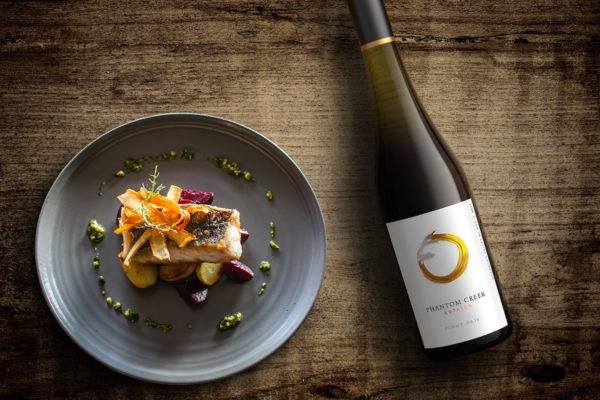 Note to readers: after the mention of the ten year vertical I mentioned that I may not be around to enjoy and he kindly added the possibility of a five year perspective. Editor.
After our visit to London and the Canada House Tasting, wine critic Jancis Robinson awarded our Pinot Gris the highest score for BC white wines. **
"Phantom Creek has a history of sourcing wines of quality. we are looking to perfect those wines, something great is happening and we are going to reach new heights, but price will follow. Philippe fine tunes to create a perfect combination that is a representation of what we want the world to see of the Okanagan Valley. Consistently farmed for quality with some vineyards replanted. Phantom Creek has had the same farmer for 25 years. We have wines of place, the most consistent vineyard, a very special place. a small lot series wine of a specific tier."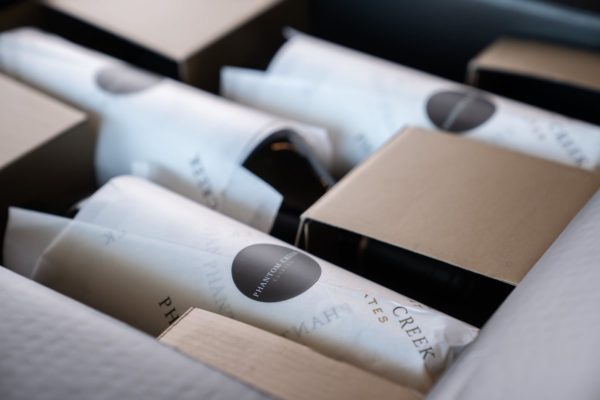 Phantom Creek has two wine clubs.
A Grand Cru Wine Club
Very limited, small lot series wine of a specific tier from the 7 acre Phantom Creek vineyard. The wines were sold out before the release. There is expected to be more produced in the future. Currently membership is wait listed.
Estate and premium tasting includes higher in quality grand cru wines. Except for wine sent for library there is no wine available for tasting at this time. Grand Cru Merlot and Petit Verdot is still available to taste.
Wines priced $90. – $125./bottle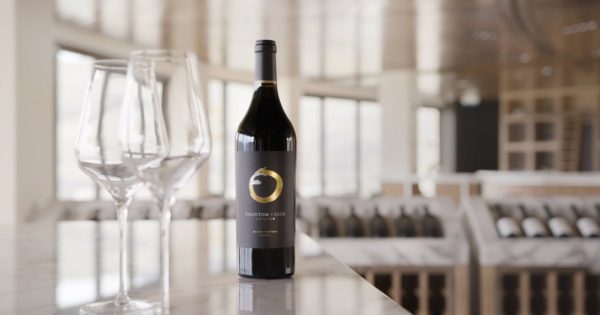 An Estate Wine Club
Exclusive small lot series. Estate Wine Club members have priority on the wait list for Grand Cru.
Both Grand Cru and Estate Wine Clubs provide 6 bottles, three times per year and exclusive estate visitation privileges.
Wines priced $40. – $65./bottle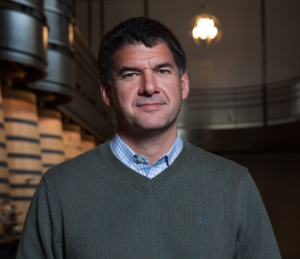 Santiago Cilley
Chief Executive Officer, Phantom Creek Estates
Santiago started his wine career working for Jackson Family wines in California, where he spent nine years spearheading strategic projects in close collaboration with late founder Jess Jackson. Santiago subsequently relocated to Chile to lead the renaissance of Via Wines before returning to California as president of Alejandro Bulgheroni Family Vineyards USA and launching Alejandro Bulgheroni Estate in Napa Valley. Santiago holds an MBA from the Haas School of Business at UC Berkeley.
* "Top 10 Single Vineyards Around the World" Wine Access Magazine, and has won "Best Wine in Canada" on three different occasions. Source: Phantom Creek Estates website.
** After our visit to London and the Canada House Tasting, wine critic Jancis Robinson awarded our Pinot Gris the highest score for BC white wines. Source: John Schreiner on Wine/Phantom Creek Estates website.
Paragraphs (in italics and quotes) Santiago Cilley. Paragraphs only in italics are paraphrased and summarized by the writer from a conversation with Santiago Cilley on October 7, 2020. Images and bio courtesy of the winery. Art series labels, photo credit: Lionel Trudel
I received three bottles of Phantom Creek Estate wines; Becker Vineyard Cuvée 2017, Estate Pinot Gris 2017, and a Red Blend 2016 to facilitate a review.