"In this series I'll share which B.C. wine pairs best with select recipes from the best chefs in B.C." 
This week we are excited to be able to share this hardy, fall recipe from Executive Chef Patrick Gayler of the Terrace Restaurant at Mission Hill Family Estate.
ITALIAN HUNTER'S CHICKEN CACCIATORE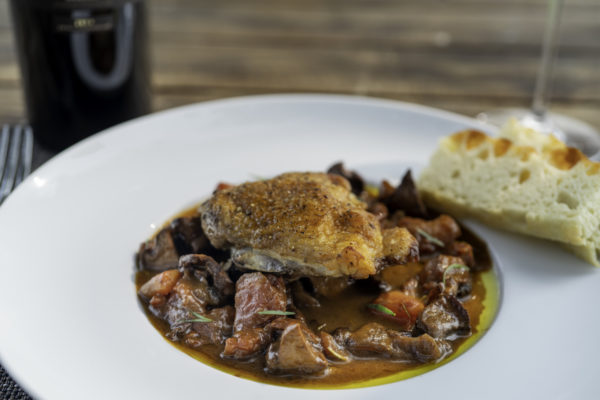 Yield: 6 Portions
INGREDIENTS
1 kg bone-in chicken thigh
2 red onions, diced
50 ml Calabrian chili paste
2 cloves garlic, minced
4 tomatoes, peeled/diced
500 ml red wine
500 ml chicken stock
100 ml olive oil
250 gr mushrooms
1 cinnamon stick
1 rosemary sprig
5 cloves, ground
2 bay leaves
METHOD
Using vegetable oil and over high heat, thoroughly brown chicken pieces in large casserole then remove and set aside.

 

In the same casserole on medium heat, sauté onion, garlic, mushrooms and spices in olive oil until aromatic. Add tomato and chili paste and continue to sauté until the color deepens then deglaze with wine and then stock.

 

Bring to a simmer and adjust seasoning before returning the chicken to the mix. The liquid and vegetables should come about half way up the chicken (not completely covering it).

 

Braise for 3 hours at 250°F or until meat is tender and comes away from the bone easily.

 

Garnish with generous amounts of shaved hard cheese and enjoy with grilled bread or Italian egg noodles. Serve with Terroir Collection Splitrail 2014 Merlot.
Suggested wine pairing:
TERROIR COLLECTION SPLITRAIL 2014 MERLOT


Executive Chef Patrick Gayler, Terrace Restaurant Chef for Mission Hill Family Estate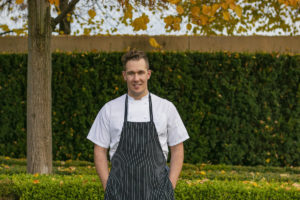 Patrick Gayler joined the culinary team at  Mission Family Estate in 2014. As Chef of the winery's award-winning Terrace restaurant,  Patrick showcases his creativity and expert culinary skills, ensuring memorable guest  experiences through innovative food and  wine pairings, while also providing leadership  to the kitchen's culinary brigade. Patrick  works alongside Private Events Chef Adam Vaughan and leads the rest of the Winery  culinary team to achieve the premier level of  food and wine experiences at Mission hill  Family Estate. 
Originally from Edmonton, Alberta, Patrick  has more than 15 years of experience in the  culinary industry. Prior to being named  Terrace Chef at Mission Hill Family Estate,  Patrick held positions at notable restaurants  in BC and Alberta, including: Executive Sous  Chef at the Inn at Laurel Point in Victoria,  British Columbia, Restaurant Chef at Catch  Restaurant and Oyster Bar in Calgary Alberta. Demi-Chef De Partie at The Fairmont Hotel Macdonald in Edmonton, Alberta. A  graduate of the Culinary Arts Apprenticeship Program from the Northern Alberta Institute  of Technology in Edmonton, Alberta, Patrick also holds Red Seal certification.  
Throughout the fall and winter months,  Patrick executes key culinary programs,  including the highly popular culinary classes  offered in the winery's Demonstration  Kitchen along with some of the highly  anticipated culinary events hosted at Mission  Hill Family Estate.  
Working in the Okanagan, with its abundance  of fresh produce, is a chef's dream and  Patrick enjoys working with local farmers and  producers to ensure Mission Hill Family  Estate's culinary program continues to  showcase the best of the region.
In addition, Patrick is a past Chef Member of  Culinary Team Canada; representing both national and provincial teams in multiple culinary competitions, including the Culinary World Cup in Luxembourg and the Culinary Olympics in Erfurt Germany. Patrick credits this experience on the international culinary stage with perfecting his skill-set. The  competitive environments underscored the  importance of teamwork, attention to detail,  and organization.  
Recipe courtesy of Executive Chef Patrick Gayler, Terrace Restaurant, Mission Hill Family Estate. Bottle shot, tasting notes and all images courtesy of Mission Hill Family Estate. 
If you would like to be featured on MyVanCity.ca please contact me at myvancityval@nullgmail.com for full details.