"In this series I'll share which B.C. wine pairs best with select recipes from the best chefs in B.C." 
I must admit as often as I have made beef short ribs I have never gone the 'full monty' and made beef bourguignon. Although the ingredient list is long, the process is less intimidating than I expected. I have made my own beef stock for French onion soup and it is relatively easy if not a bit time consuming. With all the ingredients, except the mushrooms, currently in my pantry or refrigerator I am planning to soon try this recipe from Chef Vincent. Yes, I will use the best wine possible, it's what makes the dish!
Beef Bourguignon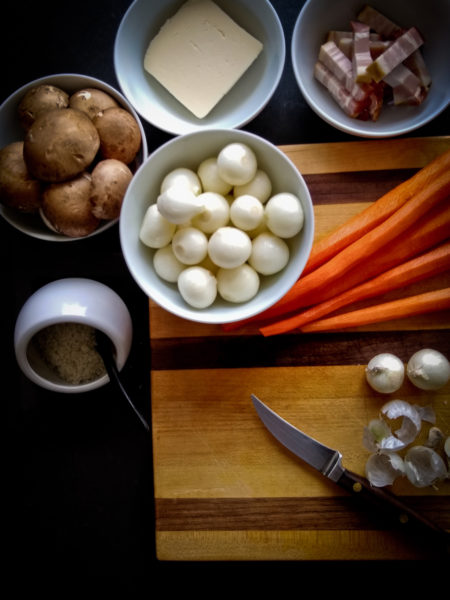 By Chef Vincent Parkinson
4 portions
750ml Noble Ridge Cabernet Sauvignon
2 garlic cloves (squashed) cut into 2 inch cubes.
2 Bay Leaves with the wine, garlic, oil and herbs.
2 sprigs of thyme
30 ml Olive Oil
1kg braising beef
45 ml canola oil
150 g Carrots (diced)
150 g Leek (sliced)
100 gm Shallot (diced)
1 garlic clove (squashed)
2 tbsp flour
600 ml fresh beef stock
2 sprigs of parsley
150g slab bacon
250g baby carrots (8)
120 g Pearl Onions (16)
100 ml beef stock
ground black pepper
5 ml Sugar
250g crimini mushrooms (12)
20 gm Butter
20g of butter (cold)
30 ml flat-leaf parsley (chopped)
GETTING READY
Preparing Beef Bourguignon requires some organization and patience. Braised items like this tend to improve when prepared at least one day ahead of when served, allowing the flavours to develop.
I would recommend boneless short ribs, beef cheeks, beef chuck or similar cut for the beef. The meat is best to be somewhat marbled.
The importance of a good rich stock cannot be overstated. If you can't make the beef stock at home, find a good natural stock that is rich and jellied.
Through the cooking process, fat and impurities will rise to the top of the sauce. Regular skimming of the fat from the surface of the sauce and passing through a very fine sieve will result in a refined sauce with more of a gloss.
The lid for the pot does not have to fit tightly; slow evaporation of the sauce during the cooking process will give a beautifully rich finished sauce. If a lid is not available, cut a parchment paper with a small hole in the center to fit the pot.
The mushroom, carrots, bacon and pearl onions for finishing the dish can be prepared (cleaned and peeled and cut) as the beef is cooking and finished on the day it is served.
If baby carrots are not available, peel and cut carrots at an equal size and shape. Cook before adding to the dish.
Serve with mashed or baby potatoes.
The Bourguignon can be frozen, but best freeze without the vegetables.
TO PREPARE
Trim the beef of any gristle or silver skin and in a bowl cover the beef with the wine, garlic, oil and herbs.. Marinate in the refrigerator for 6-12 hours, stir once or twice.
TO BRAISE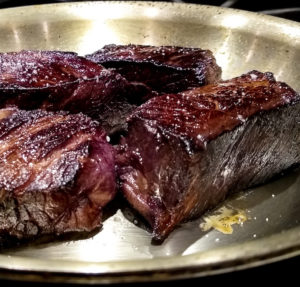 Set the oven to 325 F.
Remove the beef from the marinade; save the marinade and herbs. Pat as dry as possible with paper towels. On high heat, heat a frying pan or thick bottomed oven proof pan. Add some of the oil, place a few pieces of beef in the pan,turning to brown on all sides. Sprinkle beef with salt and pepper.
DO NOT CROWD THE PAN.
Remove from the pan and set aside. Repeat until all of the beef is nicely seared. Add the remaining oil and gently sauté the leek, carrots and garlic, without colour, until softened. Add the flour, stir and cook for 2 minutes. Gradually add the marinade, stirring to scrape any caramelized pieces in the bottom of the pan. Bring to a gentle boil and simmer to reduce the volume by half. Skim off any fat or impurities that rise to the top of the sauce, then add the stock, beef and the parsley.
Cover with a lid* and place in the oven for 1½ hours or until the beef is tender, stirring occasionally. Cool and strain out the beef and vegetables; discard the vegetables and herbs.
Strain the sauce again through a very fine sieve and add the meat to the sauce. Add stock or simmer to adjust the consistency of the sauce.
Refrigerate for 1 or 2 days.
TO GARNISH AND FINISH
Cut the bacon into 2 cm pieces and gently fry until golden; remove from the fat. Add the peeled butter to the bacon fat and fry the mushroom caps then set aside with the bacon. Cook the baby carrots in boiling salted water until tender. Simmer the onions in the beef stock until tender add the onions and stock to the bourguignon. Heat the Bourguignon and adjust sea salt the seasoning to taste with the salt, pepper and sugar. Stir in the cold butter and garnish with the warm bacon, mushrooms, carrots and onions.
Garnish the dish with the chopped parsley.
Chef's wine pairing suggestion:
Noble Ridge 2017 Stone Vintage Cabernet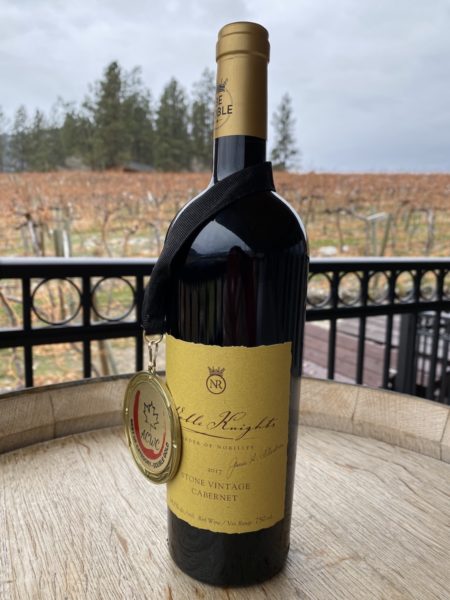 Stone 2017 Cabernet – Sir James and Dame Pamela Stone
Both Jim and Pam are practicing physicians and have made significant professional and volunteer contributions in each of their fields, cardiology and pediatrics respectively. They have contributed their time and support out on-site at Noble Ridge on many occasions. In addition, they have held events and promoted Noble Ridge wines, personally purchasing Noble Ridge wines to send to their friends and colleagues.
Tasting Notes
This Cabernet blend displays textbook savory notes of roasted peppers, tobacco leaf, black current and ripe plums. The rich and full body delivers ripe flavors of blueberry and black cherry are highlighted with hints of black pepper with a touch of spice and oak. Firm tannins lend to a long, lingering finish!
Winemaker Notes
De-stemmed and crushed then cold soaked for 3 days. Fermentation kept between 28 °C and 30 °C 16 months in French & American barrels (20% new oak)
Food Pairing Notes
Bone-In BBQ Steak, Grilled Vegetables, Strong Cheeses, Roasted Game Meats
Other Notes
531 cases produced
The Round Table
The Initiation of a brand-new program…
The NOBLE KNIGHTS and DAMES
It was clear to us that there must be specific criteria to identify these Noble Knights and Dames. After considerable thought, the following criteria were adopted. All Noble Knights and Dames must demonstrate all 3 criteria, exhibiting "above and beyond" expected qualities and behaviours.
Noble Deeds:
Can encompass professional accomplishments and excellence, contributions to society through participation in charities, volunteer work, public service and any other noteworthy causes.
Noble Traits:
are those personal characteristics and qualities, reflected in our Culture statement, which stand out as an example to be emulated by others.
Noble Ambassador:
Involves past and current support for Noble Ridge and exceptional promotion of its business and ideals.
Our Noble Knights and Dames will be recognized in several ways.
A personalized label on a unique wine will be created for the Noble Knight and Dame. Each wine's back label will include a "noble quote", reflecting the individual. This label program will take place over time, as unique wines are identified and produced.
Noble Knights and Dames will be recognized on our website and introduced to our Wine Club members.
Noble Knights and Dames will be celebrated at Noble Ridge events, when possible. Of note, there will be a celebration of our Noble Knights at our upcoming 20th Anniversary festivities in 2021.
We are very excited to introduce our #TasteofThursday featured Noble Knight and Dame.
Drs. Jim & Pam Stone
Stone Vintage 2017 Cabernet
Both Jim and Pam are practicing physicians and have made significant professional and volunteer contributions in each of their fields, cardiology and pediatrics respectively. They have contributed their time and support out on site at NR on many occasions. In addition, they have held events and promoted NR wines, personally purchasing NR wines to send to their friends and colleagues.
Quote on Stone Vintage Cabernet 2017 back label:
"Life ought to be a struggle of desire toward adventures whose nobility will fertilize the soul."
(Rebecca West)
With thanks to contributing Chef Vincent Parkinson (retired) and Noble Ridge Vineyard & Winery for this wonderful recipe. I had previously received complimentary wine from the winery that I will be using to make this dish. All images are courtesy of Chef Parkinson.