"In this series we bring you our #FavouriteThings Holiday Gift Suggestions which we personally recommend"
Cookbooks are a fabulous gift anytime but they are especially welcome at holiday time. Likewise who wouldn't love a gift basket? Having a hard time making up your mind? Gift cards are also available. With so many options Hawksworth makes the #FavouriteThings list this year.
Hawksworth – The Cookbook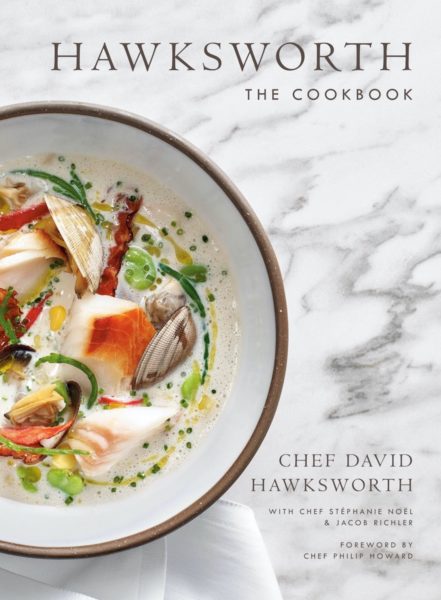 Hawksworth – The Cookbook is a celebration of Chef Hawksworth's culinary journey on both sides of the Atlantic with recipes that span more than three decades of cooking; in London (UK) with leading Michelin-starred chefs and in Vancouver (Canada), his hometown. At Vancouver's Ouest, the first restaurant where he served as head chef, he quickly emerged as one of the city's brightest culinary stars, before going on to open his namesake restaurant Hawksworth in 2011, named Canada's Restaurant of the Year, followed by farm-to-table pioneer Nightingale in 2016, and two Bel Café locations.
The book's recipes require varying levels of skill and time commitments; simpler recipes reflect the family-style dishes served at Nightingale and the casual fare of Bel Café including the ever popular Crispy Buttermilk Fried Chicken and Apple, Celery and Walnut Salad alongside more elevated and technical mouth-watering masterpieces such as Wagyu Beef Carpaccio with Piquillo Pepper and Parsley, and Dark Chocolate Fondant, Burned Orange Compote and Hazelnut. Both the culinary curious and accomplished cooks alike will be inspired with Chef Hawksworth as their guide.
As a leader in contemporary Canadian cuisine, Chef Hawksworth's recipes reflect the delicious and beautiful dishes served in his restaurants and now, for the first time he shares tips, techniques and the carefully developed recipes that have brought him unparalleled success.
The new cookbook by Chef David Hawksworth, with Stephanie Noel and Jacob Richler is now available.
ORDER YOUR OWN SIGNED COPY NOW
* Pick up is only available from December 1st to December 24th at Bel Cafe Downtown, 801 W Georgia Street, within cafe operating hours.
Also available:
The Hawksworth Group Holiday Gift Basket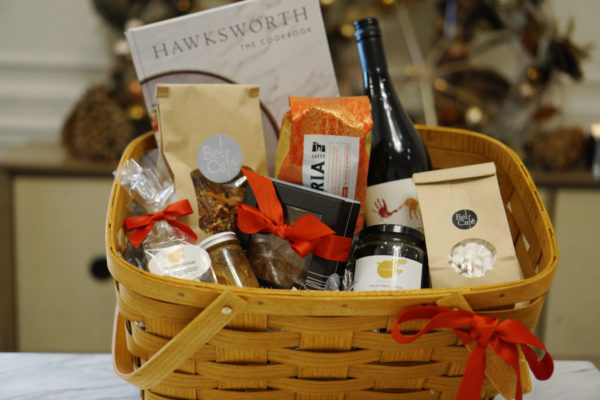 Give the gift of holiday goodness with the Hawksworth at Home Holiday Gift Basket. This basket is filled with some of Chef David Hawksworth's favourite items from Hawksworth Restaurant, Nightingale and Bel Cafe. $129 gift basket (valued at over $200).
Includes:
1 x Hawksworth Cookbook Autographed by Chef David Hawksworth
1 x Hawksworth Exclusive's Meyer Family Vineyard H's Blend Pinot Noir 2018 (750 mL)
1 x Bel Cafe Housemade Granola (500 g)
1 x Bel Cafe Hot Chocolate Mix (300g) with Mini Cinnamon Marshmallows (30g)
1 x Bel Cafe Soft Gingerbread Cookie (3 pc)
1 x Nightingale Spiced Maple Syrup (375 mL)
1 x Nightingale Pistachio Nougat (5 pc)
1 x Umbria Signature Bizzarri Blend Coffee Beans (12 oz)
1 x Mellifera Bees Infused Honey (160 g)
The Hawksworth Group Holiday Gift Basket
Price is $148.50 inclusive of tax
Not sure what's the right fit for everyone on your list? May we suggest…
Give the gift of a Hawksworth dining experience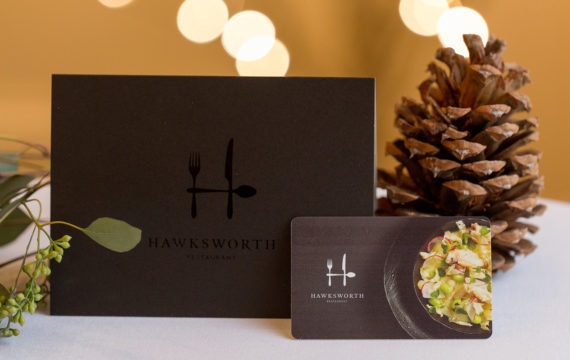 The way to someone's heart is through their stomach, so show them you care with the gift of good food and wine.
Holiday Promotion (ends December 31st, 2020)
This holiday season, give the gift of good food and then spoil yourself as well. For every $100 you spend on a Hawksworth gift card, get an additional $25 gift certificate* on us! Happy holidays and bon appétit!
* Redeemable at Hawksworth Catering, Nightingale, or Hawksworth Restaurant ONLY. Promotional use only. No cash value. Not redeemable for Gratuity. Valid from January 1st, 2021 to March 31st, 2021, excluding Valentine's Day on February 14th, 2021.
Enter the @myvancityca @misseileensoo joint giveaway on Instagram and you may win your own copy of the Hawksworth cookbook!
Information and images courtesy of Hawksworth Group. I received a complimentary copy of the cookbook to facilitate this feature.