"In this series I'll share which B.C. wine pairs best with select recipes from the best chefs in B.C." 
This Recipe is perfect for a dinner party and will comfortably serve six people. Risotto is essentially a savory rice porridge suspended in butter. Its origins are from Northern Italy but it is a staple in professional kitchens worldwide, with many adaptations using creative ingredients. Risotto made correctly involves a lot of heat, stirring and butter.
Chanterelle Mushroom Risotto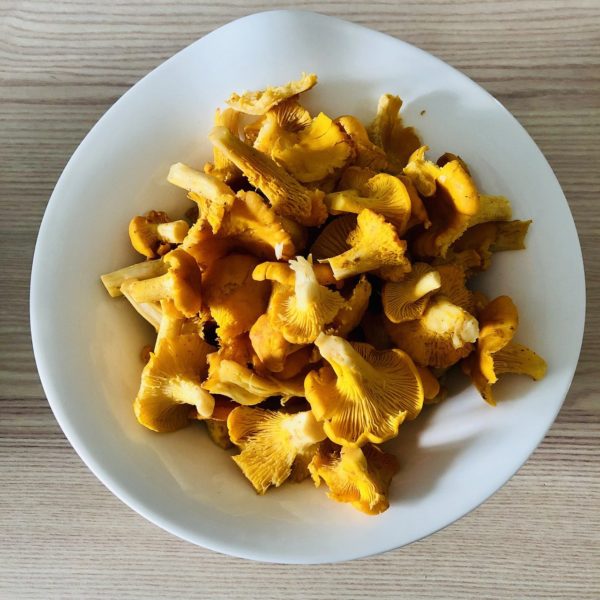 Feeds 4 to 6
Equipment:
Metal Casserole Pan (Rondeau)
Medium Stock pot (5L – 10L)
Strainer
Knife
Wooden Spoon
Large Ladle
Sauté Pan
Ingredients
For the Mushroom Stock:
¼ olive oil
2 lbs sliced crimini (button) mushrooms
1 medium carrot small dice
1 celery sticks, small dice
1 medium onion, small dice
5L water
2 sprigs fresh thyme
1 bay leaf
1/2 tsp black peppercorns
2 tbsp porcini mushroom powder
½ tsp curry powder
For the Risotto:
1 Kg Arborio or Carnaroli Rice
½ cup olive oil
6 shallots, finely minced
1 head of garlic, finely minced
2 sticks celery, finely minced
½ lb chanterelle mushrooms roughly cut
3L mushroom stock (approx.)
1 cup parmesan cheese, grated
¾ lb cups unsalted butter, cut in cubes
1 lemon juiced
1 cup dry sherry
1 tbsp fresh thyme, chopped
Salt
Directions:
STEP 1: Start by preparing the stock.
Sauté the onions, carrots, celery and mushrooms in the olive oil until lightly browned. Add the water and the rest of the stock ingredients. Simmer for 1 hour. Turn off the heat and let the stock sit for 1/2 an hour. Strain the stock discarding the vegetables. Bring your finished and strained stock to a rapid boil.
STEP 2: "Soffritto"
Soffritto is the Italian word for cooked onion and celery and is used as a flavour base in many cuisines around the world. In a separate pan (rondeau or casserole) cook your garlic, celery and shallots on medium heat in the olive oil until very soft. Do not Brown.
STEP 3: "Tostatura"
The toasting of the rice grains. Add the dry rice to the soffritto and warm the grains stirring constantly of about 2 minutes.
STEP 4: "La Cottura"
The cooking of the Risotto. Turn the heat on high. Risotto should be cooked on high heat constantly boiling being stirred. Add the wine and keep stirring. Start adding the stock one or two ladles at a time. At this point add the chanterelle mushrooms. Adjust the heat if necessary so the rice does not stick on the bottom. The cooking time is between 15 and 20 min. There is a fine balance between having rice that is undercooked and crunchy or overcooked and mushy.
STEP 5: "Mantecatura"
Finishing the risotto with butter and cheese. Cook the risotto quite dry, as the butter and cheese are added it will thin out to a sauce consistency. Add the lemon juice and thyme. Taste for salt.
Serve Risotto immediately on plates or wide, shallow soup
bowls.
Merlot and Mushroom Risotto is perhaps not the most "conventional" pairing, however this particular vintage and the grapes that we source for this Merlot (Gjoa's vineyard) lend itself to some deep savoury notes and umami flavours. It works beautifully with this mushroom dish.
Suggested wine pairing:
2013 Gjoa's Vineyard Merlot

Gjoa's vineyard, situated just below our winery, was established 27 years ago.  These mature vines produce fruit which stands out with deep plum and mocha aromas and a savoury note to the palate, lending sophistication to the finish. So fun to taste and compare with our Dickinson Vineyard Merlot.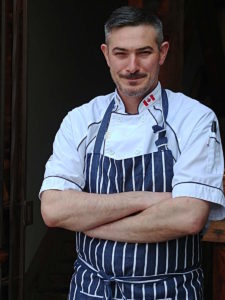 Chef GENE:
Born in the Kootenay region of British Columbia, Gene Archambault spent his younger years of his life surrounded by good home cooked food.
Chef Gene Archambault is a Red Seal Chef. His culinary career started in 1999 at Gable End Restaurant in Enniscrone Co. Sligo, Ireland. Since then he has worked at many well know restaurants in England, Toronto, Vancouver and the Okanagan including, Bin941 Tapas Parlour, Burrowing Owl Winery, Rain Restaurant, Hotel Barcelona and Spirit Ridge Resort.
Gene joined the culinary team at Hillside Winery & Bistro in 2014 and in 2020 was promoted to Executive Chef.
Gene has a passion for seasonal ingredients, educating and training staff and working with local suppliers.
The Bistro at Hillside
Now open thru December 20th
We are thrilled to announce the extended season for the Bistro! From now until Dec 20th, you can wine & dine with us 🍛🍴🍷
Stay tuned in the coming weeks for our NEW FALL MENU and some special food & wine features.
Plan ahead and book your table today (Reservations are Required)
CURRENT HOURS:
Wed – Sunday
5pm – 8:30pm (last seating)
👉Starting Oct 29th – Dec 20th:
Thursday  – Sunday
5pm – 7:30pm (last seating)
Take-Out is also available on our open days starting at 3pm.
Recipe and Chantrelle Mushroom Risotto image; bottle shot and tasting notes courtesy of the winery. 
If you would like to be featured on MyVanCity.ca please connect with your pr agency or email myvancityval@nullgmail.com for full details.