"In this series I will be sharing my take on which BC Wine pairs well with some inspirational recipes"
Both of the seasonal dishes I have made lately are focused on fresh, local corn in a one dish pasta meal accompanied by two different salads of heirloom tomatoes and fresh BC peaches. I think next to the wine I liked the salads the best. Now is the best time to try something new using something in season.
Creamy Corn Pasta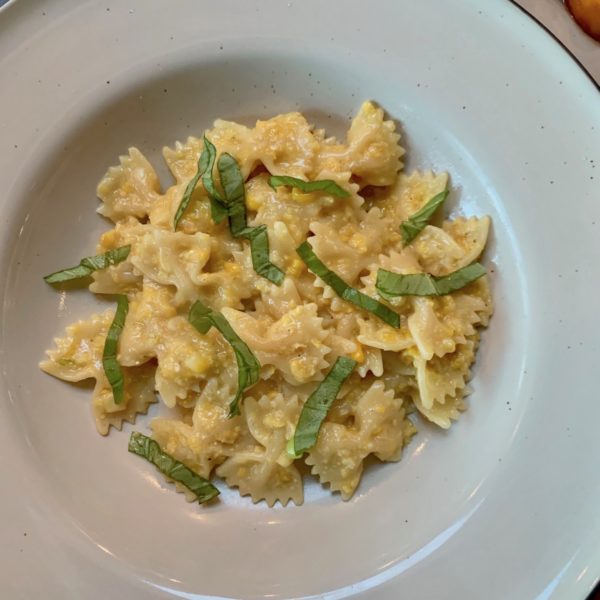 In this dish corn was pureed in a food processor to make a corn cream that was added to the pasta along with parmasan cheese and a garnish of fresh basil.
The recipe is easy to find on the internet, I used NYT Cooking for my inspiration.
Would I make this one again? Not likely just because I found it mealy, but overall it was richer and tastier than the #ThisWineThatDish Part Deux Corn, Bacon and Parmesan Pasta from Martha Stewart.
Peach and Heirloom Tomatoes with Peach flavoured White Balsamic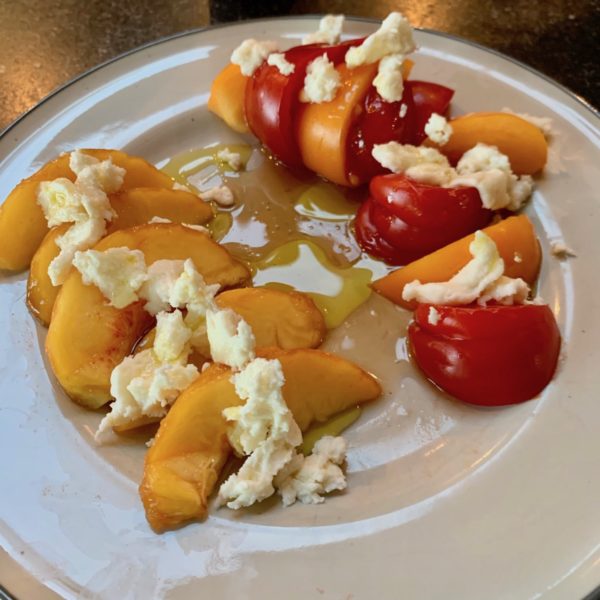 This was such a tasty salad, almost completely unadorned that let the flavours of the tomato show through and the sweet, juicy peaches were fabulous. I added some pieces of fresh mozzarella that I had on hand and used a top quality olive oil and a white balsamic vinegar flavoured with peach. It was superb. Everything seems to be coming in pairs and all at once so be sure to take advantage of what is fresh right now. BC Blueberries are also available and would make a nice addition to any salad.
I will definitely be enjoying this salad and this wine pairing again soon.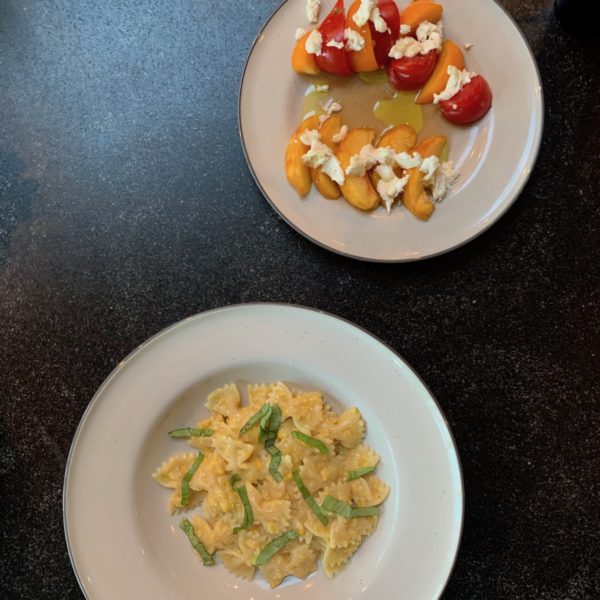 My suggested wine pairing:
Four Shadows Chardonnay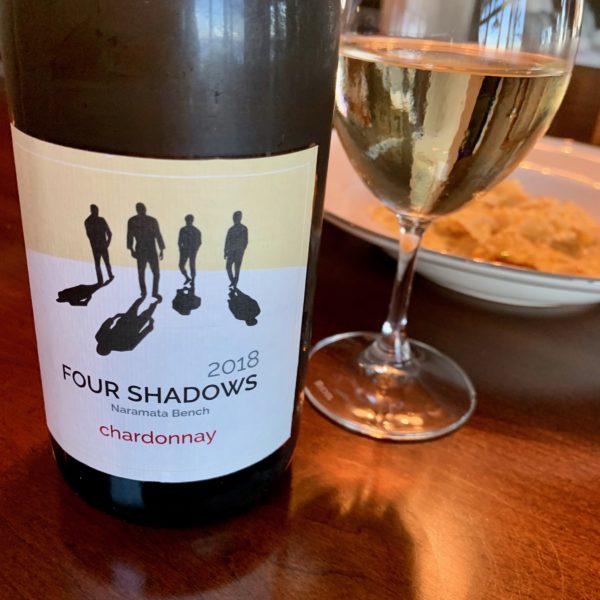 This was a lovely, slightly lighter Chardonnay that I think anyone new to the grape or interested in trying one that is easy drinking would enjoy the Four Shadows. It paired nicely with the pasta dish and also stood up to the sweetness of the peaches and the white, peach balsamic that dressed the salad.
This full bodied, slightly oaked wine releases aromas of honey, butter, pear, caramel and mint. On the palate you will find flavours of toasted bread, vanilla and ripe pear.
Tasting notes courtesy of the winery. 
All images MyVanCity. Inspirational recipes can be found online by searching for corn and pasta, or peach and tomatoes. I have referred to NYT Cooking, Martha Stewart and Epicurious. I received a complimentary bottle of Four Shadows Chardonnay. All opinions are my own,
If you would like to be featured on MyVanCity.ca please connect with your pr agency or email myvancityval@nullgmail.com for full details. Wine samples accepted for review.