"In this series I will be sharing my take on which BC Wine pairs well with some inspirational recipes"
This time the wine is definitely the star. Both of the seasonal dishes I've made recently are focused on fresh, local corn in a one dish pasta meal accompanied by salads of heirloom tomatoes and fresh BC peaches. I think next to the wine I liked the salads the best. Now is the best time to try something new using something fresh and in season.
My suggested wine pairing:
Church and State CBS Chardonnay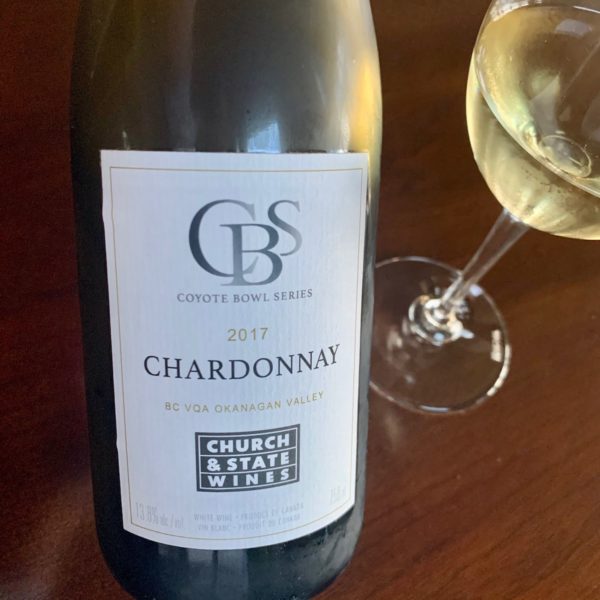 Tasting notes:
This is a young Chardonnay with a Light golden yellow appearance with Aromas of oak, Dried Fruit, almonds, vanilla, pastries and cookies. Full body and balanced acidity, hints of pastry and almond, reminiscent of King's tart on the palette (King's tart is a French Epiphany cake made of almond paste between layers of puff pastry), with a pleasant lingering finish.
This was absolutely the highlight of the evening. The Chardonnay is perfect for anyone either just starting to appreciate Chardonnay or for anyone who claims not to like the varietal. I sympathize as I was not all that long ago an ABC. I have reformed and like all converts I am now passionate about the grape.
I found this wine was easily equal to the tangy Marinated Peach and Heirloom Tomato Salad as well as pairing nicely with the Pasta dish.
This Chardonnay is smooth and delicate, I found light flavours of fresh fruit and delightful scents. It was rich and creamy without crossing over into "buttery". For me that makes it perfect!
I call this one Corn Pasta Part Deux…
Corn, Bacon and Parmesan Pasta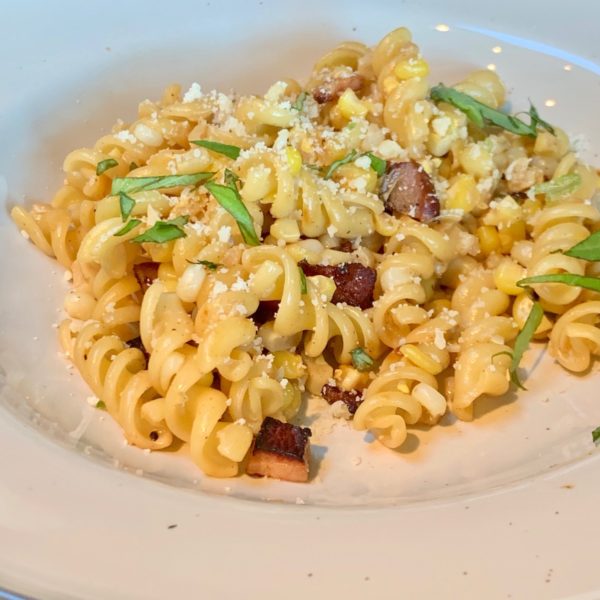 This version was similar to a previous recipe I tried recently, but with the addition of crispy bacon, braised corn with green onions and one cup of pasta water. Topped with more parm cheese and fresh basil.
For inspiration I used a recipe from Martha Stewart. Would I make it again? Probably not, I found it dry even with 1 cup of pasta water added, and, in my opinion, the recipe didn't call for enough cheese. I would however be willing to try making the Epicurious – Fresh Corn Carbonara which uses cream which I'm sure would give the dish a much needed richness.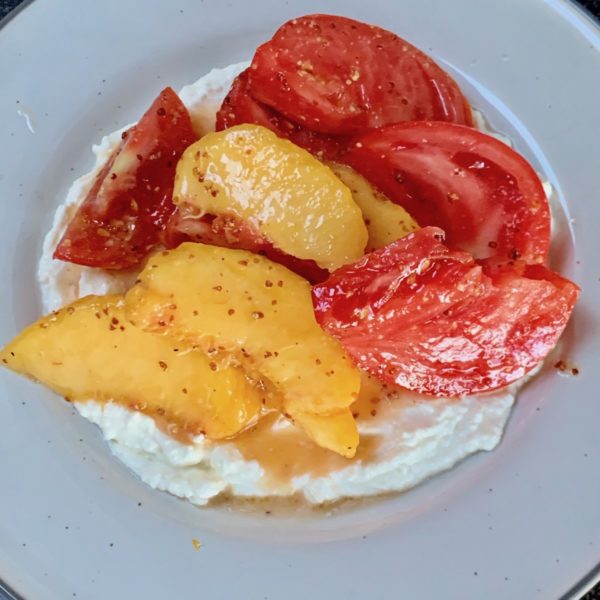 I accompanied the pasta dish with a fresh Marinted Peach and Heirloom Tomato Salad. The fruits were marinated in a tangy, coarse mustard, lemon, olive oil and rosé wine dressing then served on a bed of Feta cheese parfait (feta, lemon zest and heavy cream processed to a smooth texture) and topped with more tangy vingarette. It was delicious.
Tasting notes courtesy of the winery. Tasting notes (in italics)  are my mine. All images MyVanCity. I received a complimentary bottle of the CBS Chardonnay for review. All opinions are my own.
If you would like to be featured on MyVanCity.ca please email me at myvancityval@nullgmail.com for full details. Wine samples accepted for review.