"In this series I will be sharing my take on which BC Wine pairs well with some inspirational recipes"
This is a perfect recipe to use up the last of the season's Heirloom tomatoes, or any tomatoes you have either grown yourself or bought fresh at a farmer's market. Savour them before they are gone! Tomatoes should be firm or even slightly underripe. It doesn't matter if they aren't too attractive because the dish is so good no one will notice.
There are so many good recipes to follow but this one with the addition of the pesto is top notch. Inspired by NYT Cooking.
TOMATO TARTE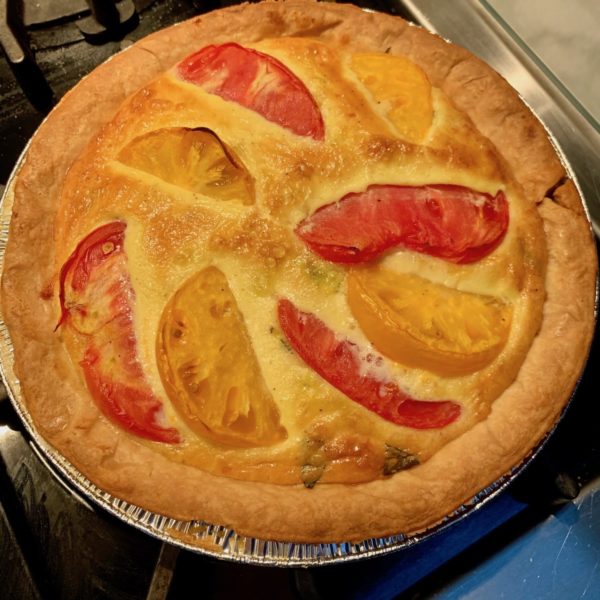 Pastry for a 9″ deep dish pie
Heirloom or local tomatoes (at least two large) cored and sliced into thick wedges.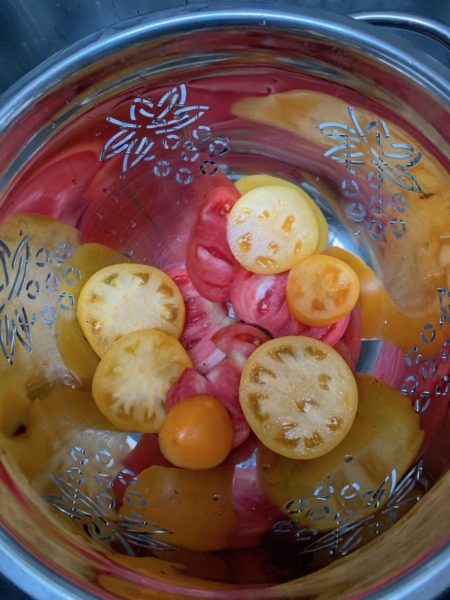 Pistou (for my recipe see #ThisWineThatDish/4 recipe here)
Chopped fresh basil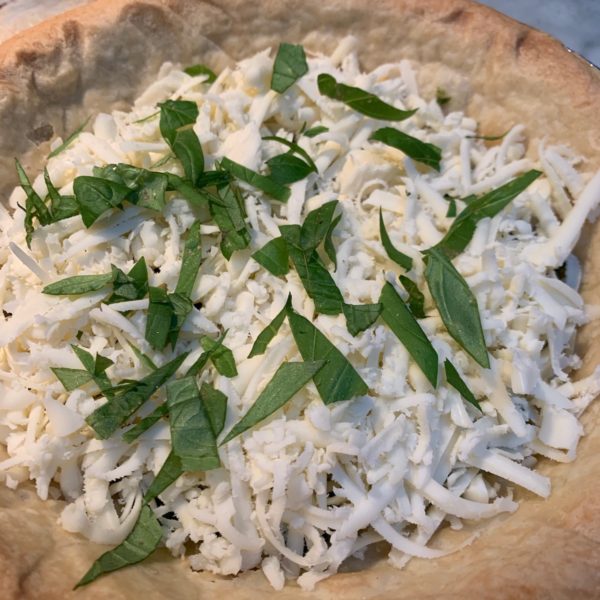 Coarsely grated Mozzarella and parmesan  3/4 cup mozzarella/1/2 cup parmesan
3 eggs
1/2 cup whipping cream
salt and pepper to taste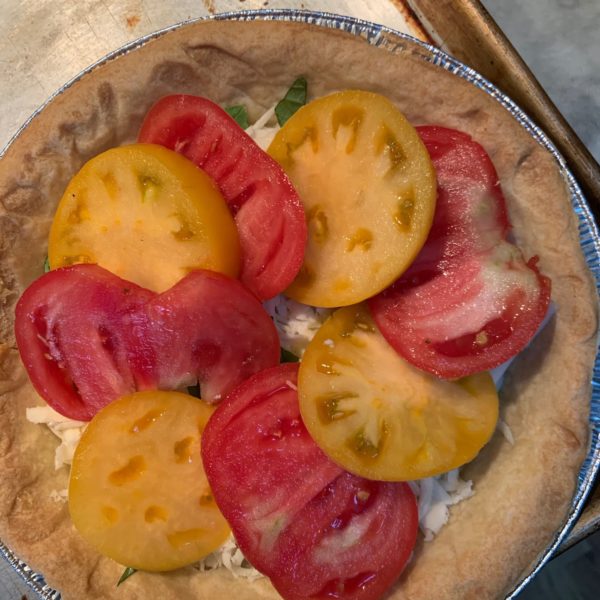 Partially bake the pie crust for 15 minutes, remove from oven and making small holes on the bottom with a fork, return to oven for about 10 minutes, remove and let partially or fully cool before filling.
Spread the pistou over the bottom of the pie shell, be generous.
Top with the grated cheese mixture. Add fresh chopped basil.
Place the tomatoes in circles on the pistou, cheese and basil. If you are using tomatoes of different colours it looks nice to alternate slices.
Beat the eggs and cream together with salt and pepper, being careful not to over whip.
Pour the egg/cream mixture over the tomatoes and place on a baking sheet in 350 oven for about 25-35 minutes, or until a toothpick inserted in the centre comes out clean.
This dish is quite rich so smaller portions are a good start. I served it with a simple salad using any of the less than perfect slices of tomatoes, sitting on a mix of fresh greens with feta or goat cheese, dressed with a good quality olive oil and balsamic vinegar. If you have any tomato tarte leftovers they make a great lunch the next day, served warm or cold.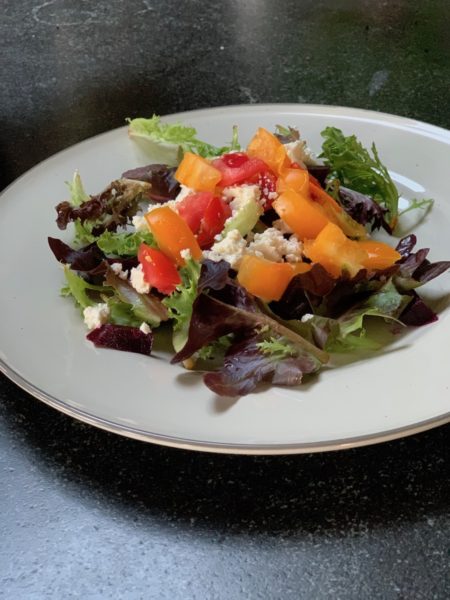 Wine pairing suggestion:
Hester Creek Character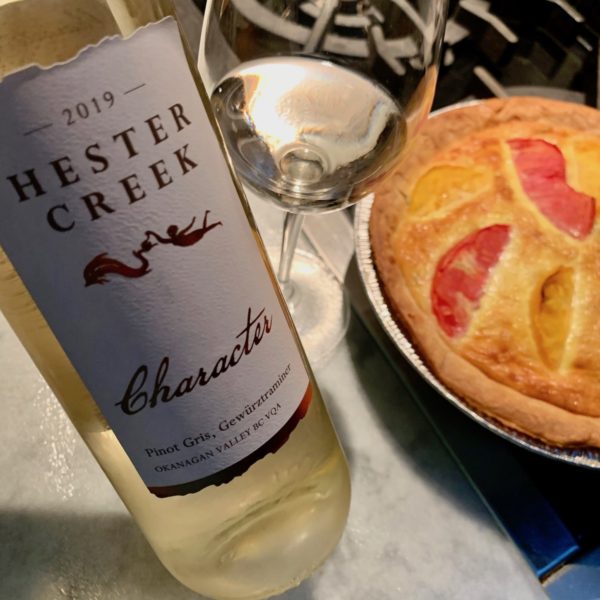 Tasting Notes
Made with local Oliver fruit, this noble white blend shows distinct aromas of Granny Smith apple, lychee, and ripe peach, along with hints of clover and wet stone. The palate is crisp and bright with apricot and luscious pear notes, with a nice framework of underlying acidity. Unoaked and refreshing, pair this popular white wine with fresh Atlantic mussels in a basil white wine broth.
Winemaker Notes
A fragrant blend of Pinot Gris and Gewürztraminer, the fruit was hand harvested from our estate vineyards and Sage Hill vineyard, south of Oliver. The grapes were destemmed and left uncrushed with a gentle whole berry pressing, resulting in a clean fermentation of the juice with little solids. The lots were then cold settled to naturally remove as much sediment as possible, racked, and select yeasts added for fermentation. The two varieties were then carefully blended over a period of 5 months for a wonderfully vibrant and aromatic wine.
This was the ideal wine to pair with this dish. The tomatoes were still sweet even though it's the end of the season, that made the slightly sweet finish of the wine such a good pairing. It is light and refreshing next to the very rich tomato tarte. Enjoy!
Tasting notes (in italics) courtesy of the winery. I received a complimetary bottle of the wine for review. All opinions are my own.
If you would like to be featured on MyVanCity.ca please email me at myvancityval@nullgmail.com for full details. Wine samples accepted for review.