Normally this series features an authentic Italian recipe courtesy of one or more people who either live or work in Italy but today it's just me. I had a craving for an authentic Italian dish – Fettucini Alfredo! There are probably a dozen or more different ways to make this dish and you can find numerous recipes online.
This recipe is one I've worked with to make it my own and it is simple, easy to make, takes very little time and is deliciously rich and tasty.
On a recent trip to our nearest small town here on Vancouver Island I discovered that the only deli, which is a German deli, has added an Italian section. This is great! About 20% of the store space has been taken over with some quality authentic Italian goods. Dry pastas made with durum semolina and fresh eggs, it's delicious. They are carrying some exquisite olive oils and balsamic vinegars which are admittedly a splurge but such a treat to be able to find these in our rural area.
Fettucine Alfredo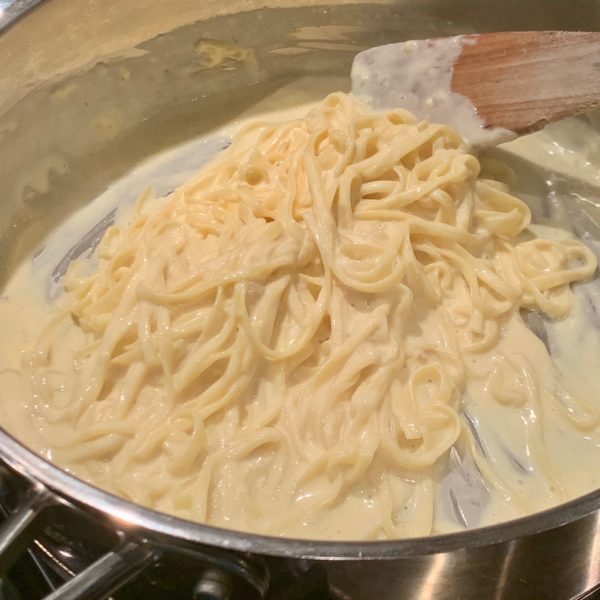 Ingredients
good quality dry pasta
one clove of fresh, local garlic
Olive oil and butter
whip cream
egg yolk (optional)
finely grated parmesan cheese
salt and pepper to taste
Cook pasta in salted, boiling water until el dente.
While the pasta is cooking, heat a heavy bottomed pan on medium heat to melt the butter with the olive oil, when heated add minced garlic and cook until soft but not browned.
Add a good quantity of whip cream, 1/2 to 3/4 cup per serving of pasta. Heat being careful not to bring to a boil.
Season with salt and pepper.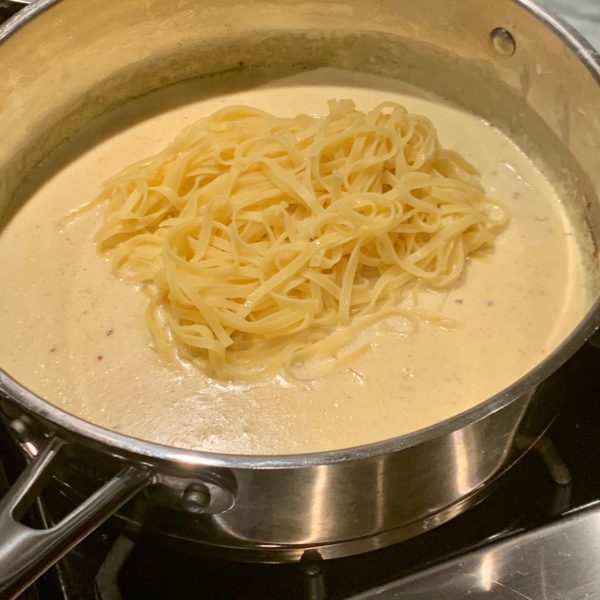 Add cooked pasta and stir, add parmesan cheese and toss until totally mixed. It should be creamy.
Finish with a little more freshly ground pepper and serve immediately.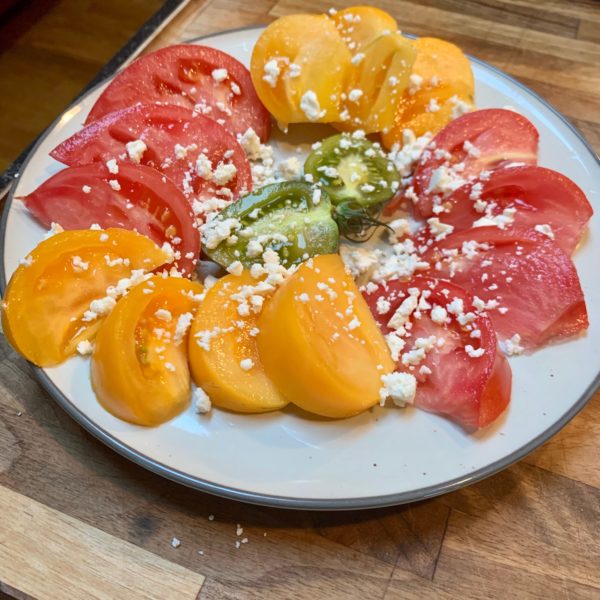 Suggested wine pairing:
First course was another tomato salad. I never get tired of the sweet and firm local tomatoes, this time orange and red Heirlooms cut into wedges, served with a choice of fresh mozzarella, feta, or goat cheese and simply dressed with a good quality olive oil and balsamic vinegar.
For this dish it has to be a classic pairing which for me is a BC Chardonnay. Chardonnay stands up to the rich and creamy dish and compliments rather than competes with the garlicy goodness.
Township 7 2018 Chardonnay

This Chardonnay was sourced from Vista Lago Vineyard in Oliver. 50% was fermented in French barriques with the remaining 50% in stainless steel. The wine in barrel then underwent malolactic fermentation to enhance the texture further while the stainless-steel portion maintained the natural acidity.
This Chardonnay displays toasty notes of Golden delicious apple and pineapple with a hint of spice on the nose. The palate is dry but round with hints of vanilla, peach and citrus flavours.
Overall, the 2018 vintage is one of freshness and elegance with slightly cooler temperatures resulting in wines with vibrant acidity, lower alcohol and intense fruit character. High quality and longevity were ensured by the classic long, sunny fall with warm days to ripen the fruit.
I loved the fruitiness of this Chardonnay. It stood up very well to both the sweet Heirloom tomato salad that was dressed with a peach flavoured white balsamic vinegar and flavourful olive oil, no easy task but it was smooth with just the right touch of acidity. Of course it was ideal for the rich and creamy pasta dish. Served only slightly chilled to bring out the classic flavours and aromas of the Chardonnay.
Township 7 Vineyards & Winery
We are continuing our retail and online shopping including free wine deliveries and thank you for your tremendous support this season. Please be patient with us and this new and exciting wine tasting experience.  If you have any questions, please call us at either one of our wineries in South Langley (604-532-1766) or the Naramata Bench (250-770-1743).
Wine Tastings available, reservations recommended
We're offering two different tasting/sampling flights, provided at tables in order to achieve social distancing, with both inside and outside seating (weather permitting)
We are accepting reservations online.  Drop-ins are available as space permits.
To ensure all guests have an opportunity to enjoy a tasting, we kindly request all visits to be within a 90 minute stay.
We have a limit of six people of the same group tasting at a time.
We look forward to seeing you soon!
Thank you for your trust and confidence in Township 7 Vineyards & Winery.
Tasting notes (in italics) courtesy of the winery. I received a complimentary bottle of the Chardonnay to review. If you would like to be featured on MyVanCity.ca please email me at myvancityval@nullgmail.com