"In this series I am sharing inspirational Italian recipes"
Ricotta Gnocchi is an easy recipe and truly delicious! The other day my son, a Gnocchi lover, asked me for Gnocchi for dinner. Unfortunately I didn't have potatoes but, after opening the fridge, I found some ricotta so I decided to propose something different: Ricotta Gnocchi for him and the family. The result was great. 
RICOTTA GNOCCHI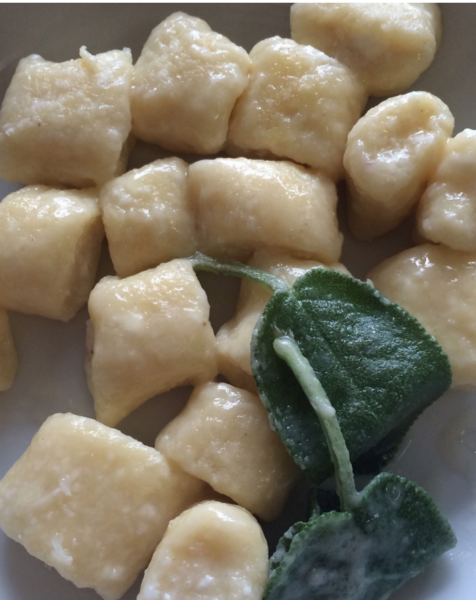 INGREDIENTS:
500 grams of ricotta
1 egg plus one yolk
130 grams Parmigiano Reggiano
200 grams of flour
Nutmeg
Salt & Pepper
A sprinkle of love
METHOD:
The preparation of Ricotta Gnocchi is very simple.
Sift the ricotta into a bowl; add the lightly beaten eggs, Parmigiano, nutmeg, salt and pepper! Mix and add the flour! Work the dough very quickly, it will take 5 minutes! When you have reached a nice firm consistency, prepare a work surface by dusting it with flour! Take a piece of dough and start rolling it into a snake, my kids used to call it Gnocchi snake.
With a knife cut the gnocchi, put them on a flat plate covered with a tea towel and flour! Boil some water and cook the Gnocchi, It will take 1 or 2 minutes, just as long as they come to the surface!
Drain them with a slotted spoon and serve them with a delicious tomato sauce or with butter and sage!
Ricotta Gnocchi goes well with a nice tomato sauce or Butter and Sage sauce. Next time I will add some chopped herbs to the dough! Thank you for reading my recipe and if you are planning to make the ricotta gnocchi please tag me #mammamarziamemories or #mammamarziakitchen Thank you have a fantastic day.
Suggested BC Wine pairings:
Township 7 2019 Pinot Gris

This Pinot Gris has aromas of pear, nectarine and Meyer lemon and a crisp and refreshing palate. Flavours of granny smith apple, key lime, honeysuckle, and peach with a flinty mineral finish. Enjoy on its own or with grilled chicken salad.
If you are serving the gnocchi with either just butter or a butter sage sauce then I would recommend this wine. Editor
Township 7 2018 Merlot

This Merlot is laced with red cherry, plum and spicy aromas of tobacco leaves, cocoa, and vanilla. The two terroirs add complexity and depth to the wine finishing with barrel aging to soften tannins and enhance ageability.
If you are serving the gnocchi with a tomato sauce then this Merlot definitely fits the bill. Editor
Cooking with Mamma Marzia: Authentic Italian Recipes for the Whole Family is a collection of my family recipes, traditions, and cultures passed down through generations of my family. This cook book is my love story between me, my family, and Italian food. You will find easy-to-follow recipes with a deliciously appetizing photo to inspire your everyday cooking. My hope is that you will make many beautiful memories with your loved ones, cooking for them or cooking with them. And don't forget to add a Sprinkle of Love in every recipe!
I really hope you will get in the kitchen and create some precious memories with your family or friends, if you need help with the recipe don't hesite to message me on Social media.
Thank you for following my recipes, more Authentic Italian Recipes in my upcoming cookbook: Cooking with Mamma Marzia!
Pre-order your signed Cookbook at www.mammamarzia.ca
Order through the presale, to get a SIGNED COPY!
Book will be ready to ship end of November 2020!
About Mamma Marzia
Marzia's love affair with Italian cuisine was sparked at a young age – as soon as she was tall enough to reach her mother's countertops. Today, Marzia enjoys teaching her passion of cooking authentic Italian cuisine and sharing her stories of growing up in Italy.
Township 7 Vineyards & Winery
In 2001 – this is where it all started – in the 7th Township of Langley. While some things have changed, like signage and our new cellar style tasting room, our principles and focus have not: we are just about making quality wine and nothing else.
Off the highway and "Metro Vancouver adjacent", our Fraser Valley winery is set in a lush agricultural landscape, surrounded by green vistas and the occasional trot by of an equine explorer. Grape growing? Yes. Explore your inner wine geek without leaving the Lower Mainland and get to know this gem that has bubbly ambitions.
Here, our Chardonnay and Pinot Noir vines are destined for sparkling wine from a vineyard perfect for growing these noble grapes in the Champagne style. An adventure to come, but meanwhile, an invitation to try the wines of Township 7 awaits visitors who have finally pulled in after driving by and wondering, what is this picturesque place all about?
Here you'll find wine, art, culture and culinary experiences brought together by the thoughtful knowledgeable staff who welcome fresh and returning visitors. This is a place to introduce your senses to BC wine. Your first tasting? Not unheard of. It won't be your last. Or a hard core oenophile? Fantastic, geek out with us.
Take a break from the bustling city life of business and smartphone notifications to have some fun here. A tasting in the shop is a good first step, but how about a comfortable wine and food seminar? A little snip of wine education — no judgment if you can't say, "terroir" — a cultural event out amongst the vines, or an exclusive clubSEVEN gathering for our wine club members, with pours from wines not offered to anyone else.
Recipe and image (as marked) courtesy of Mamma Marzia, bottle shots and tasting notes courtesy of the winery. I received complimetary bottles of wine.