"In this series I am sharing inspirational Italian recipes"
I can't wait to receive my copy of Marzia's cookbook. If you follow BellaCibo on Instagram you are also most likely waiting for your own copy. If you aren't following @bellacibo you should be.
I first met Marzia at an event hosted by the Italian Chamber of Commerce. Marzia is every bit as delightful and genuine in person as the persona you see on her Instagram. Working very hard she has etched out a loyal, and deserved, following and I wish her every success with her endeavours.
 MAMMA MARZIA'S RECIPE 
PISTACHIO PANNA COTTA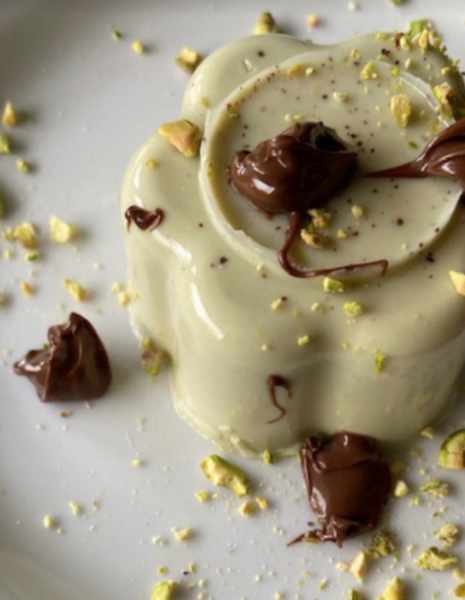 Panna cotta with pistachio is a spoon dessert that is prepared in a few minutes. Easy, fast and highly effective, it will surely amaze your guests.
INGREDIENTS:
• 400 ml liquid cream
• 60 grams of sugar
• 40 grams of pistachio cream
• 6 grams gelatin sheets
• Pistachio grains
• 1 teaspoon of chocolate sauce
• A sprinkle of love
METHOD:
Soak the gelatin in cold water for 10 minutes. 
Put a pan on the stove on medium heat, pour the cream and add the sugar, mix with a hand whisk. 
When the sugar is incorporated, add the pistachio cream and bring to a light boil. 
Turn off the heat, squeeze the gelatin sheets and add it to the boiling cream, mix with a whisk and you will see that it melts in a few seconds. 
Pour the mixture into the special molds or nice glass and refrigerate for at least 3 hours. 
After that remove the cream from the molds and garnish with chopped pistachios and chocolate sauce.
Mamma Marzia's Tip: DO NOT soak the gelatine sheets in warm water, it will disappear. You can use a Martini Glass to serve the Panna Cotta for a scenografic effect.
If you don't know where to buy pistachio cream, I got mine at Cioffi in Burnaby. Also gelatin sheets you can find them there or if you live in Langley check Well Season kitchen store or Natures Fare Market store.
Our suggested BC wine pairing:
Pentâge ICEWINE ROUSSANNE 2016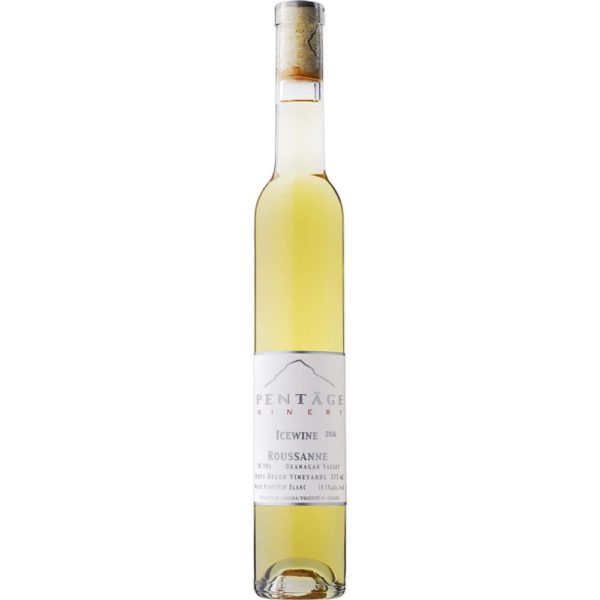 Aroma: ripe tropical fruit and honey
Palate: concentrated honey, dried apricot and citrus mingle
About: perfectly balanced with crisp acidity
With cold winters naturally freezing the water in the berries – this enables us to yield an exquisite balance of fruit, acid and an extraordinary array of flavors.Icewine grapes must be picked at -8 degrees or below.  The juice was inoculated with specially selected yeasts.  The frozen grapes had harvest sugar of 39 brix and were fermented slowly to 10.5% alcohol.
Cooking with Mamma Marzia: Authentic Italian Recipes for the Whole Family is a collection of my family recipes, traditions, and cultures passed down through generations of my family. This cook book is my love story between me, my family, and Italian food. You will find easy-to-follow recipes with a deliciously appetizing photo to inspire your everyday cooking. My hope is that you will make many beautiful memories with your loved ones, cooking for them or cooking with them. And don't forget to add a Sprinkle of Love in every recipe!
I really hope you will get in the kitchen and create some precious memories with your family or friends, if you need help with the recipe don't hesite to message me on Social media.
Thank you for following my recipes, more Authentic Italian Recipes in my upcoming cookbook: Cooking with Mamma Marzia!
Pre-order your signed copy at www.mammamarzia.ca
Order through the presale, to get a SIGNED COPY!
Book will be ready to ship end of November 2020!
About Mamma Marzia
Marzia's love affair with Italian cuisine was sparked at a young age – as soon as she was tall enough to reach her mother's countertops. Today, Marzia enjoys teaching her passion of cooking authentic Italian cuisine and sharing her stories of growing up in Italy.
Pentâge Winery owned and operated by Paul Gardner & Julie Rennie – it all began in 1996……
As a marine engineer, Paul was away from home a third of every year. In 1995 he decided it was time to build a business that would allow us to work as a team.  With the love of wine and the dream to have a sustainable home based business what could have been more logical than to build a winery from scratch in the Okanagan Valley – how hard could it be?  Those of you who know Paul are aware that he thrives on projects and always sees them through to fruition.
You will usually find Paul somewhere on the property tackling a project, no matter the magnitude, as long as it is beneficial to the final project.  For instance, why build a conventional winery building when you can build a 5,000 square foot natural rock wine cellar?  As a hands-on winemaker from vineyard to bottle, Paul is driven by passion and excellence in all aspect of the business.
Paul believes that every day working is a holiday and every meal a feast.  When he is not living and breathing Pentâge – Paul enjoys riding his motorcycle and seeking an adventure in different parts of the world.
Julie, with many years of business and administration experience, manages the business side of the operation.  Between employees, accounting, sales and marketing you will most likely find Julie in the office.  However, when needed, she can be found up in the winery getting sticky with the rest of the team.
Working as a team is important in our operation.  Both of us are continually involved in every facet of our business. Our commitment to excellence begins with the welfare of the vines and continues through all aspects of the business to the final bottling.
Recipe and image of the finished dish courtesy of Marzia Molatore. I will be receiving a complimentary copy of Cooking with Mamma Marzia for review.
If you would like to be featured on MyVanCity.ca please connect with your pr agency or email myvancityval@nullgmail.com for full details.